Pro-Trump Group Running Fake Obama Ads
Anti-Biden ads using the former President's words are being aimed at black voters.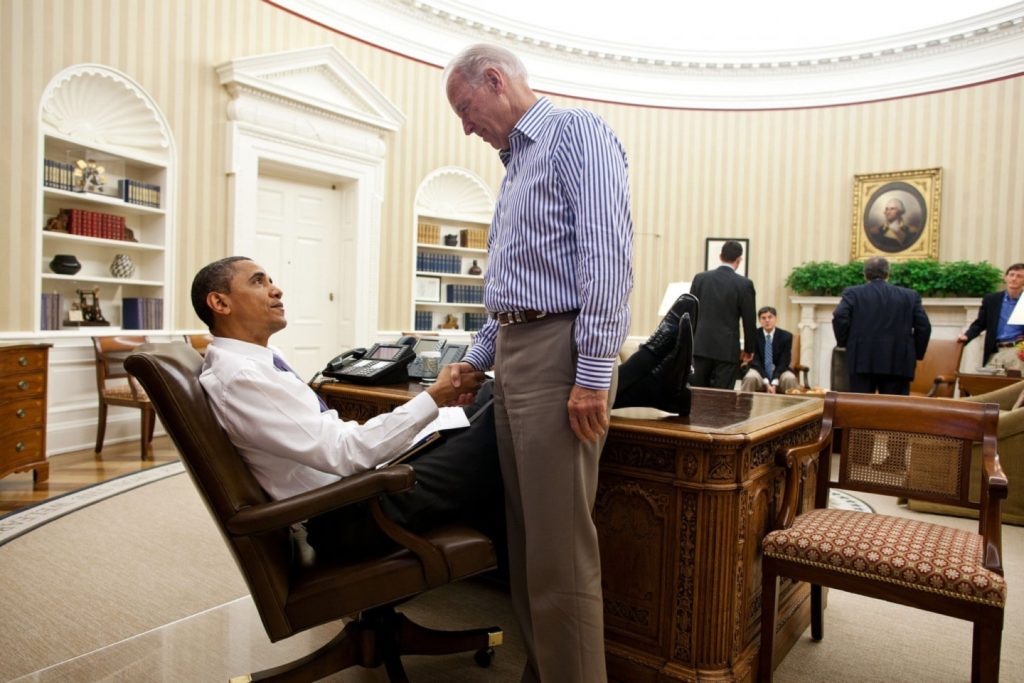 A bizarre report from Michael Scherer and Anu Narayanswamy in WaPo ("Obama demands South Carolina TV stations pull misleading ad attacking Biden"):
Former president Barack Obama on Wednesday called on South Carolina television stations to stop running an ad from a super PAC supporting President Trump that uses Obama's words out of context in a misleading attack on former vice president Joe Biden.

The Committee to Defend the President, a pro-Trump group, circulated an ad that falsely suggests that words Obama spoke in the narration of his own 1995 book were meant to describe Biden.
The group, which placed a similar amount of anti-Biden advertising in Nevada earlier this month, reported to the Federal Election Commission on Tuesday spending more than $250,000 in South Carolina to oppose Biden.

"This despicable ad is straight out of the Republican disinformation playbook, and it's clearly designed to suppress turnout among minority voters in South Carolina by taking President Obama's voice out of context and twisting his words to mislead viewers," Katie Hill, Obama's communications director, said in a statement. "In the interest of truth in advertising, we are calling on TV stations to take this ad down and stop playing into the hands of bad actors who seek to sow division and confusion among the electorate."

[…]

An attempt to sway black voters in the state, the ad begins with a narrator saying "Joe Biden promised to help our community. It was a lie. Here's President Obama."

The ad then runs audio of Obama reading an unrelated passage from his book, "Dreams from My Father," about a conversation he had with a barber in Chicago when he was a community organizer.

The Obama passage, which describes the mistreatment of black voters by politicians, refers to complaints about "plantation politics" and the history in Chicago of Democratic politicians expecting black votes despite poor housing, poor job opportunities and police brutality.

The ad repurposes a similar attack the Committee to Defend the President ran last year in several states with many black politicians, including Georgia, Michigan and Louisiana, according to PolitiFact. Similar tactics, aimed at decreasing black turnout for Democrats, were used in a radio ad by another pro-Trump super PAC, Great America Alliance, in the 2017 special House election in Georgia.
Here's the ad in question:
It's so transparently not about Biden—and, frankly, nonsensical—that one questions how effective it could possibly be.
Greg Sargent explains the intent:
"Joe Biden promised to help our community," the ad's narrator intones. "It was a lie — here's Barack Obama."

The ad then features audio of Obama that sounds as if he's denouncing Democratic politicians for selling out black people. At the same time, the screen flashes references in white letters to what appears to be the controversy last spring about Biden's comments about segregationist senators, and his support for the 1994 crime bill.

The ad makes it sound as if Obama is referring to those episodes while denouncing Biden as someone who betrayed the African American community. But it turns out the audio is actually of Obama reading a passage from his 1995 memoir, "Dreams From My Father," which features a character in the book talking about what Chicago politics was like for African Americans long ago.

In other words, the ad features Obama reading from his own 25-year-old book, mimicking the words of a separate character, to make it sound as if Obama is denouncing Biden (who you may recall was Obama's vice president) for selling out African Americans.
While I'm dubious this will be effective, it's an unconscionable tactic that has no place in a democratic society. It's rather shocking that television stations wouldn't have rejected these without prodding.