Putin Says He'll Respect Results Of Ukraine Elections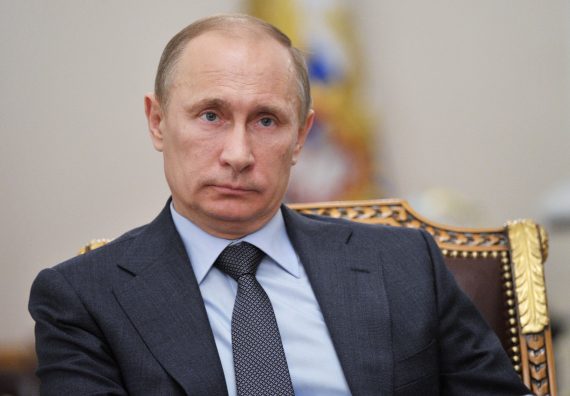 On Sunday, Ukrainians will go to the polls in the first national elections since the popular uprising that led to the downfall of the Russian-leaning regime in Kiev, and Vladimir Putin says he'll respect whatever results come from the election:
ST. PETERSBURG, Russia — Addressing an economic forum haunted by the prospect of more sanctions against Russia, President Vladimir V. Putin on Friday gave his clearest indication yet that he would work with the winner of this weekend's presidential election in Ukraine.

Mr. Putin repeatedly said he hoped the conflict in Ukraine would calm, that Russia would continue to play a significant part in the affairs of its "sister nation," and that it would support a negotiated settlement.

"We want peace and calm in Ukraine," Mr. Putin told the gathering of business executives at the Global C.E.O. Summit, which is part of the St. Petersburg International Economic Forum. "We are interested that on our western borders we have peace and calm in Ukraine. We are today working with the people in power, and after the election we will work with the newly elected structure."

Mr. Putin stopped short of saying he would recognize the vote as legitimate, and reiterated his assertion that the government in Kiev, which is organizing the vote, had usurped the power of President Victor F. Yanukovych in a coup. The election would not represent a "general national mandate" he said.

But Russia would "respect the choice of the Ukrainian people," Mr. Putin said. "We understand and see that people in Ukraine want to get out of this situation." On the direct question of whether Russia would accept the outcome, Mr. Putin said, "We will watch what will happen."
The biggest question, of course, is whether the election will go off smoothly. While that shouldn't be a problem in the western part of the country, it's an entirely different story in the eastern portions where pro-Russian groups have demonstrated and, in some cases, seized control of government buildings. There have also been rather obvious indications for weeks that Russian Special Forces have been operating in the country, at least in a role to provide aid and support to these groups. The prospect that one or more of these groups will attempt to disrupt voting in the east seems to be rather high, and one can expect that we'll see claims from their supporters of irregularities regardless of what the outcome of the vote actually turns out to be. Where things go at that point only time will tell.