Rams Returning to Los Angeles; Chargers May Join Them
St. Louis will lose its second NFL team in 28 years as the Rams go home to LA.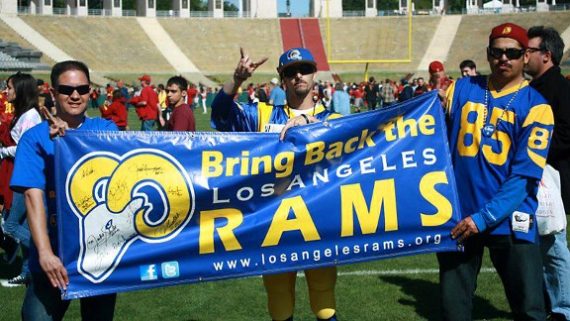 The Rams, which played in Los Angeles for 48 years before moving to St. Louis in 1994, are headed back. They may have company. ESPN:
A long day of votes and re-votes ended with 30 of 32 NFL owners approving Rams owner Stan Kroenke's ambitious plan to move his team from St. Louis to the site of the old Hollywood Park racetrack in Inglewood, California, about 10 miles from downtown L.A. The Chargers have a yearlong option to join the Rams, followed by the Raiders if the San Diego franchise declines.

The Raiders and Chargers submitted a competing proposal to share a new stadium in Carson, California, but that option also did not garner the 24 votes needed for approval. After another negotiating session in the afternoon, Kroenke's $1.8 billion project prevailed.

The decision ends the NFL's 21-year absence from the nation's second-largest media market.

"I often said over those 21 years what we need is a great facility," commissioner Roger Goodell said at a news conference about 11 hours after the meetings began. "I think what happened over the last years is we had two outstanding opportunities. Both of these stadium projects were outstanding."

[…]

Chargers chairman Dean Spanos was asked if he intended to play in Los Angeles in 2016.

"I'm going to take a day off tomorrow, I think," Spanos said. "This has really been excruciating for everyone. It's very difficult to say right now [that] I'm going to do this or do that."

Oakland is still in debt from a renovation 20 years ago, when the Raiders moved back from Los Angeles. City officials have said they won't seek help from taxpayers with a new stadium, and they asked the NFL for more time to develop a project in response to the Raiders' relocation plan. The NFL acquiesced.

"We'll see where the Raider nation ends up," said owner Mark Davis, who was equally noncommittal in comments to reporters. "We'll be working really hard to find us a home. So for our fans and everything else, don't feel bad. We'll get it right."
This will be St. Louis' second time losing an NFL franchise—both within my memory. The Cardinals, who had been the Gateway City since 1960, moved to Phoenix in 1988.
On the one hand, franchise relocation is simply a fact of life. This will be the fourth move for the Rams, who were founded in Cleveland. The Cardinals were founded in Chicago. Wikipedia lists the following "significant" moves just for the NFL:
Decatur Staleys: to Chicago in 1921 (renamed the Chicago Bears in 1922)
Toledo Maroons: to Kenosha, Wisconsin in 1924
Cleveland Bulldogs: to Detroit as the Wolverines in 1928
Pottsville Maroons: to Boston as the Bulldogs in 1929
Dayton Triangles: to Brooklyn as the Dodgers in 1930 (renamed Brooklyn Tigers in 1944)
Portsmouth Spartans: to Detroit as the Lions in 1934
Boston Redskins: to Washington, D.C. in 1937
Cleveland Rams: to Los Angeles in 1946
Chicago Cardinals: to St. Louis in 1960
Los Angeles Chargers: to San Diego in 1961 while in the American Football League (AFL)
Dallas Texans: to Kansas City, Missouri as the Kansas City Chiefs in 1963 while in the AFL
Oakland Raiders: to Los Angeles in 1982
Baltimore Colts: to Indianapolis in 1984
St. Louis Cardinals: to Phoenix in 1988 (renamed Arizona Cardinals in 1994)
Los Angeles Rams: to St. Louis in 1995
Los Angeles Raiders: back to Oakland in 1995
Cleveland Browns: to Baltimore in 1996 (renamed the Baltimore Ravens)
Houston Oilers: temporarily to Memphis in 1997 as the Tennessee Oilers and permanently to Nashville in 1998 (renamed Tennessee Titans in 1999)
St. Louis Rams: back to Los Angeles in 2016
Eight of these moves have happened since I've been an NFL fan. The Rams account for two of those. The Chargers, who only spent one year in LA before moving to their current home, will almost certainly be joining the Rams.  If the don't, get a shot at completing the Oakland to LA back to Oakland back to LA circuit.
That said, given the nature of sports fandom, these moves are brutal for the communities involved. St. Louis fans did a fantastic job of supporting both the football Cardinals and the Rams. Chargers fans, who have not so much as sniffed a Super Bowl, have been exceedingly loyal to their team. Alas, ownership in both cases demanded more taxpayer support for stadium projects than city leadership was willing to bear. Which, in both cases, is pretty significant; both cities made legitimate bids to fund modern facilities.
In the meantime, upstart teams with next to no community support—the Jacksonville Jaguars come to mind—are staying put. (Although in that case, I expect they'll move to London eventually.)
Certainly, it makes sense for the League to have a team in the country's second largest city. Having the Rams back somehow seems right to me—especially if they bring back their traditional uniforms. But it's sad for St. Louis' fan base to lose a team again. It'll be even more heartbreaking if the Chargers leave San Diego after more than half a century.