Remembering Reagan, Palin Paints A Dark Picture Of America's Future
Sarah Palin spoke about Ronald Reagan last night, but seems to have forgotten the optimism that is part of The Gipper's legacy.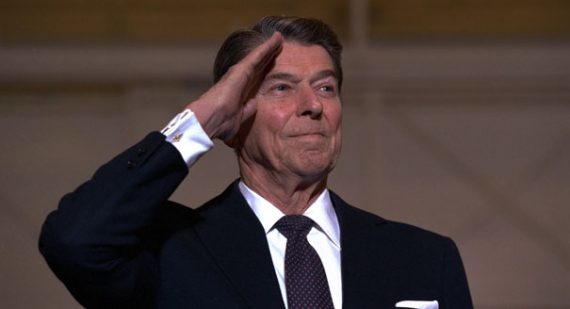 Speaking last night at one of the many unofficial events marking Ronald Reagan's Centenary, Sarah Palin painted a dark picture of America's future in marked contrast to the optimism that was the signature of the man she was remembering:
Sarah Palin opened a celebration of Ronald Reagan this weekend by declaring that the United States was lurching toward a "road to ruin," saying the nation had become so weighed down by debt and excess government that a new direction was urgently needed in Washington.

(…)

Ms. Palin, a former Alaska governor and the 2008 Republican vice-presidential nominee, spoke here on Friday night to about 200 people at a banquet of the Young America's Foundation, a group that now owns Rancho del Cielo, which served as the Western White House in the Reagan administration. The foundation is not affiliated with the Reagan Presidential Library in Simi Valley, which is also holding tributes to the former president, who would have turned 100 on Sunday.

(…)

In her 30-minute address, Ms. Palin reprised themes of Reagan's 1964 speech "A Time for Choosing," which he gave two years before being elected governor of California. She reminded her audience that he, too, was "mocked, ridiculed and criticized" before his conservative vision became accepted Republican doctrine. But she stopped short of casting herself explicitly as his heir.

"No, there isn't one replacement for Reagan, but there are millions who believe in the great ideas that he espoused," Ms. Palin said. "There's a whole army of patriotic Davids out there, across this great country, ready to stand up and to speak out in defense of liberty."
You can watch the whole speech here if you want, but my thoughts are about the same as they've been when I hear a lot of people on the right speak about Ronald Reagan anymore. The Ronald Reagan I remember was an optimist who spoke of America as being the "shining city on the hill," and who, even if in the depths of  the Carter Malaise believed that the country's best days were ahead of it, a sentiment that appeared throughout his major campaign speeches in 1980. One of the reasons Ronald Reagan was successful was because he brought that message of optimism at a time when the American public was becoming increasingly pessimistic.
Modern-day conservative rhetoric, especially as practiced by the Palin's and Glenn Beck's of the world, seems to have thrown that Reagan optimism overboard in favor of a philosophy that seems to find enemies around every corner, and conspiracies behind every event. I don't know what you call that, but it sure as heck isn't Ronald Reagan, which just makes the efforts by such people to claim Reagan's legacy as their own all the more pathetic, a point which was brought home with a vengence recently thanks to comments from Reagan's youngest son:
Sarah Palin may think she's the political heir to Ronald Reagan, but one of his actual heirs says she's got it all wrong.

Ahead of weekend celebrations marking the late president's 100th birthday, his youngest son, Ron Reagan, is speaking out against the former Alaska governor and onetime vice presidential candidate, who is keynoting a Young America's Foundation gala, honoring the president Friday.

"Sarah Palin is a soap opera, basically," Reagan told The Associated Press. "She's doing mostly what she does to make money and keep her name in the news."

(…)

Reagan made similar comments in 2008, soon after Sen. John McCain (R-Ariz.) chose her as his running mate. "Sarah Palin has nothing in common with my father, a two-term governor of the largest state in the union, a man who had been in public life for decades, someone who had written, thought and spoke for decades about foreign-policy issues, domestic policy issues, and on and on and on," he said in September of that year.
Ron Reagan's comments don't decide the issue, of course, but they do bring home the rather sad fact that there really isn't anyone in the top tier of GOP "leaders" that comes close to being another Ronald Reagan, which is why Palin and the rest of them are so desperate to wrap themselves in his legacy in the hope that nobody will notice.
Photo via Politico