Republican Hill Staffers Jumping Ship
Frustrated Republican health care staffers are leaving the Hill for lucrative positions on K Street.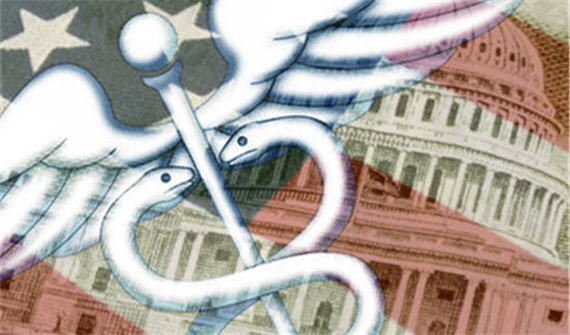 Frustrated Republican health care staffers are leaving the Hill for lucrative positions on K Street.
POLITICO ("Frustrated GOP health staffers jump ship"):
Since the election, one top Republican health policy staffer after another has fled the Hill for consulting and lobbying gigs that promise better pay, fewer hours and less obstructionism.

Of course, there's always a natural shifting of staff after each election. But health staffers say the flood of resignations after President Barack Obama won reelection is evidence of a deeper disillusionment.

It's been a bumpy few years for these staffers, most of whom participated in the health care law negotiations in 2009 and 2010, watched as Democrats passed the law without a single Republican's vote, stood by as their bosses continually tried — and failed — to ditch the law and saw GOP hopes for entitlement reform fall by the wayside.

Now, many of them are saying enough is enough.

"I think there were a lot of Republican staff who stuck around in the hopes they would actually make real substantive changes," said Chuck Clapton, a former HELP health policy director who left for Hogan Lovells. "Obviously, the likelihood of that happening has diminished significantly."

Among the first to depart was Katy Spangler, former deputy health policy director for the Senate HELP Committee, who left last June for VBID Health, a firm that designs and promotes health plans. But the real exodus began after the election, with Howard Cohen leaving his post as chief health counsel of the House Energy and Commerce Committee in December to start his own consulting business.

In January, HELP lost Clapton and health counsel Keith Flanagan. Energy and Commerce Committee Chief Health Counsel Ryan Long also jumped ship for BGR Group.

February saw the departure of Emily Porter, health policy adviser to Speaker John Boehner. She is joining The Nickles Group.

And Thursday was the final day on the Hill for Dan Elling, staff director for the House Ways and Means Health Subcommittee and an influential GOP voice as Congress passed the health care law. He's accepted a job at Alston & Bird.

"There is a general level of frustration that everybody realizes we have these problems on the immediate horizon that need to be addressed — and there doesn't seem to be the universal appetite to deal with these things," Elling said.

Another former senior staffer said, "Honestly, I think there's been so much brain drain over the past six months of really excellent people leaving the Hill because they're so frustrated and they're tired of beating their heads against the wall."
Even the reporter, Paige Winfield Cunningham, acknowledges that this is circumstantial and that turnover is both natural and more complicated than any single factor. Without some comparative numbers to use as a point of comparison, I'm not sure we have anything here beyond anecdote. In the health care arena, particularly, I'm sure frustration is always high given how big the problems are and how infrequently anything gets done to address them.
Having lost the presidency twice in a row and having failed two consecutive congressional cycles to capitalize on opportunities to pick up Senate seats means that Republican staffers would be frustrated even if their caucus were packed with Daniel Websters and Arthur Vanderbergs. Eight years is a long time to be in the minority, especially as a staffer.
All that said, it surely has to be frustrating to be on professional staff and have to abide a stance of pure obstructionism. President Obama was apparently willing to sign just about any bill that could purport to make improvements in our health delivery system and was desperate for the appearance of bipartisan approval. The Heritage Foundation could have written the bill for all he cared. Indeed, the final bill actually took provisions of Heritage's alternative to the Clinton bill from the 1990s. But, rather than trying to get the most conservative bill possible passed, Republicans opted to fight against the passage of any bill at all—and looked to have won with the election of Scott Brown to Teddy Kennedy's seat. Ultimately, though, they got nothing for their efforts but a talking point in the 2012 elections. Which they lost.