Republican House Member Introduces Resolution To Fight The 'War On Christmas'
A Colorado Republican Congressman has introduced a resolution meant to involve our nation's representatives in the non-existent 'War On Christmas.'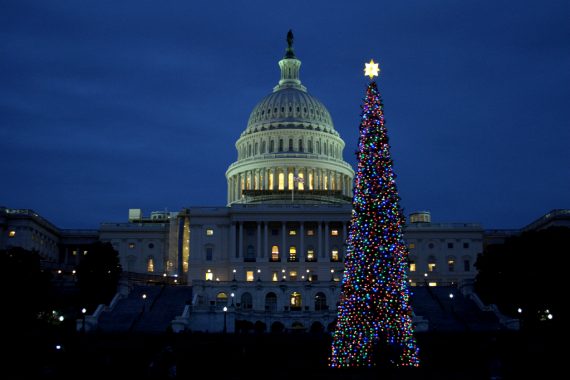 A group of House Republicans apparently feels it necessary to get involved in the phony 'War On Christmas' meme this year:
A group of House Republicans has signed onto legislation declaring support for Christmas.

Rep. Doug Lamborn (R-Colo.) has introduced a resolution expressing the sense of the House that "the symbols and traditions of Christmas should be protected for use by those who celebrate Christmas" amid warnings from the right that religion is being pushed out of the holiday.

The resolution states that the House "strongly disapproves of attempts to ban references to Christmas" and "expresses support for the use of these symbols and traditions by those who celebrate Christmas."

Thirty-five fellow Republicans have signed onto the resolution as co-sponsors.

The measure comes after Starbucks encountered controversy this holiday season for unveiling minimalist red cups.

Some Christians accused the coffee chain of trying to downplay the role of faith in the holiday season, calling it the latest example of a "war on Christmas."

Joshua Feuerstein, an Arizona-based evangelist with nearly 2 million followers on Facebook, said "Starbucks REMOVED CHRISTMAS from their cups because they hate Jesus." He further called on his followers to give their names as "Merry Christmas" when ordering drinks as a means of forcing Starbucks baristas to say the phrase.
As I noted when I wrote about the ridiculous Starbucks controversy earlier last month, the company changed it cups to the so-called "minimalist" red design after several years of using cups that featured symbols such as snowflakes, reindeer, snowmen, and other quite obviously non-religious, and argument even not directly Christmas, renderings on the cups that it used for the month between the beginning of November and the end of the year. Despite this, these cups somehow became the latest example of the so-called 'War On Christmas' that has seemingly become an annual narrative around this time of year in which many so-called Christians claim that popular culture is engaging in a "war" on Christianity in general and Christmas specifically by attempting to strip the holiday of any religious meaning. The argument is ridiculous, of course, for several reasons. First of all, it has long been the case that, for many Americans Christmas has become cultural holiday that isn't necessarily specifically religious even though it it intended to mark the birth of Jesus Christ, which by most accounts probably didn't happen in December to begin with. Whether its Christmas trees, lights, Santa Claus, gift-giving, or any other number of holiday traditions, the fact of the matter is that the ways in which most of us celebrate Christmas aren't necessarily religious, or at least not exclusively religious. Secondly, while most of the popular symbols of the holiday season are secular, there's also plenty about it that is religious, including numerous popular Christmas Carols that are explicitly religious in nature as well as religious elements such as creches and other representations of the birth of Christ. Finally, it simply has to be said that if there ever was a 'War On Christmas," it's blindingly clear that Christmas won a long time ago. The season is one that seems to start earlier and earlier every year, and it's virtually impossible to go anywhere in public and not be bombarded with Christmas something. That's not something I object to mind you, but I say it to make the point that the people who argue that some unseen force has been trying to push Christmas out of the public square are either being completely disingenuous, or they are utterly blind to the world around them.
All that being said, the fact that this "War On Christmas" meme is something that seems to come up every year is, in the end, harmless. It gives Fox News Channel and talk radio something to talk about during a time when the news is otherwise slow, I suppose, and it gives the other networks something to "respond" to. Ultimately, it's harmless. Why any member of Congress feels the need to enter into this silliness, though, is just a pathetic representation of what our politics has turned into. This resolution, which may or may not even reach the floor of the House, is utterly meaningless and has no enforcement power. It is being introduced and co-sponsored, though, by Members of Congress who are quite obviously pandering to a certain wing of the Republican Party that clings to the largely idiotic belief that Christianity is under siege in the United States, and it helps to fuel other aspects of our political culture that are, in the end, not healthy.
On some level, I suppose it's better that Congress spend its time on this meaningless foolishness rather than anything where it could do real damage, but at the same time it's unfortunate that politicians feel its necessary to buy into this idiocy.