Republican Insiders Still Don't Know How To Stop Trump
With Donald Trump inching closer to a delegate majority with each primary, it's obvious that GOP insiders have no idea how to stop Donald Trump.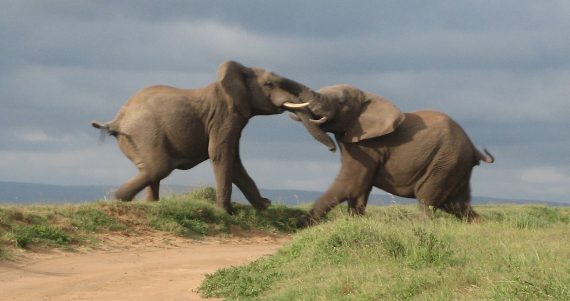 Once again, top conservatives and Republican insiders are talking about finding a way to stop Donald Trump, and once again it seems likely that it's going to be too little, too late:
A secretive group of Republican operatives and conservative leaders convened Thursday morning for more than three hours to discuss ways to unite the right against Donald Trump, with a presentation about the feasibility of mounting a third-party challenge as well as extensive deliberations about whether a coalition of anti-Trump forces could prevent the billionaire mogul from securing the party's presidential nomination at the July convention in Cleveland.

"It's certainly not too late," Rep. Trent Franks (R-Ariz.) said as he left the session. "You could get another party on the ballot. A candidate could be picked as late as August. … It would have to be a movement conservative.""

"I was there to listen," Franks, a supporter of Trump rival Sen. Ted Cruz (R-Tex.), added. "I am worried about the kind of damage that Trump could cause to our party. … As a conservative, I can't trust Donald Trump to do the right thing. However, I can trust Mrs. Clinton to do the exact wrong thing. Therefore, if it comes down to a one-on-one contest, I would vote for Trump."

Franks repeatedly declined to name who was floated as a potential standard-bearer for a third-party conservative bid.

A second attendee, requesting anonymity to discuss private conversations, said Sen. Ben Sasse of Nebraska was one name mentioned as a possible late-entry contender who conservatives could rally around.

A spokesman for Sasse said he did not send a representative to the meeting.

In a statement, the senator said he would not run: "Absolutely not. I've got three little kids and the only callings that I want: raising them and serving Nebraskans. No way."

Instead, a bloc of participants argued that the best option may be working in upcoming primaries to boost Cruz and prevent Trump from securing a majority of delegates. A convention standoff would be the culmination of those efforts, the people said.

"I support Ted Cruz," said Mike Farris, an influential Virginia conservative, as he stepped onto 17th Street NW shortly before noon Thursday, waving off questions from reporters.

The meeting, a breakfast of more than two dozen people held at the Army and Navy Club in Washington, was hosted by longtime conservative activists Bill Wichterman and Bob Fischer. Popular right-wing radio host Erick Erickson, another organizer of the gathering, did not attend due to illness but participated by phone, as did many other conservatives from around the country.
Later in the day, we learned that one of the latest ideas being touted was a so-called "unity ticket":
More than 1,000 miles away in Florida, leaders and financiers of the multimillion dollar anti-Trump ad campaign that ran ahead of March 15 were also gathering on Thursday to plot their path forward.

Hillyer said the focus of the D.C. meeting remained beating Trump within the Republican Party apparatus, not mounting an independent bid.

"The consensus was that we need a unity ticket of some sort and we'll let the candidates work out who the unity ticket is," he said. "Obviously, more conservatives seem to prefer Cruz to Kasich, and Cruz has more delegates right now, so if you do the math, it's probably more likely to be Cruz-Kasich."

But he went on to say that the unity ticket possibilities, and support for that ticket, should include both current and former candidates.

Trump said on Wednesday that "riots" might break out if he arrives at the Republican convention in Cleveland with the most delegates but is denied the nomination.

The group Thursday embraced the possibility of a convention floor fight. "We recognize that it took Abraham Lincoln three ballots at the Republican convention in 1860 to become the party's nominee and if it is good enough for Lincoln, that process should be good enough for all the candidates without threats of riots," their statement said.

While the group did discuss a third-party challenge, Hillyer said, "We did not come to any — even come close to settling on some third-party candidate."

"That would be down the line," he added.

Time is ticking, as the signature-gathering period to get on the ballot in some key states, including Texas, is already underway. There were discussions of both the logistical challenge of getting on the ballot, and the high costs to do so.
Now, there's talk about a "100 day plan" to stop Trump from getting the majority of delegates he'd need to win the nomination outright:
Republican leaders adamantly opposed to Donald J. Trump's candidacy are preparing a 100-day campaign to deny him the presidential nomination, starting with an aggressive battle in Wisconsin's April 5 primary and extending into the summer, with a delegate-by-delegate lobbying effort that would cast Mr. Trump as a calamitous choice for the general election.

Recognizing that Mr. Trump has seized a formidable advantage in the race, they say that an effort to block him would rely on an array of desperation measures, the political equivalent of guerrilla fighting.

There is no longer room for error or delay, the anti-Trump forces say, and without a flawlessly executed plan of attack, he could well become unstoppable.

But should that effort falter, leading conservatives are prepared to field an independent candidate in the general election, to defend Republican principles and offer traditional conservatives an alternative to Mr. Trump's hard-edged populism. They described their plans in interviews after Mr. Trump's victories last Tuesday in Florida and three other states.

The names of a few well-known conservatives have been offered up in recent days as potential third-party standard-bearers, and William Kristol, editor of The Weekly Standard, has circulated a memo to a small number of conservative allies detailing the process by which an independent candidate could get on general-election ballots across the country.

Among the recruits under discussion are Tom Coburn, a former Oklahoma senator who has told associates that he would be open to running, and Rick Perry, the former Texas governor who was suggested as a possible third-party candidate at a meeting of conservative activists on Thursday in Washington.

Mr. Coburn, who left the Senate early last year to receive treatment for cancer, said in an interview that Mr. Trump "needs to be stopped" and that he expected to back an independent candidate against him. He said he had little appetite for a campaign of his own, but did not flatly rule one out.

"I'm going to support that person," Mr. Coburn said, "and I don't expect that person to be me."

Trump opponents convened a series of war councils last week to pinpoint his biggest vulnerabilities and consider whether to endorse one of his two remaining opponents, Senator Ted Cruz of Texas and Gov. John Kasich of Ohio.

Mr. Trump has a delegate lead of about 250 over Mr. Cruz, the second-place candidate, but he has repeatedly acted in ways that push party leaders farther from his camp. On Thursday, House Speaker Paul D. Ryan sternly admonished him for saying his supporters would riot if Republicans nominated someone else, the latest in a series of remarks Mr. Trump has made that seemed to encourage or condone violence.

David McIntosh, president of the conservative Club for Growth, which has spent millions on ads attacking Mr. Trump, said his group met on Wednesday and concluded it was still possible to avert Mr. Trump's nomination. The group plans a comprehensive study of Trump supporters to sharpen a message aimed at driving them away from him.

"This is still a winnable race for a free-market conservative that's not Donald Trump," Mr. McIntosh said, adding, "It's not a layup, but there's a clear path to victory."
What's clear about all these anti-Trump efforts at this point is that there doesn't even seem to be unity about how to stop him, even assuming that it were possible to do so at this point. As far as I've been able to count, in fact, there seem to be at least five distinct plans being pitched by different elements of the anti-Trump "coalition." One plan appears to involve finding a way to deny Trump the majority of the delegates prior to the convention and somehow ensure that Ted Cruz gets that majority instead. Given the fact that, with the current delegate count, Trump would need to win less than 55% of the remaining delegates to get to a majority, while Cruz would need to win more than 80%, this seems a next to impossible goal to achieve. This is where the "unity ticket" plan comes into play, with Cruz and Kasich apparently joining forces to deny Trump a majority of delegates, but agreements like that are difficult to make and impossible to keep together, as the current actions of both Cruz and Kasich indicates. That leads to the next plan, which is to deny Trump the majority he needs to win on the first ballot and then manipulate the rules of the convention in such as way that another candidate would end up with a majority on a subsequent ballot. Depending on how the primaries go between now and California in June, it's certainly a possibility that Trump could fall short of the 1,237 delegate majority he needs, but if he does he's still likely to be close to that number, quite probably within 100 delegates of a majority and controlling far more delegates than any of his rivals. Denying him the nomination in that circumstance would seem guaranteed to backfire on the party and tear the GOP apart right on the verge of a national election, hardly an ideal situation. A fourth plan seems to involve directly lobbying convention delegates, including those pledged to Trump, in an effort to persuade them to abandon him if not on the first ballot then on any subsequent ballots. Finally, after all of those plans are discussed, there's the idea about mounting a third-party or Independent bid for the Presidency, a plan that becomes less realistic as each day passes and which would seem to do do nothing more than guarantee that Hillary Clinton would be elected President in a landslide and that, perhaps, several vulnerable Republican Senators would suffer defeat as well.
The fact that there are so many plans to stop Trump being talked about at the same time, and that they would seem to be contradictory in both their goals and their methods, is a strong indication that, after nine months Republican insiders and mainstream conservatives still don't know how to deal with Donald Trump. At this point, all they are really doing is pulling tricks out of a magicians hat in the hope that something, anything, will save their party from the fate of nominating a man who seems to embody all of the worst aspects of American politics and all of the worst aspects of the mindless, Know Nothing inspired, populism and xenophobia that they spent the better part of the last decade encouraging and exploiting. Instead of coming up with workable plans, or finding a way to counteract the poison of Trumpism, though, all they seem able to do is come up with gimmicks and tricks that seem unlikely to work, will likely cause rifts in the Republican Party that will be very hard to heal, and which will do nothing to address the fact that Donald Trump has succeeded because he says things that a significant portion of the Republican Party agrees with. Given all of this, the idea that these last minute efforts will actually succeed in "stopping" Trump seems silly when its examined for even a minute. For better or worse, we are at a point where Donald Trump has won more states than another candidate, leads in the delegate count and the popular vote, and is the person most likely win the nomination.
For nine months, there were those of us who warned about the dangers that Trump posed, both to the GOP specifically and to the nation. For the most part, Republican leaders and insiders ignored those warnings under the mistaken belief that Trump would burn himself out. Now, reality has settled in and they don't know how to deal with it. It's nobody's fault but their own.