Republican John Kennedy Wins Louisiana Senate Runoff
An unsurprising win in the Pelican State.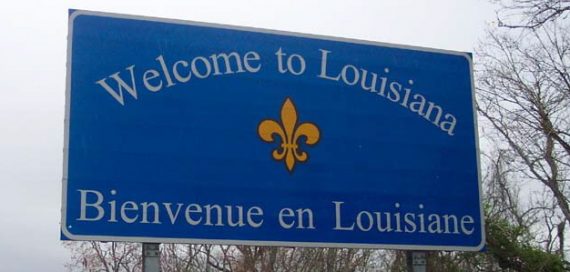 Republican John Kennedy easily won yesterday's runoff election in Louisiana, officially giving the GOP a 52-48 majority in the Senate:
BATON ROUGE, La. — Bringing a wildly unpredictable election cycle to an unsurprising close, Louisiana voters on Saturday elected John Neely Kennedy, the state treasurer, to the Senate, giving Republicans a final 52-48 advantage over the Democrats.

With roughly two-thirds of the precincts reporting, Mr. Kennedy had secured 64 percent of the vote and the seat vacated by Senator David Vitter, defeating Foster Campbell, a public service commissioner long known for his populism.

Mr. Kennedy, with an anti-establishment, outsider message and a reputation as a fiscal hawk, secured a commanding position early in the race in Louisiana, which has not sent a Democrat to the Senate since 2008.

"I'm humbled and honored by the overwhelming support from all over the state," Mr. Kennedy said on Saturday. "Louisiana voters sent a clear message tonight and I'm ready to go to Washington, D.C., to fight for our people."

Mr. Campbell had received unwavering support from Gov. John Bel Edwards, a Democrat, but Mr. Kennedy benefited from high-profile visits by President-elect Donald J. Trump and Vice President-elect Mike Pence.

Mr. Trump won Louisiana by 20 points and his popularity outshone other names on the state's nonpartisan primary ballot — he received 358,000 more votes than the combined total for Mr. Kennedy and Mr. Campbell.

At a rally here on Friday for Mr. Kennedy, Mr. Trump said, "If he doesn't win, I have myself a problem in Washington. It's close." He later added, "If John's not there, maybe we can't build the wall."

Democrats had hoped the Louisiana race would give them an opportunity to thin the Republican margin in the Senate.

"We left no stone unturned," Mr. Campbell said in his concession speech. "I make no excuses. We did everything humanly possible."

Some Democrats saw it as a last stand in a dismal year capped by Hillary Clinton's defeat. Some celebrities, including the actor John Leguizamo and the comedian Patton Oswalt, took to Twitter and asked people to donate, and Senator Elizabeth Warren of Massachusetts made an appeal, as well.

"Republicans here and around the nation couldn't have had more of different outlook and reaction," said Lionel Rainey III, Mr. Kennedy's communications director. "This race was viewed as a final swing of the hammer into the coffin for Democrats seeking statewide office in Louisiana. It was a chance to send a message."
This win gives the GOP a 52-48 majority in the Senate, which places it in a fairly decent position heading into 2018, when Democrats will be forced to defend a huge number of seats, including ten seats in states that Donald Trump won this year and/or which Republicans have won in the past several Presidential elections. As for Louisiana, there was never really any doubt about the outcome of this runoff. Republican candidates came away with the vast majority of the votes cast in the November 8th "Jungle Primary," and polling over the last month had put Kennedy some twenty points ahead of his Democratic opponent. After a year in which many thought that they would actually be able to win back control of the Senate and ended with only a tw0-seat pick-up, though, this loss is yet another setback for Democrats in a year that started out looking quite promising. In addition to winning the Senate runoff, Republican candidates also won two runoffs in for the House of Representatives, thus further protecting a majority that has lasted for six years now and seems likely to last at least through the 2022 elections, if not well beyond.
Kennedy's win was also fairly certain given the fact that Donald Trump had easily won Louisiana on November 8th and visited the state last week as part of a pre-election 'get out the vote' tour. Notwithstanding the fact that the state currently has a Democratic Governor, this win solidifies the fact that Louisiana is now as much a red state as its fellow states in the Deep South. It's true that the state does currently have a Democratic Governor, but this is thanks largely to the fact that the Republican candidate for Governor last year was David Vitter and the fact that Bobby Jindal, who was term limited in 2015, left office with record low job approval ratings that damaged the GOP on a statewide level. For the most part, though, Republicans now dominate Louisiana politics both in Federal offices such as the Senate and House, but also at the state level. This is a rather recent development for the Pelican State compared to some of its neighbors since Democrats, albeit rather conservative Democrats, were winning in the state as late as the 1990s and early 2000s. As with its neighbors, though, the reality of the transformation of politics in the south finally hit Louisiana over the past several years and it's likely to stay very Republican for some time to come. There's also an interesting historical footnote to this race. With his win, Kennedy becomes only the second Republican to hold this Senate seat since the end of the post-Civil War Reconstruction Era and only the third Republican to ever hold the seat. Louisiana's other Senator, Bill Cassidy, is the first Republican to hold his seat since the end of Reconstruction. (Source) Additionally, there have only been four Republican Governors of Louisiana since Reconstruction. (Source) That fact alone is perhaps the best measure of how politics has changed in the state, as well as a reminder that no state will remain red or blue forever. Political trends never last forever. It may take a century, but at some point they will and can be broken.