Senate Democrats Look To Be On The Defensive In 2018
As things stand, Democrats will have a hard time winning back control in the Senate in 2018.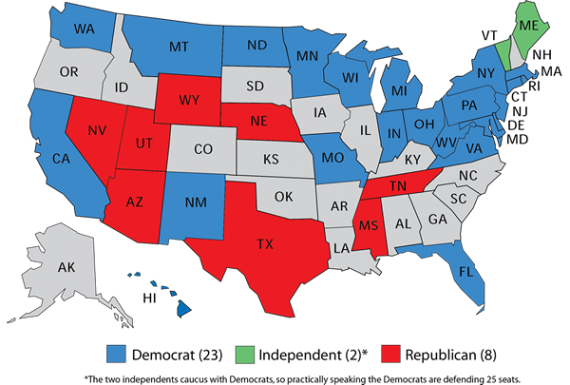 The 2016 election is just a month behind us, and attention is already shifting to the mid-term elections that will occur 23 months from now in 2018. At that point, of course, we'll be roughly halfway through Donald Trump's first term in office and Democrats will no doubt be eager to pick up seats in the both the House and the Senate. For reasons that we've been over before, including the lack of true "swing" districts and Republican advantages in state legislatures that helped with redistricting that will remain in effect until 2022, the odds that we'll see a shift in party control in the House are quite low. Republicans gained control of that body in the 2010 midterms and are likely to remain there until at least the midterm elections in 2022 when redistricting in the wake of the 2020 Census will take place. Even then, change is only likely if the current Republican dominance in state legislatures comes to an end, and that seems just as unlikely as change in control in the House of Representatives. The Senate is a different story. In this year's election, we saw a closely fought battle for control of the Senate and many believed that Democrats would be able to pick up enough seats to win at least narrow control. Instead, Democrats only managed to win two of the Republican seats in vulnerable states, in Illinois and New Hampshire and appear unlikely to win the runoff in the Senate election in Louisiana, which will be held on Saturday. As a result, the balance of power for the next two years will most likely be 52-48, meaning that Democrats would need to pick up four seats in order to win the Senate back two years from now. Unfortunately for the party now headed in the Senate by New York's Chuck Schumer, that appears to be something that is unlikely to happen.
Larry Sabato and his team at the University of Virginia's Center for Politics appear to be the first to take a glance at 2018, and the news for Democrats isn't good:
A potential silver lining for Democrats is that they head into the 2018 midterm as the party that does not hold the White House, and the "out" party typically makes gains down the ballot in midterms. But it will be difficult for Democrats to make Senate gains in 2018: Despite being in the minority, they face a near-historic level of exposure in the group of Senate seats being contested in two years, Senate Class 1.

It's hard to overstate how disappointing 2016 was for Democrats in the Senate. Yes, the party did net an extra two seats by defeating Republican incumbents in Illinois and New Hampshire despite Hillary Clinton losing her bid for the presidency, so the next Senate will be 52-48 Republican. But given that for most of the cycle it looked like Clinton would win the White House and also deliver the Senate, the Democrats clearly did not realize their potential this year.

One of the big reasons why the Senate majority appeared in reach for the Democrats in 2016 was that the Republicans were, and still are, overexposed in Senate Class 3, the 34 seats that were up for election this past November. Republicans controlled 24 of 34 seats on a map where they had made substantial gains the last two times it had been contested, the GOP wave year of 2010 (when the Republicans gained six seats) and President George W. Bush's reelection in 2004 (when they gained four). But the GOP largely held the line and now hold a 22-12 advantage in this Senate class, which won't be up for election again until 2022, which could be President Donald Trump's second midterm election (although that's of course a very long way off).

Always looming over 2016, though, was the 2018 map. Including the two independents who caucus with the Democrats, the party holds 25 of the Class I Senate seats that are up for election in 2018, while the Republicans hold only eight. Again, a look back at the last few times this group of seats was contested explains the Democrats' exposure. After Republicans netted eight seats on this map in the 1994 Republican Revolution (and party switches by Sens. Richard Shelby of Alabama and Ben Nighthorse Campbell of Colorado from Democrat to Republican would essentially make it 10 by the time of Campbell's switch in March 1995), Democrats made big gains in Class 1 in both 2000 (four) and 2006 (six). Going into 2012, it appeared that Democrats would lose seats, but they upset expectations and instead gained two, which is why they are so overextended now.

Only three times before in the era of popularly-elected senators has a party begun a midterm cycle as exposed as the Democrats are in 2018, and only once since World War II. When we say "begun," we mean the partisan makeup of the class up for election in December about two years prior to Election Day — where we are in the calendar right now.
Of more concern to Democrats, it would seem is the fact that Democrats will be required to defend seats in ten states that Donald Trump won last month, at least five of which are states that Republicans have consistently won over the elections dating back to 2000 and earlier. Republicans, meanwhile, will only have to defend seats in eight seats, all of which are states that Republicans have won in Presidential elections on a consistent basis for at least the past two decades. This puts Democrats in the difficult position of trying to flip a seat in a state such as Mississippi, Utah, or Tennessee, which is unlikely, while at the same time defending seats in states such as Montana, North Dakota, and West Virginia, all of which have become solidly Republican states. Picking up enough seats to regain control of the Senate in this scenario is going to be difficult to say the least. Republicans, on the other hand, stand a good chance of adding to their majority if they can win seats in the aforementioned states, or in states such as Missouri, Indiana, or Ohio. Additionally, the fact that turnout in midterm elections tends to favor Republicans could place other seats, such as those in traditionally Democratic states that Trump won such as Wisconsin, Michigan, and Pennsylvania, in jeopardy for Democrats. Obviously, if the GOP is able to add to its majority in 2018 that would make its task in 2020 of holding onto control of the Senate somewhat easier.
All of this, of course, is just 'back of the envelope' speculation based on what the map will look like in 2018 and what we know about how Senate elections tend to go based on what has happened in the past. At this point, there are still plenty of factors we don't know that are likely to play a role in how 2018 will turn out. For example, it's likely that one or more of the Senators up for re-election will decide to retire, thus creating an open seat that both parties will be competing for two years from now. We also don't know who will be running against any of the incumbents who do stand for re-election and what strengths or weaknesses they might have. Finally, and perhaps most importantly, we have no idea what will happen over the next two years in the areas, most especially including what the public perception of the Trump Administration in particular and Republicans in general. This will obviously have a huge impact on how 2018 plays out. As things look right now, though, the GOP is clearly in a far better position than Democrats.