Republican Plan B: Hold The Debt Ceiling Hostage?
Republicans reportedly have another plan to get what they want on Obamacare and other issues.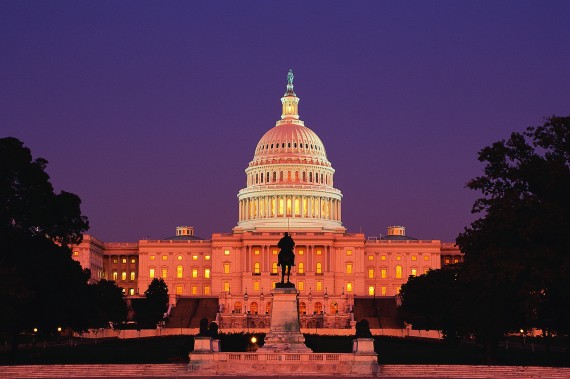 By sometime later this week, the Senate will, by one method or another, defeat the Continuing Resolution that defunds the Affordable Care Act and send the matter back to the House. National Journal's Tim Alberta takes a look at what just might happen next:
Sources familiar with the planning say House Speaker John Boehner is preparing a third option, one that keeps the government open at post-sequester spending levels while not conceding defeat on Obamacare. To accomplish this, the Republican leadership is planning to propose a debt-ceiling package—perhaps as early as next week—that has as its centerpiece a one-year delay of President Obama's health care law.

Meanwhile, House leadership would supplement the revised CR with some assortment of conservative policy provisions (such as a "conscience clause" for health care coverage, or a verification system for insurance subsidies). Adding such items, the thinking goes, would secure sufficient support from skeptical House Republicans while not antagonizing enough Democrats to derail passage in the Senate.

Top Republicans say shifting their anti-Obamacare efforts from the CR to the debt ceiling is smart strategy and sound politics. For one thing, conservatives now realize that delaying Obamacare—as opposed to repealing or defunding it—represents their best shot at scoring a health care victory. Also, Boehner can honestly tell his members that he did everything he could to defund Obamacare in the CR. And, at the end of the day, Republicans still believe their leverage will be maximized when negotiating the nation's borrowing limit.

But timing is everything. If Boehner's debt-ceiling plan isn't presented in close proximity to the Senate's defeat of the House CR, Republican aides worry that conservatives could grow restless and orchestrate another CR battle over Obamacare. But if the debt-ceiling proposal is introduced just as the Senate is sending back its clean CR, Boehner can combine the separate skirmishes and sell his plan as a two-step solution to the challenge that has galvanized conservatives: how to defeat Obamacare without shutting down the government.

"It's all one battle," said Rep. Tom Price of Georgia, a leading House conservative who is vice chairman of the Budget Committee.
Jonathan Weisman at The New York Times outlined a similar strategy:
Even as the House pushed through its spending bill, House Republican leaders met behind closed doors with their rank and file Friday to lay out the next step in the budget battle — a bill that would raise the government's statutory borrowing limit for a year, delay implementation of the health care law over that year, and push a grab-bag of Republican initiatives, from binding instructions to overhaul the tax code to mandatory construction of the Keystone XL oil pipeline.

All of the measures tied to the debt-ceiling increase have passed the Republican-controlled House before, only to be ignored by the Senate. But until now, said Representative John Fleming, Republican of Louisiana, "we haven't applied it to a must-pass piece of legislation."
So, instead of trying to hold Democrats feat to the fire over an end of the Fiscal Year government shutdown if a budget isn't passed, the plan is to hold the feat of the entire country to the fire with the threat that Congress won't pass an increase in the debt ceiling, thus threatening to send the entire Federal Government's budget process into a form of chaos that would make a shutdown seem like child's play. In such an event, the most obvious danger would be that the Federal Government would be unable to make interest payments on the National Debt as they become due, something that, but for a bookkeeping glitch back in the 1970s that was quickly fixed, has never happened once in American history. Even if there wasn't a debt default, though, the consequences of failing to raise the debt ceiling would be far reaching, and could become severe if allowed to continue for an extended period of time.  Put simply, without an increase in the debt ceiling the Federal Government would only be able to pay out obligations — which includes everything from debt service to Social Security payments to salaries to payments to Federal contractors — in an amount equal to whatever revenue is coming into Federal coffers at a given time. This means that, somewhere along the way, choices would have to be made about what gets paid and what doesn't. Presumably, items like debt service, Social Security, and military related payments would get top priority, but that leaves a whole lot that wouldn't get paid, including those contractors I just mentioned. For however long the crisis lasts, a large amount of money would be sucked out of the economy and that would have rather a rather obvious effect on an economy that isn't very strong to begin with. Added on to that is the potential impact such a crisis would have on financial markets and investors general confidence in the United States. In other words, it wouldn't be pretty.
It's worth noting that amid all of this, President Obama has said repeatedly in recent days that he would not negotiate over the debt ceiling, something he repeated most recently in a late Friday afternoon phone call with Speaker Boehner. Of course, he said much the same thing the last time we went through this spectacle, and the parties ended up negotiating after all, although the deal they ended up with was far from satisfactory in any real respect. So, yes, there will be negotiations of some kind even if the parties involved don't call them that. The question is whether the GOP is anymore likely to get what they want, or even part of it, out of a debt ceiling showdown than they are out of a government shutdown showdown. Regardless of what the scenario is, the numbers in Congress remain the same, of course, and that suggests that this purported "Plan B" isn't going to be much more successfully than Ted Cruz and his already doomed plan will be.