Republican Platform Veers To The Right
Once again, the GOP platform is turning into a surrender to social conservatives on issues such as same-sex marriage and transgender rights.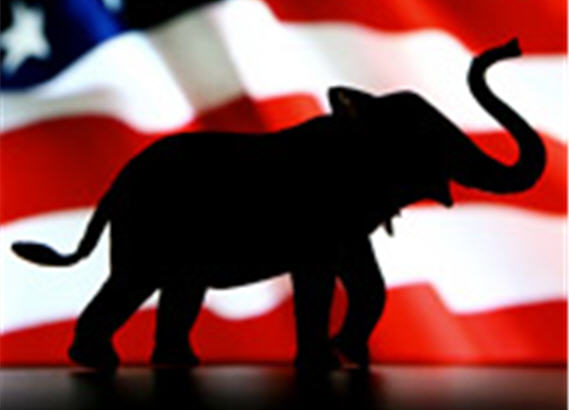 Perhaps not surprisingly, the proposed platform that Republican delegates will consider at next week's Republican National Convention veers far to the right on a number of issues, but it's unclear just how much of an impact this will have on the Presidential race itself:
CLEVELAND — Republicans moved on Tuesday toward adopting a staunchly conservative platform that takes a strict, traditionalist view of the family and child rearing, bars military women from combat, describes coal as a "clean" energy source and declares pornography a "public health crisis."

It is a platform that at times seems to channel the party's presumptive presidential nominee, Donald J. Trump — calling to "destroy ISIS," belittling President Obama as weak and accusing his administration of inviting attacks from adversaries.

But the document positions itself far to the right of Mr. Trump's beliefs in other places — and amounts to a rightward lurch even from the party's hard-line platform in 2012 — especially as it addresses gay men, lesbians and transgender people.

As delegates debated in two marathon sessions here on Monday and Tuesday, they repeatedly rejected efforts by more moderate members of the platform committee to add language that would acknowledge or condemn anti-gay discrimination — something Mr. Trump has done himself.

The numerous additions to the platform on marriage, family, homosexuality and gender issues were a reflection of just how much society and the law have shifted since Republicans adopted their last platform four years ago. And the debate this week showed just how unsettled many Republicans remain with those changes.

In 2012, the Supreme Court had not yet ruled that same-sex marriage was a constitutional right, and transgender rights had not yet become a matter of intense national discussion.

But while public and legal opinion has moved steadily in one direction, the official declaration of Republican Party principles appears to be heading sharply in the opposite direction. The party's approach to social issues now threatens to disrupt the convention next week. Moderate delegates pushing for gay rights language in the platform secured enough signatures on Tuesday to demand a vote on their proposals from all 2,475 delegates.

Social conservatives in the party exerted significant influence over the drafting and amending of the platform this week, succeeding in almost all of their efforts to add language that pushed the document more to the right.

And what Republicans will probably end up with when they formally vote next week to ratify the platform approved in committee on Tuesday is a text that can seem almost Victorian in its moralizing and deeply critical of how the modern American family has evolved.

The platform demands that lawmakers use religion as a guide when legislating, stipulating "that man-made law must be consistent with God-given, natural rights."

It also encourages the teaching of the Bible in public schools because, the amendment said, a good understanding of its contents is "indispensable for the development of an educated citizenry."

(…)

[N]early every provision that expressed disapproval of homosexuality, same-sex marriage or transgender rights passed. The platform calls for overturning the Supreme Court marriage decision with a constitutional amendment and makes references to appointing judges "who respect traditional family values."

"Has a dead horse been beaten enough yet?" asked Annie Dickerson, a committee member from New York, who chastised her colleagues for writing language offensive to gays into the platform "again and again and again."

Additional provisions included those that promoted state laws to limit which restrooms transgender people could use, nodded to "conversion therapy" for gays by saying that parents should be free to make medical decisions about their children without interference and stated that "natural marriage" between a man and a woman is most likely to result in offspring who do not become drug-addicted or otherwise damaged.
On some level, of course, party platforms mean far less than meet the eye and usually aren't the best guide for what kind of agenda a political party will be pursuing if they gain political power. The Republican platform, for example, has included provisions regarding Constitutional Amendments to overturn Roe v. Wade or ban same-sex marriage and yet no such provision has even made it on the agenda of a relevant committee since the House gained control of the House in 2010 and the Senate in 2014. In no small part, this is because the leadership in both bodies knows that such measures would never get anywhere close to the votes needed to pass and that even the mere attempt to do so would at this point cause more political headaches for the party than they are worth. More often than not, these provisions end up in platforms because party leadership lets it happen as something of a consolation prize to the conservative wing of the party, which would likely get upset if language such as this were stripped from the platform since it would be the final sign that they really have lost the culture war battle they claim to be fighting.
Notwithstanding the fact that party platform's are somewhat meaningless, the fact that the GOP continues to advocate policy positions that are out of step with the American public is something that ought to concern any Republican who actually wants to win elections. Support for same-sex marriage, for example, has surpassed  60% in polling that has taken place in the year since the Supreme Court decided Obergefell v. Hodges. Additionally, polling has shown solid support for the rights of transgender Americans, a position opposed to that apparently being taken in the new platform. At some point, one has to believe that a party platform that is out of step with the public as a whole is going to have an impact on elections. To some extent, we have seen that in the fact that younger voters seem to have largely written off the GOP due to its stance on social issues. Since those voters are literally the future, that's something the GOP ought to be worried about. Instead, they're acting as if it's still 2004 and they can get away with pandering to the social conservatives that are, arguably, becoming an increasingly less relevant portion of the electorate.