Republican Primary Rules Favor Centrists
Why Republicans nominate moderates for president and not other offices.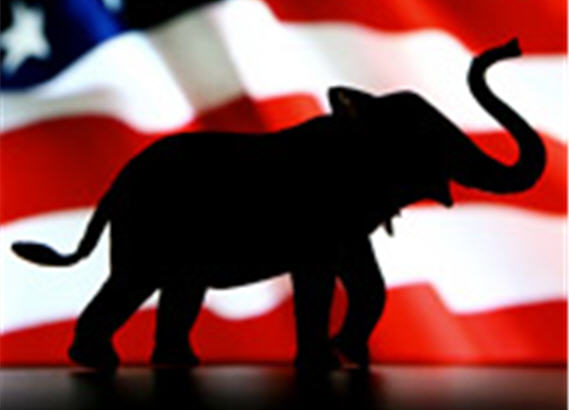 538's David Wasserman explains why far-right candidates lead the national polls but don't win the Republican nomination.
There are plenty of reasons to be cautious of national polls that show Trump and Carson leading. They may fail to screen out casual voters, for instance, and leaders at this point in past years have eventually tanked. But perhaps the biggest reason to ditch stock in these polls is that they're simulating a national vote that will never take place.

In reality, the GOP nominating contest will be decided by an intricate, state-by-state slog for the 2,472 delegates at stake between February and June. And thanks to the Republican National Committee's allocation rules, the votes of "Blue Zone" Republicans — the more moderate GOP primary voters who live in Democratic-leaning states and congressional districts — could weigh more than those of more conservative voters who live in deeply red zones. Put another way: The Republican voters who will have little to no sway in the general election could have some of the most sway in the primary.

As The New York Times' Nate Cohn astutely observed in January, Republicans in blue states hold surprising power in the GOP presidential primary process even though they are "all but extinct in Washington, since their candidates lose general elections to Democrats." This explains why Republicans have selected relatively moderate presidential nominees while the party's members in Congress have continued to veer right.

The key to this pattern: "Blue-state Republicans are less religious, more moderate and less rural than their red-state counterparts," Cohn concluded after crunching Pew Research survey data. By Cohn's math, Republicans in states that Obama won in 2012 were 15 percentage points likelier to support Romney in the 2012 primary and 9 points likelier to support McCain in 2008 than their red-state compatriots. Romney and McCain's advantage in blue states made it "all but impossible for their more conservative challengers to win the nomination," Cohn wrote.
How big is that advantage?
The electorate that nominates GOP presidential candidates is much bluer than the ones that nominate other GOP officials, a distinction that is almost impossible to overstate. Look at where the Republican Party lives: Only 11 of 54 GOP senators and 26 of 247 GOP representatives hail from Obama-won locales, but there are 1,247 delegates at stake in Obama-won states, compared with just 1,166 in Romney states.

What's more, an imbalance lies in a nuance of the RNC's delegate allocation. Although it can be a byzantine process, here are the basics: The RNC allows state parties some leeway in how to award delegates to candidates. In a few states, including Florida, Ohio and Arizona, the primary winner wins all the state's delegates. In most others, delegates are allocated either proportionally to votes or by the winner in each congressional district.

A total of 832 delegates (about 34 percent of all 2,472 delegates) spanning 23 states will be awarded based on results at the congressional district level. Here's the catch: According to the RNC's allotment rules, three delegates are at stake in each district, regardless of the partisan lopsidedness of the seat. This creates a "rotten boroughs" phenomenon in which Blue Zone Republicans' votes can be disproportionately valuable.
Presumably, this is not an accident. While rank-and-file Republicans might prefer to nominate the most conservative possible candidate, party leaders want to win elections. While it might make sense to run hard-right candidates in overwhelmingly Republican House districts and for state-wide office in the reddest of Red States, presidential elections are won by appealing to swing voters in the handful of states that are actually competitive. While the most conservative candidates make the Republican get-out-the-vote effort, the winner-take-all nature of the presidential election process makes GOTV irrelevant in all but a handful of states. It doesn't really matter whether the Republican nominee wins Texas by 100,000 votes or a million. What matters is eking out a victory in Ohio, Florida, Virginia, Pennsylvania, Wisconsin, Colorado, and a couple of other states.
Donald Trump is something of an outlier here, in that he's less ideologically definable than Rick Santorum, Mike Huckabee, or Ted Cruz. I'm not seeing enough state-level polling to know what his appeal is in blue states. Regardless, the process seems designed to weed out candidates who will scare off swing voters.