Republican Voters Agree With Trump On Immigration
A new poll shows that a near majority of Republicans agree with even some of Donald Trump's most controversial statements on immigration.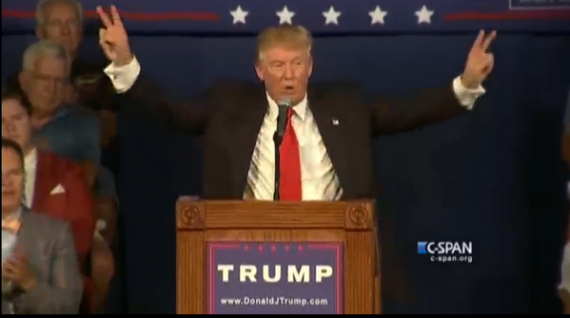 A new poll shows that Donald Trump's views on immigration are gaining favor inside the Republican Party:
Republicans need to make gains with Hispanic voters in 2016, but that reality is complicated by the fact that more adults support Donald Trump's hard-line stance on immigration, a new Economist Group/YouGov Poll finds.

A whopping 49 percent of Republicans and independents who lean to the GOP say Trump is the presidential candidate who can best handle the issue — well ahead of Marco Rubio with 10 percent GOP support, Ted Cruz with 7 percent and Jeb Bush at 5 percent.

The divide in the GOP over how to address issues stemming from illegal immigration spilled over in the fourth Republican presidential debate Tuesday. The opt-in, Internet survey was taken Nov. 5-9, before the economy-focused debate in Milwaukee.

Trump traded barbs with Ohio Gov. John Kasich, who called the front-runner's idea to deport the estimated 11 million immigrants who arrived in the U.S. illegally "a silly argument" that "makes no sense." Bush also attacked Trump, saying mass deportation would tear communities apart.

"Even having this conversation sends a powerful signal," Bush said during the debate in Milwaukee. "They're doing high-fives in the Clinton campaign now when they hear this."

Trump's plan to end so-called birthright citizenship and send all unauthorized immigrants back to their home countries helped propel him to the top of polls this summer.  Rubio and Bush both support a path to legal status for undocumented immigrants who undergo a background check, learn English and pay fees or taxes.

In another sign of GOP support for Trump's strict immigration policies, more poll respondents reacted favorably to a comment by the real-estate mogul.

Sixty-five percent of Republicans and the independents who lean that way agreed with this statement: "When Mexico sends its people, they're not sending their best. They're sending people that have lots of problems. They're bringing drugs. They're bringing crime. They're rapists." Trump said that in June, but poll respondents weren't told who said it.

By contrast, 77 percent of Republicans disagree with this comment: "Yes, illegal immigrants broke the law, but it's not a felony. It's an act of love; it's an act of commitment to your family." Poll respondents weren't told that Bush said the comment in April.

A wide-range of Republicans, including 2008 presidential nominee John McCain, have said the party could be in danger of losing the 2016 White House race if the GOP doesn't make gains with Hispanic voters.

(emphasis added)
The fact that Republicans tend to be supportive of Donald Trump's views on immigration should not come as a surprise, of course. For one thing, the things Trump has been saying on this issue since he got into the race largely mirror majority Republican opinion on immigration for the past several years whether we're talking about "border security" or the issue of what do about people in the country illegally. The fact that Trump continues to lead nationally as well as in Iowa, New Hampshire, South Carolina, and Florida. Additionally, the fact that candidates who have been willing to distinguish themselves from Trump on immigration such as Jeb Bush and John Kasich see themselves falling in the polls while Marco Rubio, who made headlines two years ago as the chief Republican co-sponsor of the Senate immigration reform bill, has done everything possible to run away as fast as possible from his legacy and past statements on the need for immigration reform.  As I have said in the past, the fact that Trump is succeeding in the race for the the nomination is largely reflective of the fact that he is saying things the Republicans agree with, this is especially true when it comes to immigration. This also explains why candidates who are trying to push back against his anti-immigrant rhetoric are falling in the polls.
The question that all of this presents, of course, is what impact it may all have on the General Election in 2016. Even if Donald Trump isn't the Republican nominee, it now seems apparent that he and his supporters are going to have a major impact on the direction the Republican Party takes over the course of the next year on this issue and others. The very real potential exists that it will further damage the GOP's image among Latino and other minority voters that allows Democrats to motivate people to get to the polls next November. It has already been established that the GOP isn't going to win nationally solely by relying on white voters, and that Democrats can vastly increase their advantage in several key Electoral College states if they can increase Latino turnout. If Trump's rhetoric helps them do that, then it could succeed in taking out a Republican nominee who might otherwise have a chance of winning. The fact that there are so many on the right who are making the effort to push back against Trump's rhetoric and that of his supporters is an indication that they are aware of the danger it poses to the party. The question they face, though, is whether, even if they succeed in denying Trump the nomination, they will be able to change the GOP's image from the way it has been painted thanks to Trump's rhetoric.