Republicans Begin To Realize That Obama Won't Be Easy To Beat
Republicans begin to discover that defeating an incumbent President isn't an easy task.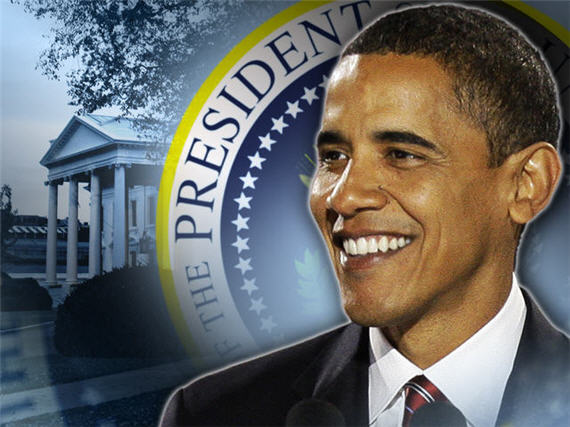 As the euphoria of 2010 starts to wear off and Republicans look to 2012, they're beginning to realize that beating Barack Obama won't be quite as easy as they thought:
Just four months after posting historic election gains, Republicans are experiencing a reality check about 2012: President Barack Obama is going to be a lot tougher to defeat than he looked late last year.

Having gone from despondency in 2008 to euphoria last November, a more sober GOP is wincing in the light of day as they consider just how difficult unseating an incumbent president with a massive warchest is going to be, even with a still-dismal economy.

"I consider him a favorite, albeit a slight favorite," said former George W. Bush adviser Karl Rove. "Republicans underestimate President Obama at their own peril."

Much of the GOP realism is rooted in a long-standing truism of American politics – that absent a major crisis of confidence, it's highly difficult to defeat a sitting president.

But aside from the traditional advantages of incumbency, Republicans are also fretting about the strength of Obama's campaign infrastructure, the potential limitations of their own field and, particularly, the same demographic weaknesses that haunted them in 2008.

The best indicator of the GOP outlook on 2012 may be the shape of the party's prospective field. Many of the contenders who can afford to sit out a presidential election cycle and wait for an open-seat race – Sen. John Thune (R-S.D.), New Jersey Gov. Chris Christie and former Florida Gov. Jeb Bush come to mind – seem intent on doing so.

The view among senior Republicans is not that Obama is a sure bet or that the GOP nomination is not worth having. Many are convinced 2012 will be more competitive than 2008 and that the White House can still be won.

But there is an unmistakable sense among Republicans that the breezy predictions of Obama turning out to be the next Jimmy Carter were premature.

"The people that are sitting around saying, 'He's definitely going to be a one-term president. It's going to be easy to take him out,' they're obviously political illiterates – political idiots, let me be blunt," said former Arkansas Gov. Mike Huckabee in an interview.
As I noted last week, history indicates that Huckabee's point is absolutely correct:
Since 1868, incumbent Presidents have been re-elected 15 of 22 times they've stood for re-election. The only losses were Grover Cleveland (1888), Benjamin Harrison (1892), William Howard Taft (1912), Herbert Hoover (1932),  Gerald Ford (1976) Jimmy Carter (1980), George H.W. Bush (1992). Each of these coincided with either a weak economy during the election year or the presence of a strong third party candidate on the ballot, and in Ford's case there was the added factor of Watergate, his pardon of Richard Nixon, and the fact that he had never been elected to the Presidency or Vice-Presidency. The odds strongly favor an incumbent's re-election and anyone who's betting against Barack Obama at this point isn't looking at the evidence closely enough.
And what does the evidence show us so far? Well, after a year of mostly negative approval numbers, and a devastating loss for his party at the polls, Barack Obama's approval numbers are back in positive territory and seem to be trending upward at the moment: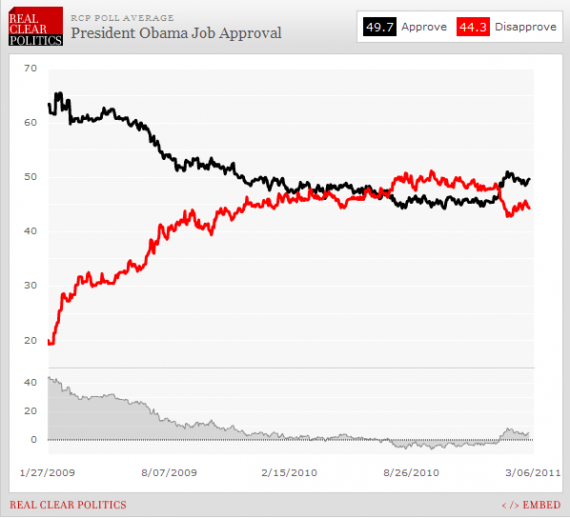 This is a trend that began in the wake of the surprisingly successful lame duck session of Congress at the end of 2010, and picked up steam after the shootings in Arizona and President Obama's speech in Tucson. Add to this the fact that individual Republican candidates continue to under perform in polling matchups against the President, and it's rather apparent that the idea that Obama's defeat is in any way inevitable is really a rather silly idea.