Obama's State-Level Job Approval Polls And The 2012 Election
A new set of polls from Gallup show that President Obama is still looking good for re-election.
While everyone pays attention to the national job approval or head-to-head polls that pollsters put out on a regular basis, when it comes to running for re-election in 2012, what's really going to matter to President Obama and his eventual opponent is, of course, the Electoral College. In an effort to see where things stand in that regard, Gallup has just released a state-by-state breakdown of the President's job approval numbers and the picture looks grim but by no means un-winnable:
PRINCETON, NJ — Residents of Hawaii gave native son President Barack Obama the highest average 2010 job approval rating (66%) of any of the 50 states, surpassed only by the 84% Obama received in the District of Columbia. Obama's lowest average state approval rating in 2010 was 28% in Wyoming.

Half of the 10 most approving states in 2010 were located in the Northeast: New York, Delaware, Massachusetts, Rhode Island, and Connecticut. Three exceptions were Maryland, California, and Obama's home state of Illinois. All of these states tilt significantly more Democratic in terms of political party identification than the national average.

Five of the 10 least approving states in 2010 were in the West: Wyoming, Idaho, Utah, Alaska, and Montana. The other least approving states were mostly in the middle of the country, including Oklahoma, Kentucky, Arkansas, and Kansas.
Those ten "most-approving" states would constitute 135 of the 270 Electoral Votes that the President would need to be re-elected, while the ten "least approving states"  they would add up to 46 Electoral Votes. Obama's advantage here is due largely to the presence of California and its 55 Electoral Votes.
Gallup continues:
Obama's overall average approval rating in 2010 was 47%, down 11 percentage points from the 58% he recorded in his first calendar year in office. For purposes of this state-by-state analysis, Obama's average is calculated for the calendar year, and is therefore slightly different than the yearly average calculated beginning with his inauguration on January 20, 2009.

Broadly speaking, residents of 20 states gave Obama an approval rating within three percentage points of his national average (between 43.8% and 49.8%). Twelve states plus the District of Columbia had average approval ratings above that range, and in 18 states, approval fell below it.
Here's the map: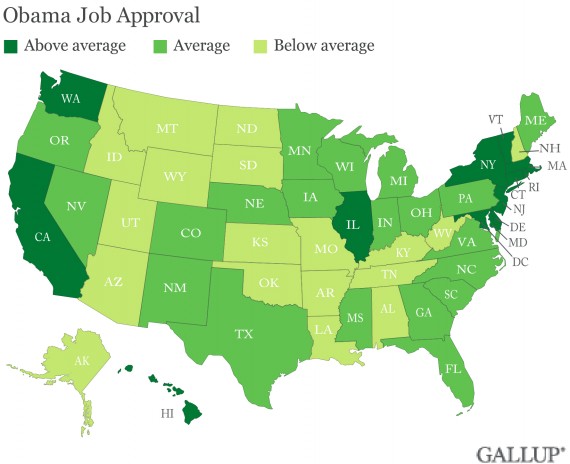 The Electoral Vote breakdown works out like this:
The states where the President's job approval rating is above average constitute 259 Electoral Votes. However, one of those states (Mississippi, 6 EVs) is one that he's not likely to win, and another (Ohio, 18 EVs) is likely to be a battleground state in 2012.
The states where the President's job approval is below average constitute 279 Electoral Votes. However many of these states include ones that Obama won in 2008.
The states where the President's job approval is +/- 3 percentage points of the average (which overlaps to some degree with both of the above lists) constitutes 259 Electoral Votes
So basically appears that, while there are some areas of concern — being below average in states like Virginia, North Carolina, Florida, Pennsylvania, and Indiana all of which he won in 2008, for example — the President is still in relatively good shape, especially given the state of the economy.  The other thing to keep in mind is that these poll numbers don't reflect a head-to-head matchup against a prospective GOP candidate and, for the moment at least, the only candidate that seems to be able to beat Obama in the polls is Mike Huckabee, who might night even run for President this time around. Much will depend on both the state of the economy between now and election day, and who the GOP ultimately nominates. Right now, the economy seems to be improving a little bit, and the GOP doesn't seem to know who it wants as its standard bearer in 2012.
Since 1868, incumbent Presidents have been re-elected 15 of 22 times they've stood for re-election. The only losses were Grover Cleveland (1888), Benjamin Harrison (1892), William Howard Taft (1912), Herbert Hoover (1932),  Gerald Ford (1976) Jimmy Carter (1980), George H.W. Bush (1992). Each of these coincided with either a weak economy during the election year or the presence of a strong third party candidate on the ballot, and in Ford's case there was the added factor of Watergate, his pardon of Richard Nixon, and the fact that he had never been elected to the Presidency or Vice-Presidency. The odds strongly favor an incumbent's re-election and anyone who's betting against Barack Obama at this point isn't looking at the evidence closely enough.