Republicans Push to Tighten Voting Rules
Across the country, Republicans are pushing laws that will make voting harder.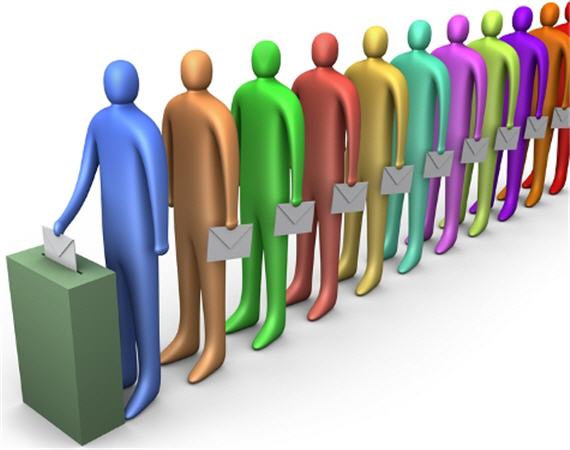 Across the country, Republicans are pushing laws that will make voting harder.
NYT ("Republican Legislators Push to Tighten Voting Rules"):
Less than 18 months before the next presidential election, Republican-controlled statehouses around the country are rewriting voting laws to require photo identification at the polls, reduce the number of days of early voting or tighten registration rules.

Republican legislators say the new rules, which have advanced in 13 states in the past two months, offer a practical way to weed out fraudulent votes and preserve the integrity of the ballot box. Democrats say the changes have little to do with fraud prevention and more to do with placing obstacles in the way of possible Democratic voters, including young people and minorities.

[…]

In 2008 Acorn, a group organizing minority and low-income communities, became a particular target, with Republicans asserting that Acorn was trying to steal the election with large voter-registration drives, some of which were found to be seriously flawed.

Democrats, who point to scant evidence of voter-impersonation fraud, say the unified Republican push for photo identification cards carries echoes of the Jim Crow laws — with their poll taxes and literacy tests — that inhibited black voters in the South from Reconstruction through the 1960s. Election experts say minorities, poor people and students — who tend to skew Democratic — are among those least likely to have valid driver's licenses, the most prevalent form of identification. Older people, another group less likely to have licenses, are swing voters.

Republicans argue that the requirements are commonplace.

"If you have to show a picture ID to buy Sudafed, if you have to show a picture ID to get on an airplane, you should show a picture ID when you vote," Gov. Nikki Haley said this month when she signed the bill into law in South Carolina, using a common refrain among Republicans.

[…]

Most of the measures would require people to show a form of official, valid identification to vote. While driver's licenses are the most common form, voters can also request free photo IDs from the Department of Motor Vehicles or use a passport or military identification, among other things.

But Democrats say thousands of people in each state do not have these. The extra step, they add, will discourage some voters who will have to pay to retrieve documents, like birth certificates, for proof to obtain a free card. If voters do not have the proper identification on Election Day, they can cast provisional ballots in most states but must return several days later to a local board of elections office with an ID.
In theory, I've got little problem with requiring photo ID to vote. If nothing else, it increases public confidence in the legitimacy of our elections. But the fact of the matter is that there's no evidence that we have a problem with election fraud of the sort that would be curtailed by photo ID and the requirement will have a disparate impact on the poor. The notion that a significant number of people are registering and voting in multiple locations and exposing themselves to criminal liability in order to sneak in an extra vote or two for their preferred candidate doesn't pass the laugh test.
Voting in the United States is both too hard and too easy.  The fact that we hold elections on a Tuesday, when people have to go to work, rather than on a weekend like virtually everybody else on the planet, is just bizarre. And the requirement to register in advance is complicated and unnecessary. At the same time, the combination of easy absentee balloting and early voting–especially by mail–not only distorts election outcomes but provides an easy opportunity for fraud.