Republicans Ready To Cave On DHS Funding?
With three days to go, there are signs the GOP is ready to give up on its showdown over DHS funding.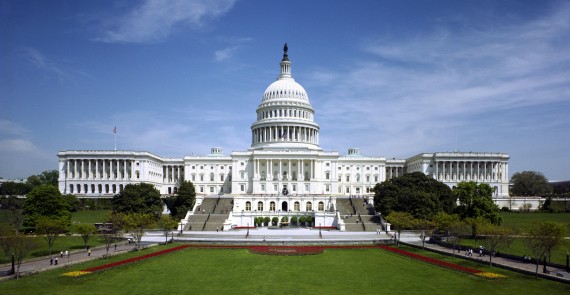 For the better part of the past month, the Senate has been tied down in a debate over funding for the Department of Homeland Security and deportation deferral program that the President announced in November. As you may recall, during the lame duck session, Congress passed a budget that fully funded virtually the entire Federal Government through the end of the Fiscal Year in September. The budget for the Department of Homeland Security, however, was only funded through the end of February. At the time, the move was seen as an opportunity for the newly elected Republican Congress to make some kind of statement about the President's executive action. In January, the House passed a bill that purported to fund DHS in all respects except for those directly tied to the deportation relief program. For the past month, though, that bill has been tied up in the Senate due to what continues to be a successful Democratic filibuster effort that has, as of yet, not resulted in any defections from conservative Democrats such as West Virginia's Joe Manchin. With the fourth failed cloture vote just last night, Senate Majority Leader Mitch McConnell appears to be moving on to Plan B:
Senate Majority Leader Mitch McConnell took steps Monday to prevent a shutdown of the Department of Homeland Security by splitting off legislation attacking President Obama's immigration actions from the funding fight.

The Kentucky Republican is seeking to fast-track legislation to eliminate two new immigration programs launched by Obama late last year, while allowing a 2012 initiative targeting younger immigrants to continue as designed.

McConnell's move sets the stage for separate votes on a measure to fund the Homeland Security Department (DHS) past Friday and to dismantle Obama's unilateral efforts to shield millions of illegal immigrants from deportation.

A House-passed proposal combining those two efforts had hit a wall in the Senate, where Democrats on Monday united for a fourth time this month to block the measure over their opposition to the provisions undoing Obama's executive actions.

The DHS will suffer a partial shutdown if Congress doesn't act before Saturday.

McConnell said he wanted to take away Democrats' excuse for not voting against Obama's 2014 actions, which several centrist Democrats had previously criticized.

"Some Democrats give the impression they want Congress to address the overreach. But when they vote, they always seem to have an excuse for supporting actions they once criticized," he said on the floor. "So I'm going to begin proceedings on targeted legislation that would only address the most recent overreach from November.

"It isn't tied to DHS funding. It removes their excuse," he added.

McConnell's decision could mark a step forward from the stalemate over the funding debate, which had left GOP leaders of both chambers struggling for a way to prevent an agency shutdown while appeasing conservatives insisting the immigration riders be a part of the package.

It remains unclear how the strategy will be received by House conservatives, but the office of Speaker John Boehner (R-Ohio) was quick to indicate its support.

"This vote will highlight the irresponsible hypocrisy of any Senate Democrat who claims to oppose President Obama's executive overreach on immigration, but refuses to vote to stop it," Boehner spokesman Michael Steel said in a statement. "If we are going to work together on the American peoples priorities, Washington Democrats must be honest with the people they represent."

Democrats quickly criticized McConnell's decision, saying it won't help prevent a shutdown of DHS.

"It's becoming clear Senator McConnell realizes he must separate himself from the far right, but the bottom line is this proposal doesn't bring us any closer to actually funding DHS, and Republicans still have no real plan to achieve that goal," Sen. Charles Schumer (D-N.Y.) said in a statement.

He added that any immigration debate should happen after lawmakers pass a bill to fund Homeland Security.

McConnell's move sets up what is sure to be an animated meeting of House Republicans on Wednesday morning, where Boehner and other GOP leaders are certain to get an earful from conservatives insisting the immigration provisions remain attached to the Homeland Security bill and centrists leaning toward a cleaner bill for the sake of keeping the agency up and running.

Boehner had been adamant that the ball remain in the Senate's court after the House last month passed a $40 billion funding proposal that included several amendments undoing Obama's unilateral efforts to shield millions of illegal immigrants from deportation.

McConnell, meanwhile, had said he was "stuck" in the face of Democrats insisting on a clean bill absent the immigration amendments. Monday's 47-46 vote was designed to drive home that point
McConnell's rhetoric makes it seems like he thinks that he's trapped Democrats who have been unwilling to take a stand on the President's deferred deportation program, and that's how the National Journal characterizes is, but it seems clear to me that this is nothing short of a recognition by McConnell that the shutdown strategy has failed. As in previous cases, Republicans have obviously hoped that the threat of a shutdown at DHS would force Democrats to cave in and allow a DHS bill that "defunded" the President's deportation relief program to pass the Senate. The recent ruling by a Federal Judge in Texas striking down the program has no doubt given them some degree of hope notwithstanding the fact that another Federal Judge in Washington, D.C. has ruled completely differently. In the end, though, it's obvious that neither party wants to get to the point where it's the end of the day on Friday and there hasn't been a budget passed for the Department of Homeland Security, the question has always been which party which blink first. For the moment at least, it appears that the Republicans are ones getting ready to cave in. If McConnell's proposal passes, then we'll see the budget for DHS approved in full, including that portion covering the deferred deportation program. The second bill purporting to repeal the President's program, even if it did pass the House and Senate, would quite obviously be vetoed and that veto would not be over ridden. In the end, it would be a purely symbolic vote.
The big question, of course, is whether or not this will go over well with the House Republicans, which would have to pass a new DHS funding bill for this to go to the Senate. The initial comments regarding McConnell's plan from House Speaker John Boehner have been muted, but seemingly positive, but the real test will come tomorrow when the House Republican Caucus holds its weekly meeting. That will be the first initial test of how things are likely to go in the House if this plan goes forward, and it will likely lead to Boehber and the rest of the leadership having to once again making a choice between keeping the government running and appeasing the right wing of their caucus. Given the fact that funding runs out in three days, there isn't much time for them to decide.