Republicans Shift Focus To Freshman Democrats
The right has spent a seemingly inordinate amount of time focusing on relatively powerless Members of Congress.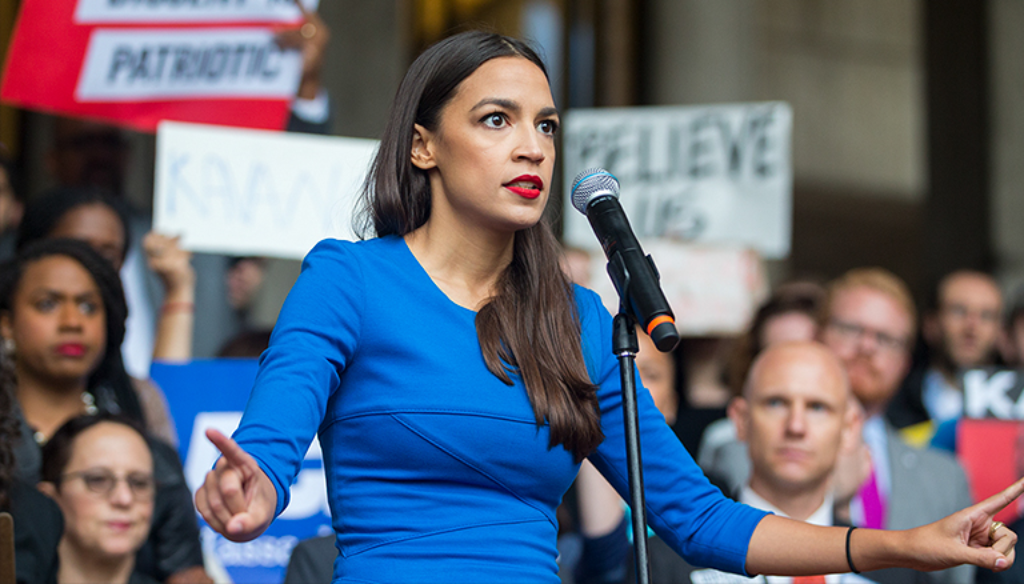 After spending the 2016 campaign targeting Hillary Clinton and much of the 2018 campaign targeting Nancy Pelosi, Republicans seem to have turned their sights to freshman Democrats such as Alexandria Ocasio-Cortez:
The Republican Party has a new trio of Democratic villains: Rashida Tlaib, Ilhan Omar and Alexandria Ocasio-Cortez.

The House GOP midterm strategy largely centered on trying to tie every Democrat to now-Speaker Nancy Pelosi — and it failed spectacularly. So now GOP leaders and the National Republican Congressional Committee are turning to the superstars of the House Democrats' freshman class as their newest targets.

It's a move born, in part, out of desperation. House Democrats already have their ultimate nemesis in President Donald Trump, who's proven to be one of the best political and fundraising foils in U.S. history. House Republicans, who now find themselves in the minority after eight years in power, badly need something else to rally around. Thus the focus on the three high-profile Democratic lawmakers, who have gotten more national media attention in the past three months than many members get in their whole careers.

The NRCC has sent out thousands of emails trying to tie vulnerable Democrats to Ocasio-Cortez, Tlaib and Omar. And the committee's website makes it appear as if these backbench members are running the House. While the NRCC still regularly bashes Pelosi, GOP lawmakers and aides privately acknowledge that Ocasio-Cortez, Tlaib and Omar are their main focus now.

The GOP strategy risks a backlash — a party that has problems with women and minorities continues to focus its attacks on women of color — even as the freshman Democrats say they're not surprised by it.

Tlaib told POLITICO she's become a lightning rod for conservatives because her profile isn't one that has historically been seen in the halls of Congress.

"I think the fact that somebody like myself, who's a woman of color, is now an equal to many of them — people are very fearful of that," Tlaib said.
The most recent target has been Minnesota freshman Congresswoman Ilhan Omar, who came under fire after what many, including many of her fellow Democrats, characterized as anti-semitic tweets regarding the role of Jewish-Americans in American politics, remarks for which Representative Omar ultimately apologized by the end of the day. Additionally, Congresswoman Rashida Tlaib came under fire earlier in the year after she was caught on video yelling "We're gonna impeach the motherf—er!" in reference to the President. The video quickly went viral among Trump's supporters on the right, who cited it as evidence that Democrats are already looking at removing the President from office even before the release of any report from Special Counsel Robert Mueller that may speak to the issue of collusion or obstruction of justice on the part of the Trump campaign and the White House. Tlaib ultimately apologized for her rhetoric, but the video continues to circulate on the right as supposed evidence of the real motivation of Democrats in Congress with respect to their intention to investigate various aspects of the 2016 campaign and the Administration.
Of all the Freshman members that Republicans have focused on, though, none gets the attention from conservatives that Alexandria Ocasio-Cortez:
Ocasio-Cortez, who took down a potential speaker in a Democratic primary in New York and has forcefully urged the party to veer left, has been the constant target of NRCC fire.

"It speaks to a fear-based strategy that they utilize in order to kind of create political support, instead of actually painting a positive vision," Ocasio-Cortez said in an interview.

Most recently, she tangled with Republicans over provisions in her "Green New Deal" and on Monday her office retracted one of the documents tied to the resolution. The GOP mocked the move — but her plan to combat climate change has already been endorsed by roughly 70 House Democrats and a dozen Democratic senators, including four 2020 hopefuls.

The NRCC also hit Ocasio-Cortez last week for what it called "a fawning recap of her call with British Labour Party Leader Jeremy Corbyn, whose ties to anti-Semitism run so deep the British police launched an inquiry into allegations of anti-Semitic speech by him and other members of his party."

(…)

Rep. Pramila Jayapal of Washington, one of most outspoken progressive Democrats, blasted Republicans for focusing so much attention on Ocasio-Cortez, Tlaib and Omar.

"This is sort of a fear-mongering and a bit of insecurity among the fact that most of these women have far bigger Twitter followings than any of them ever could hope for," Jayapal said. " I think they just don't know what to do with powerful women of color. I've felt that before … in this chamber and I think it's a new level because there's so many more of us now."
At times it has seemed as though Republicans and conservative media have given Ocasio-Cortez more attention then the so-called "biased" media has since Election Day. While it's true that she has gotten more attention from major media outlets than most other freshman members of Congress, that has largely been because of the circumstances under which she won her election in beating someone who was high up in Democratic leadership and the extent to which she has been able to utilize social media and other outlets to promote herself. In the end, though, she is, as I've said, just 1/435th of the House of Representatives and a relatively powerless backbencher at that. If you were to just base your conclusions on the amount of attention that Republicans and conservative media give her, though, you'd think that Ocasio-Cortez was the most powerful member of the House Democratic Caucus, or that she was already a candidate for President.
On some level, of course, all this focus on relatively powerless Members of Congress is explained by the fact that they have become easy targets for conservatives looking to rally the base to focus on. In the case, of Talib and Omar, the rhetoric that these Congresswomen have used have been rightfully criticized even by their own party, but it pays for the media on the right to keep the focus on individuals like this because it keeps the base riled up and helps with fundraising and traffic. With respect Ocasio-Cortez, it's admittedly the case that she has swept into Washington with much more assertiveness than the average Freshman, but once again this clearly seems to be a case where the right is trying to pick out a vulnerable target that they can use to attack other Democrats. The difference is that, so far at least, Ocasio-Cortez is proving to be just as media savvy as her attackers, if not more so. Because of that, many of the attacks on her, while they undoubtedly resonate with the base, end up backfiring from the perspective of an outside viewer.
Some of this will change, no doubt, as the 2020 campaign heats up. Before long, the focus of Republican attacks will likely shift to the candidates running for the Democratic nomination and, eventually to the frontrunners and eventual nominee. For now, though, the right seems intent on focusing its attention on a handful of relatively powerless Members of Congress.