Republicans Worried About Political Impact Of Trump's Tariffs And Anti-Trade Rhetoric
Trump's tariff plan isn't going over well in farm country, and that could cause problems for the GOP in November.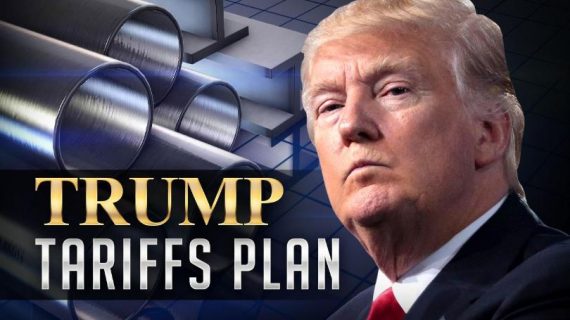 Politico reports that Republicans are becoming worried that the recent ramp up in anti-trade rhetoric and tariffs from the White House could have an impact on the election and on the GOP's strategy to hold on to Congress:
Republicans want President Donald Trump to stick to a simple message ahead of the 2018 midterm elections: cutting taxes and slashing regulations.

But the president, who regards himself as a master communicator, seems to have a different plan. After repeatedly deriding the marketing of the landmark tax reform passed in December — which he wanted to call the "Cut Cut Cut Act" — Trump has shifted gears, instead launching into a tit-for-tat war on trade with China.

Trump announced plans Thursday for $100 billion in tariffs on Chinese imports, on top of $50 billion outlined last month, after the Chinese proposed their own $50 billion countermeasures.

The back and forth threats, none of which have been implemented, have nevertheless triggered dramatic fluctuations in the stock market and produced anxiety for American companies, consumers and farmers in red states, who are facing targeted duties on valuable soybean exports.

"If the tariffs raise prices on American consumers, then that will negate part of the positive impact of the tax cut. It's the government giving the tax cut with the right hand and taking it away with the tariff with the left one," said Stephen Moore, a distinguished visiting fellow at The Heritage Foundation and one of the architects of the Trump campaign's tax plan.

Conservatives and business groups, which were central to the political push for tax reform bill, now worry that the potential tariffs and threats to pull out of trade agreements will overshadow their efforts to convince Americans of the benefits of the tax bill.

"The evidence of the tax cut working is getting yanked away. Conservatives and business groups aren't sure what to do about it because no one wants to be the target of a Trump tweet," said one conservative tax lobbyist.

(…)

"There is definitely a very real concern that the economic impacts on trade could overshadow the tremendous benefits of the Tax Cuts and Jobs Act," said Michael Steel, who served as a top aide to former House Speaker John Boehner and an adviser to former Florida Gov. Jeb Bush's 2016 presidential campaign.

Some Republican strategists argue it was too early to tell how any potential tariffs would affect Americans' pocketbooks — and that will be the key metric heading into 2018.

"There is definitely a very real concern that the economic impacts on trade could overshadow the tremendous benefits of the Tax Cuts and Jobs Act," said Michael Steel, who served as a top aide to former House Speaker John Boehner and an adviser to former Florida Gov. Jeb Bush's 2016 presidential campaign.

Some Republican strategists argue it was too early to tell how any potential tariffs would affect Americans' pocketbooks — and that will be the key metric heading into 2018.
While the immediate impact of Trump's misguided and foolish turn toward tariffs and protectionist, mercantilist, rhetoric has yet to be seen, we've already seen some evidence that it is having a negative impact that could cause problems for Republicans in the fall. The most obvious impact, of course, has been on Wall Street, where the stock market has been on a downward trend that has accelerated tremendously in the wake of each of the President's announcements of new tariffs. When the President suggested late last week that he could impose another $100 billion in tariffs on Chinese products, a threat to which China quickly responded with blunt threats of its own, Wall Street responded accordingly. Additionally, businesses that rely on imported steel and aluminum are telling reporters that their raw materials costs are increasing and American farmers, many of whom supported President Trump, are finding that the retaliatory trade sanctions that China has announced will have a significant negative impact on their businesses. That last factor, the impact of Trump's tariffs on American agriculture, are beginning to have political consequences of their own:
WASHINGTON — As President Trump moves to fulfill one of the central promises of his campaign — to get tough on an ascendant China — he faces a potential rebellion from a core constituency: farmers and other agricultural producers who could suffer devastating losses in a trade war.

Mr. Trump's threat to impose tariffs on Chinese goods came with a presidential declaration that trade wars are good and easily won. But the action has injected damaging uncertainty into the economy as Republicans are already struggling to maintain their hold on the House and the Senate in a difficult election year.

While the battle for control of the House will be waged in large part in the suburbs, rural districts in Southern Illinois, Iowa, Arkansas and Missouri could prove important. And control of the Senate could come down to Republican efforts to unseat Democrats in North Dakota, Indiana, Missouri and Montana — all states staring down the barrels of a trade war's guns.

With farmers angry and worried as China vows to retaliate, many Republicans find themselves torn between loyalty to a president who remains broadly popular in rural states and the demands of constituents, especially farmers, to oppose his tariffs.

In North Dakota, a major soybean-producing state, Representative Kevin Cramer, a Republican who is running for the Senate, sounded restrained this past week when he urged Mr. Trump to "take a more measured approach" to China. By Friday, he sounded panicked.

"I contacted @SecretarySonny to urge him to use every tool in the Farm Bill, including Commodity Credit Corp programs, to protect ag producers from effects resulting in potential trade actions against China," he wrote on Twitter, referring to Agriculture Secretary Sonny Perdue. "Farmers must know the Admin has their back & I urge them to act swiftly."

China's aggressive response to Mr. Trump's tariffs is aimed squarely at products produced in the American heartland, a region that helped send him to the White House. A trade war with China could be particularly devastating to rural economies, especially for pig farmers and soybean and corn growers. Nearly two-thirds of United States soybean exports go to China.

The tariffs have not yet gone into effect, and the administration is engaging in back-channel talks with the Chinese to try to resolve their differences.

In the meantime, Mr. Trump has been escalating his threats, and shows no sign of backing off. On Thursday night, he threatened to impose tariffs on an additional $100 billion in Chinese products.

Trump administration officials argue that the tariffs on Chinese goods, while not intended to help certain American industries, are necessary to prevent China from continuing to violate international trade rules. They say that less aggressive measures by past administrations failed, and that China has stolen American jobs and technology that are the key to future prosperity.

"It's not possible to have true gain without the pain," said Dan DiMicco, a trade adviser to Mr. Trump during the presidential campaign. "The battle is worth the victory, and we will win."

But farm-state Republicans like Mr. Cramer believe that their constituents could be a casualty, and they are begging the Department of Agriculture to intervene.

(…)

If the White House does end up subsidizing farmers, that may open trade conflicts on other fronts. Chad P. Bown, a senior fellow at the Peterson Institute for International Economics, said that such a measure could spark trade challenges from countries beyond China, which would object to unfair competition from American agriculture.

Patrick Delaney, a spokesman for the American Soybean Association, said his group was still focused on trying to prevent the tariffs from going into effect, rather than examining what kind of measures the administration might take to support farmers.

"It's a whole lot easier not to wreck the car in the first place than it is to think about what a repair might look like," he said.

Farmers have been among the most organized groups in lobbying the administration about its trade policy. But as trade tensions with China have escalated, farmers say these complaints appear to be falling on deaf ears. Many of them are now complaining to Congress.

For Republicans like Mr. Cramer, who is in a tough race against an incumbent Democrat, Senator Heidi Heitkamp, the president's threat to sharply escalate the administration's tariffs on Chinese imports — and China's threat to retaliate against American farm products — spells trouble in this year's midterm races. Mr. Cramer's aides did not respond to requests for comment.

"There's no question that it puts Republicans in a tough spot, because they've got to talk to their farmers and affected business owners about the negative impact of the tariff, which I'm sure they are hearing complaints about," said Scott Jennings, a Republican strategist in Kentucky. "On the other hand, they've got constituents who probably think it's a good idea for the president to stand up to China."
As the New York Times report excerpted above, several farm-state Republicans have begun pushing back against the President's rhetoric and policy and the consequences that they are having for their constituents. Iowa Republican Congressman David Young, for example, has been harshly critical of the policies and the impact they would have on farmers and the agricultural industry. Additionally, Senators such as Chuck Grassley and Joni Ernst out of Iowa and Ben Sasse and Deb Fischer of Nebraska have been critical of the President's trade rhetoric and the impact it is already starting to have in their states, which are, of course, heavily reliant on agriculture for jobs, revenue, and business. Other farm state Senators such as Pat Roberts and Jerry Moran of Kansas have been equally as critical.
It remains to be seen what the political impact of all this will be. With the exception of Congressman Young, who represents a district that only went for President Trump by four percentage points in 2016, only Senator Fischer of Nebraska is up for re-election this year, and her re-election to a second term seems secure at this point. What's important about all of this, though, is that the states that constitute the farm belt are largely heavily Republican states that went strongly for President Trump in the Presidential election. If the local economy in these states starts to sour thanks to retaliation for the President's rather foolish trade rhetoric and policies, that could pose problems for Republican efforts to hold on to control of the House of Representatives at the very least. In the short term, this is likely to cause Republican candidates to distance themselves from Trump on trade. If things start to turn sour in farm country, though, even that may not be enough for some candidates.