Rick Perry Leading GOP Field, But Electability Concerns Make Him Vulnerable
Rick Perry is still the GOP frontrunner, but his status far from secure.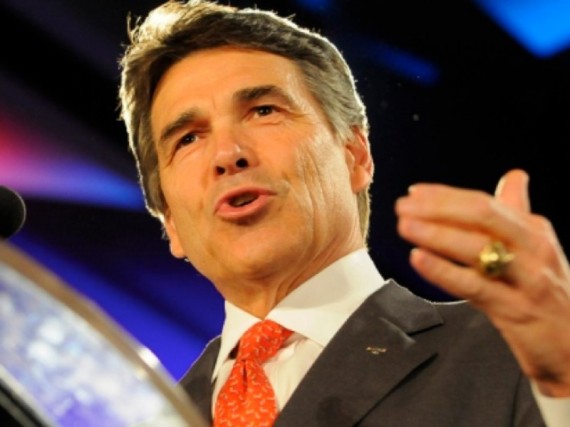 Rick Perry is leading in another new poll of the GOP field, this one from Gallup and USA Today, but there are also indications of how he could be vulnerable as Republican voters actually start to focus on the race:
Rick Perry leads Mitt Romney by 31% to 24% in a new USA Today/Gallup poll of Republican presidential nomination preferences. The two are well ahead of the rest of the GOP field, with

Ron Paul the only other candidate in double figures.

These results are from a USA Today/Gallup poll conducted Sept. 15-18, and are based on a question that asks all Republicans and independents who lean Republican to choose from the eight leading announced Republican candidates for president. The results among Republicans and Republican leaners who are registered voters are similar, with Perry leading Romney, 31% to 23%.
Once again, the poll confirms that this is a two man Perry/Romney race. Other than Ron Paul, who comes in at 13%, no other candidate gets above the single digits. After that it's Newt Gingrich, Herman Cain, and Michele Bachmann all bunched at 5%, and Rick Santorum and Jon Huntsman at 2% and 1% respectively. According to the poll, some 10% of Republican voters remain uncommitted.
If you narrow it down to an exclusively Romney/Perry race, Perry's lead widens, but the race looks far from over: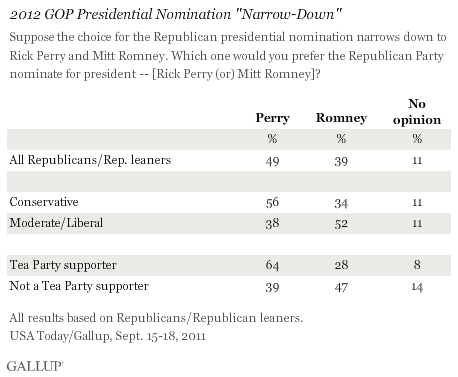 But there's some good news for Team Romney here, Republican voters want to win in 2012, and, right now at least, Perry looks to be having more trouble getting ahead of President Obama in national polls than Romney:
Perry seems to have momentum, but that could be slowed in the coming weeks if Republicans start to perceive that Romney is more electable in the general election. The new poll finds the slight majority of Republicans, 53%, prefer to see their party nominate the person who has the best chance of beating Obama, even if that person does not agree with them on almost all of the issues they care about. Forty-three percent would prefer a candidate who does agree with them on almost all of the issues, even if that person does not have the best chance of winning in November 2012.

Romney currently edges out President Barack Obama by 49% to 47% in national registered-voter preferences for the November election, while Perry trails Obama by 45% to 50%. However, neither Romney nor Obama is ahead by a statistically significant margin.
As the poll goes on to note, some of Perry's deficit against Obama may be due to name recognition issues and that may fade away as he becomes more well known nationally, especially if the economy continues to under-perform as expected. At the same time, though, it seems rather clear what Romney's best line of attack against Perry is going to be. Experience isn't going to do it, because Rick Perry has more time in public service under his belt than any of the other Republicans running (although Romney has started referring to Perry as a "career politician"). Ideology sure isn't going to be it, because Perry is far more popular among the conservative Tea Party base of the GOP. Where Romney can hit Perry hard, though, is on the question of electability. That's why we're seeing Perry getting hit from all sides on issues like Social Security, where he might be in line with the GOP base more or less, but he holds positions that could be political poison in a General Election in states like Pennsylvania, Florida, and Ohio. Romney is hoping that Republicans want to win in 2012 more than they want to be pure, and that they'll turn to him to get the job done.
Will it work? Only time will tell, but Romney clearly has a shot here. A few weeks ago, there were people talking, somewhat foolishly, about Perry being able to build up a decisive lead long before the voting ever started. It was a silly idea to begin with most likely, but less than stellar Perry's debate performances have put an end to that idea for now and at least slowed his momentum down long enough for Republicans to wonder if this horse from Texas is the one they want to ride on for the next 14 months.