Rick Santorum Is Appalled By The First Amendment
Former Pennsylvania Senator Rick Santorum is the latest Republican to reject the idea that America is a secular nation.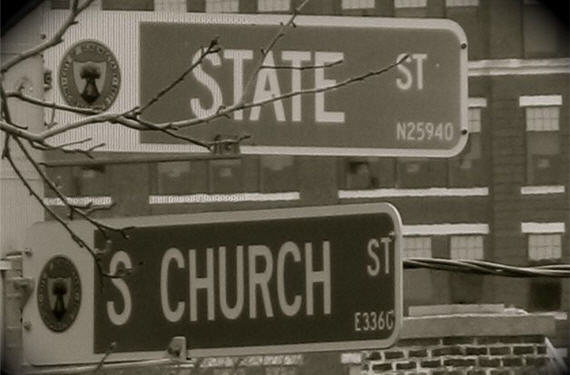 In a speech earlier this week in Massachusetts, former Pennsylvania Senator and probable 2012 candidate for President Rick Santorum pretty much rejected the idea that the First Amendment means what it says:
In remarks to about 50 members of the group Catholic Citizenship — which encourages parishioners to speak out on issues of public policy — Santorum decried what he called the growing secularization of American public life.

He traced the problem to Kennedy's 1960 speech to the Greater Houston Ministerial Association, in which Kennedy — then a candidate for president — sought to allay concerns about his Catholicism by declaring, "I believe in an America where the separation of church and state is absolute."

Santorum, who is Catholic, said he is "frankly appalled" by Kennedy's remark.

"That was a radical statement," Santorum said, and it did "great damage."

"We're seeing how Catholic politicians, following the first Catholic president, have followed his lead, and have divorced faith not just from the public square, but from their own decision-making process," Santorum said.

The crowd responded with nods and applause.
Santorum's comments, and his explicit criticisms of President Kennedy's groundbreaking 1960 speech on the role of religion in politics, mirrors similar comments that Sarah Palin made in her most recent book, which prompted a response from one of Kennedy's nieces:
In her new book, "America by Heart," Palin objects to my uncle's famous 1960 speech to the Greater Houston Ministerial Association, in which he challenged the ministers – and the country – to judge him, a Catholic presidential candidate, by his views rather than his faith. "Contrary to common newspaper usage, I am not the Catholic candidate for president," Kennedy said. "I am the Democratic Party's candidate for president who happens also to be a Catholic."

Palin writes that when she was growing up, she was taught that Kennedy's speech had "succeeded in the best possible way: It reconciled public service and religion without compromising either." Now, however, she says she has revisited the speech and changed her mind. She finds it "defensive . . . in tone and content" and is upset that Kennedy, rather than presenting a reconciliation of his private faith and his public role, had instead offered an "unequivocal divorce of the two."

(…)

Palin fails to understand the genius of our nation. The United States is one of the most vibrant religious countries on Earth precisely because of its religious freedom. When power and faith are entwined, faith loses. Power tends to obfuscate, corrupt and focus on temporal rather than eternal purposes.

Somehow Palin misses this. Perhaps she didn't read the full Houston speech; she certainly doesn't know it by heart. Or she may be appealing to a religious right that really seeks secular power. I don't know.

I am certain, however, that no American political leader should cavalierly – or out of political calculation – dismiss the hard-won ideal of religious freedom that is among our country's greatest gifts to the world. As John F. Kennedy said in Houston, that is the "kind of America I believe in."
It isn't, however, that Santorum , Palin, and those like them believe in. To them, America was founded as an explicitly "Christian nation" and the Founding Fathers intended that our system of government and laws comply with the tenants of that religion. The problem for advocates of this theory, however, is that the historical evidence is all to the contrary and in fact quite supportive of the secular society based on freedom of religion that Kennedy spoke of in his speech.
As I noted in a post I wrote in December about Palin's comments about President Kennedy, the historical evidence in favor of the "Christian Nation" hypothesis is sorely lacking:
In reality, the Founders were in fact more influenced by the writings of men like John Locke and Algernon Sidney than they were by anything in the Bible. Jefferson's most famous phrase "Life, Liberty, and the Pursuit of Happiness" came from Locke's "Life, Liberty, and Property," for instance. More importantly, at the time of the American Revolution, the natural rights tradition that the Founders relied upon owed more to the Greeks than it did to Christianity or theology:

In reality, neither Jewish nor Christian traditions know anything of the ideas of natural rights and social contract found in Hobbes, Gassendi and Locke. That's because those ideas were inspired by themes found in non-Christian Greek and Roman philosophy. Ideas of the social contract were anticipated in the fourth and fifth centuries BC by the sophists Glaucon and Lycophron, according to Plato and Aristotle, and by Epicurus, who banished divine activity from a universe explained by natural forces and taught that justice is an agreement among people neither to harm nor be harmed. The idea that all human beings are equal by nature also comes from the Greek sophists and was planted by the Roman jurist Ulpian in Roman law: "quod ad ius naturale attinet, omnes homines aequales sunt" — according to the law of nature, all human beings are equal.

Moreover, the Founders own religious beliefs are far less orthodox that religious conservatives would like to believe. Jefferson, for example, was a Diest who believed in a Creator who played absolutely no role in the affairs of the world, and considered much of the New Testament to be mere superstitions, which is the reason he created his own version of the teachings of Jesus which completely deleted any reference to his being of Divine origin.
Additionally,  John Tyler, America's 10th President made this point in a letter in 1843:
"The United States have adventured upon a great and noble experiment, which is believed to have been hazarded in the absence of all previous precedent — that of total separation of Church and State. No religious establishment by law exists among us. The conscience is left free from all restraint and each is permitted to worship his Maker after his own judgment. The offices of the Government are open alike to all. No tithes are levied to support an established Hierarchy, nor is the fallible judgment of man set up as the sure and infallible creed of faith. The Mohammedan, if he will to come among us would have the privilege guaranteed to him by the constitution to worship according to the Koran; and the East Indian might erect a shrine to Brahma, if it so pleased him. Such is the spirit of toleration inculcated by our political Institutions."
And George Washington sent this message to a Hebrew Congregation in 1790:
"The citizens of the United States of America have a right to applaud themselves for having given to mankind examples of an enlarged and liberal policy — a policy worthy of imitation. All possess alike liberty of conscience and immunities of citizenship. It is now no more that toleration is spoken of as if it were the indulgence of one class of people that another enjoyed the exercise of their inherent natural rights, for, happily, the Government of the United States, which gives to bigotry no sanction, to persecution no assistance, requires only that they who live under its protection should demean themselves as good citizens in giving it on all occasions their effectual support … May the children of the stock of Abraham who dwell in this land continue to merit and enjoy the good will of the other inhabitants — while every one shall sit in safety under his own vine and fig tree and there shall be none to make him afraid."
History, in other words, makes it emphatically clear that while the Founders were for the most part religious men in keeping with the customs of their times (Jeffers0n and Franklin being notable exceptions to this), there is simply no evidence to suggest that they intended to create a nation whose government played any role at all in the religious lives of its citizens, or whether religion played any role in government. To borrow former Senator Santorum's words, it isn't President Kennedy who was radical when he suggested in 1960 that:
I believe in an America where the separation of church and state is absolute; where no Catholic prelate would tell the President — should he be Catholic — how to act, and no Protestant minister would tell his parishioners for whom to vote; where no church or church school is granted any public funds or political preference, and where no man is denied public office merely because his religion differs from the President who might appoint him, or the people who might elect him.

I believe in an America that is officially neither Catholic, Protestant nor Jewish; where no public official either requests or accept instructions on public policy from the Pope, the National Council of Churches or any other ecclesiastical source; where no religious body seeks to impose its will directly or indirectly upon the general populace or the public acts of its officials, and where religious liberty is so indivisible that an act against one church is treated as an act against all.
The real radicals are Santorum, Palin, and those who agree with them that more than 200 centuries of history should be ignored in order create their idea of heaven on Earth.