Rick Santorum? Really?
Rick Santorum now appears to be THE social conservative alternative to Mitt Romney.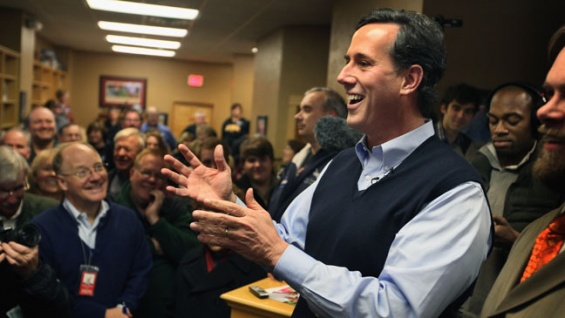 With his strong second place finish in Iowa, Rick Santorum now appears to be the social conservative alternative to Mitt Romney. Rick Perry and Michele Bachmann appear to be dropping out of the race soon, ending the three-way split. Newt Gingrich is pouting about the fact that nobody that knows him likes him and vowing to run a series of negative ads against Romney just for the hell of it. And Ron Paul is hoping to stretch out his latest 15 minutes of fame through New Hampshire.
For all intents and purposes, coming in 8 votes behind Romney is as good as a win for Santorum. Despite Romney's technical win–which would ordinarily have been quite impressive, given that he didn't campaign hard in Iowa until lately and seemed to be conceding until the last few days any chance of winning there–Santorum is now the story.
This is surprising in any number of ways.
First, Santorum has been near the bottom of the polls the entire 2012 cycle. Indeed, despite his late surge in Iowa, he was standing at 4.2 percent–behind Gingrich, Romney, Paul, Perry, and Bachmann–in the most recent RealClearPolitics average. (Granted, it includes only one poll taken since December 18 owing to the holidays.) Having lost big in his Senate re-election bid in 2006, and his name having literally become a joke in recent years, few gave him any chance to make a splash and most of us wondered why the hell he was even bothering to run. (Stacy McCain was one of the few outliers, predicting a Santorum surge way back on October 4. Most of us dismissed it as wishful thinking.)
Second, Santorum had essentially no money, no organization, and no positive name recognition prior to last night. He didn't manage to qualify for the Virginia ballot despite having lived there for years. For someone who has been on the national stage for some two decades, that's generally not good news.
Third, many of us simply find Santorum . . . creepy.
It's the word that Joe Scarborough used this morning and it really fits. On the one hand, Santorum has a very interesting personal story. He's a very strong family guy with blue collar roots. On the other, even in a country and political party that makes public proclamation of one's Christian faith a virtual requirement for high public office, he comes across as devout to a bizarre level.
As Doug noted  recently, Santorum wants to outlaw birth control.
Then there's the story, which resurfaced at the national level just this week, of the Santorum family's unusual reaction to the death of their newborn baby. It's simultaneously heartbreaking, endearing, and bizarre. Having recently lost my wife and having had the opposite instinct–never letting my young children see her body–I can't fathom doing what the Santorums did. At the same time, I'm more inclined than ever to give people wide latitude in their handling of grief.
My sense is still that Romney will win the nomination. Despite all the incoming fire that will come his direction until Gingrich finally crawls back under his rock, he's still best positioned to win New Hampshire and to deal with a fast-paced schedule. But Santorum may be able to make a race of it in a winnowed field.
But I wonder how many reliable Republican voters have the same reaction to Santorum that Scarborough and I do. Is his extreme religiosity a huge bonus as the race moves South? Or will too many find his extreme brand of Catholicism creepy and off-putting?