Rick Santorum: "The Smart People Will Never Be On Our Side"
In Rick Santorum's brand of conservatism, no smart people need apply.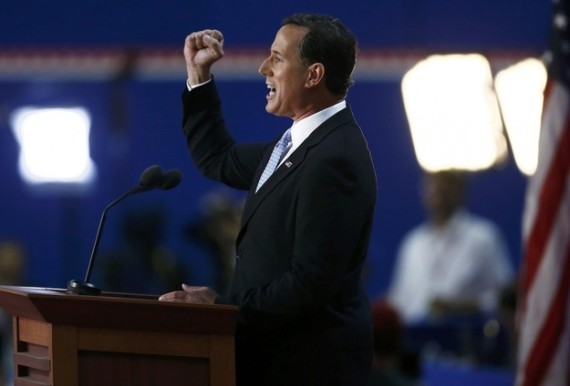 The Family Research Council is holding its annual Values Voter Summit in Washington, D.C. again this weekend. Most of the speakers have been about what you'd expect. They've had people such as Kirk Cameron, who apparently thinks his time on an 1980s sitcom qualifies him as a political pundit, and Michele Bachmann, who yesterday called President Obama the most dangerous President ever. Today, it was Rick Santorum's turn, and his speech in part focused on a favorite topic among Social Conservatives, the denigration of intellectualism: 
WASHINGTON, DC — Former presidential candidate Rick Santorum attacked the media and "smart people" for not being on the side of conservatives in a speech to the Values Voter Summit on Saturday.

"We will never have the media on our side, ever, in this country," Santorum, a former Pennsylvania senator, told the audience at the Omni Shoreham hotel. "We will never have the elite, smart people on our side."

The media "doesn't like the other side," Santorum said. "And not necessarily, I would argue, because they agree with them, but because they can influence the country.

"If just a few people make decisions about what this world looks like, what this country looks like, then you have people sitting in offices at major media outlets and Hollywood who think they can deal with a small group of people, to get them to jump through the hoops they want you to," Santorum said.
Here's the video:
Now, obviously, there are a few jokes one could make based on this quote,  but I think there's a broader point to be drawn from Santorum's remarks.
What Santorum said today is emblematic of rhetoric you hear quite frequently from people on the right such as Sarah Palin, Michele Bachmann, Rush Limbaugh, and Sean Hannity. Generally, they idea seems to be that there's something about being intelligent, or curious about the world, or interested in something beyond the orthodox interpretations of history and the law that conservatives insist upon. You see it manifest itself in the rejection of even the rather obvious fact that humanity can have an influence on the environment around it and, most irrationally, in the very rejection of everything that biology, anthropology, physics, and cosmology teach us. For many on the right, it's easier to believe in the stories written in a 6,000 year old book than it is in the evidence of just how amazing the universe around them actually is. They can believe whatever they want, of course, but the fact that they constantly try to force these beliefs on others, most especially through the public school system, makes their disdain for knowledge a matter of public concern.
It's quite ironic that there's an entire branch of conservatism that has come to this, because things were quite different when the modern conservative movement started. Back then, conservatism was exemplified by men like Russell Kirk and William F. Buckley, Jr. and, even well into the 1980s, National Review would publish heavily intellectual arguments and review books that, well, were a heck of a lot more substantial than the latest screed from Mark Levin or Ann Coulter. There is still an intellectual wing of conservatism today, but it's far smaller than it used to be and, quite often, it finds itself being rejected by the activists for whom people like Santorum, Bachmann, and Palin are heroes. George Will gets called a RINO, for example, every other week depending on what he writes in his Washington Post or says on This Week. Guys like Richard Brookheiser have spent most of their time writing history in recent years, and guys like David Brooks, Ross Douthat, and David Frum are rejected by the base mostly because they dare to write for non-approved publications. Today, the right's excuse for intellecutals are people like David Barton, Glenn Beck's favorite Founding Era historian, who has been caught making claims about the Founders that are not supported by the historical evidence. At the same time, you hear conservative pundits deriding  what Santorum calls the "smart people," a phrase I argue that was meant to be derisive and was understood as such by his audience, and promoting people like Sarah Palin, Michele Bachmann, and Christine O'Donnell. It's really quite sad when you think about it.