Rising China
While the American economy languishes, China is booming again.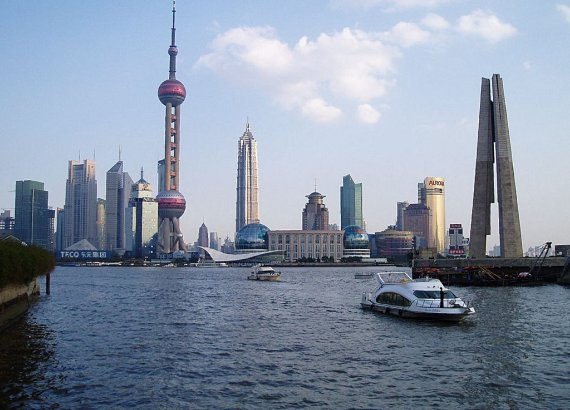 China reported today that it's economy grew at the less-than-expected, but still rather astounding, rate of 9.6% over the past year:
HONG KONG — The Chinese economy continued to expand at a rapid clip during the third quarter, demonstrating that government measures aimed at reining in growth have not choked off expansion.

China's gross domestic product grew 9.6 percent from the same period a year earlier, the National Bureau of Statistics said on Thursday. This was a slower pace than the 10.3 percent year-on-year expansion recorded for the second quarter, but just ahead of analyst expectations for a 9.5 percent increase.

Analysts view the slowdown as a return toward normal, sustainable growth, rather than the beginning of a worrying slump. "I expect growth to continue to slow down a bit more in the fourth quarter as energy-saving and property-tightening measures take hold and exports continue to decelerate," said Tao Wang, China economist at UBS in Beijing. But, she added, "growth remains very strong."
Let's think about that for a second. 9.6% annualized growth is considered "normal, sustainable growth" for China. Meanwhile, in the United States, "normal" economic growth is considered to be 4-5% and, as Dave Schuler pointed out at his own site a few days ago, there's every reason to believe that we're headed for an era where our economic growth will be more akin to that of Europe than the "normal" we've been used to since the end of World War II.
Now, obviously, there's much more room for growth in China than the United States and the U.S. still remains, on a per capita basis a much richer country than China — per capita GDP in the U.S. in 2009 was roughly $ 46.000 per person, in China it was roughly $ 6,700 per person — however, it does seem that the economic engine of the world is clearly, and decisively, moving away from the Western Hemisphere. China's importance to the global economy, both as a producer and a consumer, can only increase over the years.
I'll throw it to the comments section to discuss what the global and domestic political consequences of a world where the United States isn't at the top of the pyramid all alone anymore would be.