Romney, Cain At The Top In Four New State Polls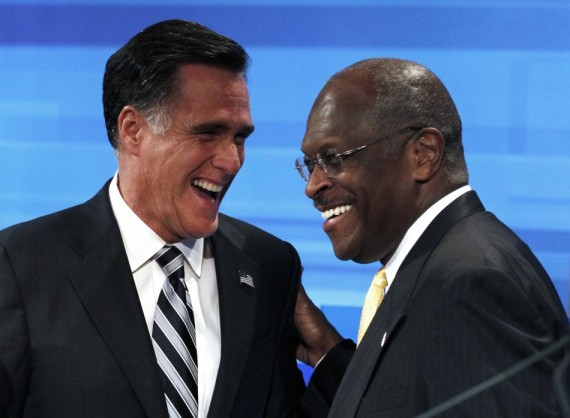 Four new state polls out today seem to confirm what we're seeing in the national polls that I wrote about yesterday. Right now, and as unlikely as it seemed even a month ago, Herman Cain is one of the two front runners in the race for the Republican nomination.
First up, there are polls out of Iowa and New Hampshire from NBC News and Marist College. Romney leads in both, but the race in Iowa is very much a horserace:
They are followed by Texas Rep. Ron Paul at 11 percent, while Texas Gov. Rick Perry and Minnesota Rep. Michele Bachmann are tied at 10 percent. Sixteen percent are undecided.

Among Tea Party supporters — who make up half of all likely Iowa caucus-goers in the poll — Cain is ahead of Romney, 31 to 15 percent. And among those who "strongly" support the Tea Party, Cain's lead is a whopping 41 to 7 percent.

"That's a group that Romney has to fear," Miringoff says.

In the Granite State, where the Republican presidential candidates gather for a debate on Tuesday night, Romney holds a significant lead.

According to the poll, he gets the support of 44 percent of likely primary voters, followed by Cain and Paul at 13 percent each, Perry at 6 percent and former Utah Gov. Jon Huntsman at 5 percent. Eleven percent say they are undecided.
Iowa and New Hampshire are, of course, the first two contests in 2012 and they'll be followed about two weeks later by South Carolina, where a new ARG poll has Herman Cain in the lead, and Rick Perry in third:
Businessman Herman Cain has edged out former Massachusetts Gov. Mitt Romney in the first primary state of the South, according to a new poll released Tuesday.

The conservative radio talk show host received 26% support in the Palmetto State poll, only one percentage point ahead of Romney and within the margin of error for the American Research Group survey, indicating the two are statistically tied.

South Carolina is slated to go fourth in the nation's primary and caucus calendar, preceded by Iowa, New Hampshire, and Nevada.

The longest-serving Texas Gov. Rick Perry placed third with 15% support, followed by former House Speaker Newt Gingrich at 8%, Texas Rep. Ron Paul at 7%, and Minnesota Rep. Michele Bachmann at 5%.

With 12% of likely primary voters undecided in the poll, former Pennsylvania Sen. Rick Santorum received 1% support and former Utah Gov. Jon Huntsman, former New Mexico Gov. Gary Johnson, and former Louisiana Gov. Buddy Roemer did not net enough backing to constitute a percentage.
Romney and Cain are also tied in Virginia, which holds its primary on March 6th, according to a new Qunnipiac Poll:
Businessman Herman Cain ties former Massachusetts Gov. Mitt Romney as the leading choice of Virginia Republicans for their presidential nomination with 21 percent each, followed by Texas Gov. Rick Perry with 11 percent, less than half his showing a month ago when he had led the pack, according to a Quinnipiac University poll released today.
It's pretty darn fascinating, to say the very least. In the weeks since Perry has fallen while Cain has risen, I've always thought that this was going to be short-lived and that Perry was one or two good debate performances away from getting back in the good graces of the Republican base. And yet, the extent to which he's fallen does make one wonder if a recovery is possible in just three months. He has a lot of money, but then so did Rudy Giuliani, and he ended up with enough delegates to fit inside a phone booth and still have room left over. .
Update: A fifth poll, out of Iowa, has Cain in the lead:
Herman Cain has become the first choice of Republican voters in Iowa: he now leads the pack there with 30% to 22% for Mitt Romney, 10% for Ron Paul, 9% for Rick Perry, 8% each for Michele Bachmann and Newt Gingrich, 5% for Rick Santorum, and 1% each for Jon Huntsman and Gary Johnson.

The momentum in Iowa is pretty much completely on Cain's side. Since our last poll there in mid-August he's gained 23 points. The only other gainers are Gingrich and Romney, each of whom are up 3 points.  Perry and Bachmann have both collapsed, losing 13 and 10 points respectively while Paul is down 6 points and Huntsman is down 2 points as well.  Staying in place is Santorum who's seen no change in his support.

Better news for Cain even than his lead is that his supporters are much more solidly committed than Romney's. 50% of them say they will definitely vote for him compared to only 34% who say the same for his co-front runner.  When you look at the race just among voters who say they are firmly committed Cain's lead expands to 19 points at 38% to 19% for Romney, 13% for Paul, and 12% for Perry.

Cain's in a great position.  But the top's proven to be a dangerous place in Iowa. Over the course of our last four polls in the state we've found four different leaders: Mike Huckabee, then Romney, then Perry, and now Cain. And if we'd done a poll any time in July or early August we probably would have found Bachmann in the lead to make it five leaders in five polls.  It's a very fluid race with only 42% of voters saying they're strongly committed to their candidate.

Cain's building his lead off the most conservative elements of the Republican Party.  Romney actually leads with both moderates (25-23) and voters describing themselves as 'somewhat conservative' (33-22). But Cain is completely destroying Romney with 'very conservative' voters, 40-11, and that's what gives him his overall advantage.

Cain is up 39-14 on Romney with Tea Party voters and digging deeper on those numbers you see one of the biggest issues Romney is having to contend with. 53% of Tea Partiers think Romney's too liberal to only 36% who describe him as ideologically 'about right.' Cain has no such perceived ideological problem with those voters- 79% describe him as 'about right' to just 7% who think he's too liberal.
Tonight's debate just became a lot more important.