Romney Campaign Warns Of Soviet Threat To Czechoslovakia
Does the Romney campaign know the USSR doesn't exist anymore? Of course they do, but the language they use still means something.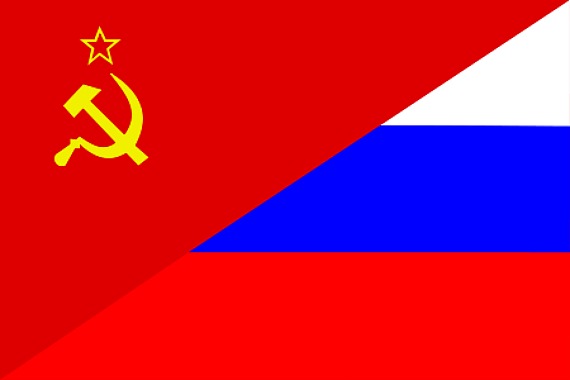 The Romney campaign seems to be unaware that the Cold War ended in 1991, and Czechoslovakia hasn't existed since 1993:
The Romney campaign has been accused of being stuck in the 1950s. But it also seems mired in the 1980s — it again invoked Cold War threats on Thursday, as it tried to attack the Obama administration on foreign policy.

Romney and his surrogates have revealed an ongoing Cold War fixation. Former Reagan Navy Secretary John Lehman and former Bush administration Ambassador Pierre Prosper, on Thursday derailed Romney messaging in a conference call with reporters by raising the specter of the "Soviet Union" and slamming Obama for not protecting Czechoslovakia — a country that was peacefully dissolved in 1993 and now exists as the Czech Republic and Slovakia.

Obama is "withdrawing from leading the free world in maintaining stability around the world," Lehman said. "What Obama calls 'leading from behind.'"

One of the worst examples, according to Lehman, is happening at the top of the world.

"We're seeing the Soviets pushing into the Arctic with no response from us. In fact, the only response is to announce the early retirement of the last remaining icebreaker."

Prosper warned Obama was abandoning America's eastern European allies — some of which haven't existed for decades.

"You know, Russia is another example where we give and Russia gets and we get nothing in return," Prosper said. "The United States abandoned its missile defense sites in Poland and Czechoslovakia, yet Russia does nothing but obstruct us, or efforts in Iran and Syria."

The call was meant as a prebuttal to Vice President Biden's foreign policy speech in New York Thursday, where he warned that Romney wants to return to a Bush-era foreign policy.

"He acts like he thinks the Cold War's still on," Biden said this month. "I don't know where he's been."

Romney has not done much to burst that rhetorical balloon. After Biden's remarks, Romney condemned Obama, but not without confusing modern-day Russia with the nation that came before it.

"Obama 'entered into an agreement with the Soviets, excuse me, with Russia' in the nuclear arms START treaty that effectively required the United States to reduce its weapons stockpile while allowing Russia to increase its stockpile," Romney said on April 20.
Now, does anyone really think that either Romney or his campaign really doesn't know that the Cold War is over, or that Czechoslovakia dissolved peacefully in 1993?  While there may be some on the right who think that this scene from The Simpsons is a documentary, I certainly don't think that the Romney foreign policy team is quite that uninformed. It strikes me that rhetoric of this type serves a very direct, deliberate purpose and that it's been part of a theme among hard-core conservatives for years now, in some cases dating back to before President Obama even took office. There's no denying that Russia is a significant power that has its own national interests, and that it acts in a manner to protect those interests that often are not compatible with our own. To compare that, however, to a nation that was, at least rhetorically, devoted to the worldwide spread of Communism is patently silly and simplistic. Then again, silly and simplistic seems to play pretty well when it comes to foreign policy among the masses on the right.
When it comes to nations such as Russia, and indeed a large part of any international issue that involves significant interaction between the United States and Russia or the United States and China, the same neoconservatives who led us into a foolish war in Iraq still seem to view the war through an outdated Cold War prism to such an extent that many of them don't see any real difference between the Russian Federation and the Union of Soviet Socialist Republics. This is despite the differences, in both practical terms and in terms of the policies that each nation pursues.  Rather than talking about the often subtle and sometimes significant differences between our relationship with the USSR and our relationship with Russia (the most significant being the fact that neither side has their nuclear missiles on hair-trigger alert), it's far easier to reach back in time to the old and familiar and go for a little Soviet fear-mongering.  This also seems to be a view that at least some portion of the GOP base shares, especially perhaps those for whom the Cold War is more than just a distant, fading memory. The clear impression that is created when one fails to draw distinctions between Russia and the USSR is that one wishes to create the impression that, in terms of American national interests and foreign policy, there is no real distinction between the two. As false as that statement might be in reality, it appears to be working if one judges based solely on the memes that are prevalent on the right when it comes to Russia.
So, no I don't think that the Romney campaign is dumb enough to think the USSR still exists. I also don't think, however, that this is just a simple slip of the tongue. They're sending a message here, and it's mostly to the GOP base.