Romney Continues To Lead In Polls Of 2016 GOP Candidates, Leading Hillary In Head-To-Head Match
The numbers don't lie, Mitt Romney remains popular among Republican voters.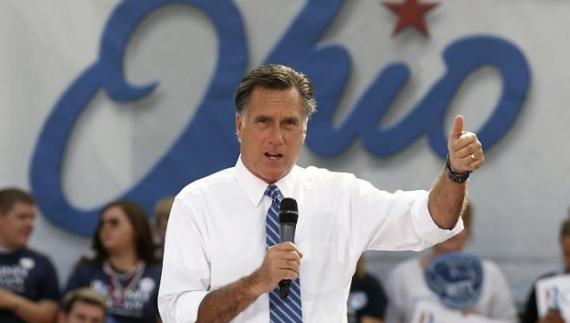 Another poll, this time a national poll from Quinnipiac, has Mitt Romney leading the Republican field, and one of only three potential Republican candidates who seem to have a chance at beating Hillary Clinton:
Mitt Romney continues to be the top choice of Republicans for 2016, as the party struggles to unite behind other possible contenders, a new poll shows.

The former Massachusetts governor and 2012 Republican presidential nominee leads the pack with 19 percent of Republicans voters' support, according to a Quinnipiac University national poll released Wednesday. Trailing Romney are former Florida Gov. Jeb Bush with 11 percent, New Jersey Gov. Chris Christie and Dr. Ben Carson each with eight percent, and Kentucky Sen. Rand Paul with 6 percent. Other potential candidates failed to gain more than 5 percent.

Sixteen percent of Republicans said they are undecided.

Taking Romney out the equation, enthusiasm among the possible GOP contenders is less concentrated with Bush leading at 14 percent and Christie following close behind with 11 percent. Rounding out the GOP field are Carson with nine percent, Paul with eight percent, and Wisconsin Rep. Paul Ryan and former Arkansas Gov. Mike Huckabee, who each received seven percent.
The results among Democrats are about what you'd expect, with Hillary Clinton well ahead of any other potential candidates, but the poll also shows that Romney and two other potential candidates on the GOP side would give Clinton a run for her money in a General Election race:
The new Quinnipiac survey has Clinton with support from a whopping 57 percent of Democrats, followed at a distant second by Massachusetts Sen. Elizabeth Warren, at 13 percent. Vice President Joe Biden trails with 9 percent, while no other candidate breaks the 4 percent threshold.

Clinton has yet to announce whether she will run but is widely expected to enter the race. The vice president has publicly flirted with the idea of running, while Warren has so far dismissed the possibility of a 2016 candidacy.

(…)

Despite Clinton's enormous lead among potential rivals in the Democratic primary, the survey indicates she would struggle against several GOP candidates. Romney has 45 percent to Clinton's 44 percent, if the election were held today. And Clinton would have 43 percent to Christie's 42 percent.

She is a clearer favorite when matched against other GOP candidates, with a 46 percent to 41 percent edge over Bush, and a 46 percent to 42 percent advantage over Wisconsin Rep. Paul Ryan. And Clinton trounces Texas Sen. Ted Cruz, 48 percent to 37 percent.
As I have noted before, a good deal of what we're seeing here can be attributed to name recognition. Having run twice before, Romney obviously has better name recognition than anyone on the list of potential 2016 candidates. Of those people, perhaps only Jeb Bush and Chris Christie come close to having the kind of national name recognition that Romney does, which also likely explains, at least in part, why they are polling relatively well as well. That being said, we're once again seeing evidence that Mitt Romney remains highly popular among Republican voters, far more indeed than conservatives who were disdainful of his candidacy in 2012, even after having embraced him as the conservative alternative to Romney and Huckabee in 2008. Just as in the 2012 campaign, though, a candidate doesn't need the solid support of the conservative base of the GOP to win in the nomination. Whether its Bush, or Christie, or Romney, or a Governor like Kaisch, Walker, or Pence, the key to winning is going to lie in appealing to the voters in the middle who are able to vote in the open primaries in the big states that hand out the most delegates, such as Florida, California, and New York. Given the fact that Republicans continue to largely follow either a "winner take all" delegate allocation rule, or a proportional allocation that heavily favors the winner of the popular vote, a candidate who follows this strategy is going to do much better than one like Ted Cruz who relies primarily on support from the far-right base of the party. It's not a guarantee to victory, of course, but history has shown it to be the most reliable one for a Republican nominee, and Romney has already proven that he can do it.
Of more interest in the poll, of course, is the fact that the two candidates that poll best against Hillary Clinton are two that would be least palatable to the hardcore GOP base, Romney and New Jersey Governor Chris Christie. Bush has shown similar strength against Clinton in past polling, but has a five point deficit here. That may be an anomaly, or it could be an example of the Bush fatigue that Jeb would obviously have to deal with if he did decide to run in 2016 after all. Let's assume, though, that Bush is one of the candidates who could do well against Hillary notwithstanding this pill result. That puts him, Christie, and Romney in the rare category of Republicans who, at least for now, seem t have a chance of Hillary Clinton. That is one of the reasons why they are also three candidates who seem to be of the most interest to the big donors in the Republican Party who will have a lot to say about who the most well-funded campaigns will be when 2016 rolls around. As a first instance, obviously, these people are likely looking to Christie or Bush as their guy in the 2016 race, but if either or both of them decides not to run, or stumbles badly in the campaign, then Romney will still be sitting there on the sidelines, largely unscathed by the rough and tumble of however much of the campaign will have transpired by that point. If push comes to shove, would that be enough to convince Romney to get into the race for a third time? Romney continues to say no, but that answer seems to become less emphatic each time its uttered.