Chris Christie's Misguided Attack On Rand Paul And The GOP's 'Libertarian' Wing
Chris Christie waded into the debate going on in the GOP over foreign policy. His comments were less than helpful to say the least.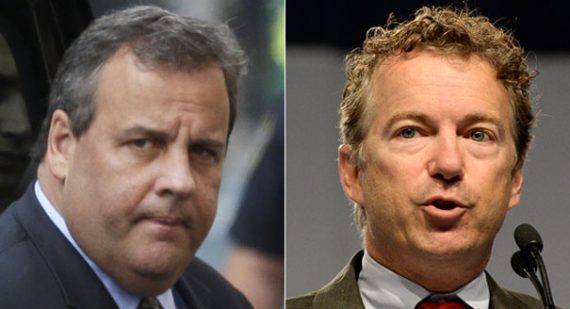 Over the past several months, the defense hawks in the Republican Party have been pushing back against the arguments being made by Senator Rand Paul and other rising Republicans regarding everything ranging from the Administration's drone policy to the revelations over the past two months regarding the National Security Agency's data mining and metadata collection programs. Last night, New Jersey Governor Chris Christie, who has not spoken much on the national stage about foreign policy issues during his time on the national stage, came down firmly on the side of those who in the GOP who support such policies, possibly previewing an argument that will play a prominent role in the fight for the 2016 Republican Presidential nomination:
ASPEN, Colo. — Invoking the families of Sept. 11 victims, Gov. Chris Christie of New Jersey on Thursday heatedly denounced the growing libertarian drift on national security in the Republican Party that is favored by Senator Rand Paul, Republican of Kentucky, and others in the party.

"This strain of libertarianism that's going through parties right now and making big headlines I think is a very dangerous thought," Mr. Christie said on a panel with other Republican governors here.

Asked if he was alluding to Mr. Paul, a potential Republican presidential rival, Mr. Christie spoke in deeply personal terms about the impact of the 2001 terrorist attacks on his state.

"You can name any number of people and he's one of them," Mr. Christie shot back before referring to the more than 600 New Jersey families who lost relatives in the attacks. "These esoteric, intellectual debates — I want them to come to New Jersey and sit across from the widows and the orphans and have that conversation. And they won't, because that's a much tougher conversation to have."

Staking out terrain on the hawkish right ahead of a potential White House bid, Mr. Christie, in remarkably stark terms, warned those advocating a crackdown on the surveillance programs — instituted under President George W. Bush and now being carried out under President Obama — that they would regret their positions.

"The next attack that comes, that kills thousands of Americans as a result, people are going to be looking back on the people having this intellectual debate and wondering whether they put. …" said Mr. Christie, before cutting himself off.

Mr. Paul's advisers in Washington heard the message loud and clear and fired back that Mr. Christie is out of touch with growing concern in the country over privacy and civil liberties.

A senior adviser to Mr. Paul initially sought anonymity to criticize Mr. Christie. But Friday morning, the adviser, Doug Stafford, put his comments on the record — and invoked New Jersey's Bruce Springsteen to add an additional jab at Mr. Christie.

"If Governor Christie believes the constitutional rights and the privacy of all Americans is 'esoteric,' he either needs a new dictionary, or he needs to talk to more Americans, because a great number of them are concerned about the dramatic overreach of our government in recent years," Mr. Stafford said. "Defending America and fighting terrorism is the concern of all Americans, especially Senator Paul. But it can and must be done in keeping with our Constitution and while protecting the freedoms that make America exceptional."

Concluded Mr. Stafford: "In the words of the governor's favorite lyricist, 'You know that flag flying over the courthouse, Means certain things are set in stone. Who we are, what we'll do and what we won't.'"

The cross-country back-and-forth began one of the first, and certainly one of the sharpest, volleys between likely 2016 presidential hopefuls and their surrogates. It also represents something of a political wager from the Paul and Christie camps.

Mr. Paul's assumption seems to be that with fatigue from two wars over the last decade and skepticism toward a growing security state, Republican voters will be open to a foreign policy approach that is profoundly different than the interventionist policies of Mr. Bush.

But Mr. Christie, who is viewed suspiciously by some of the party's most conservative members, is betting that he can court rank-and-file Republicans who remain hawkish and more concerned about preventing another terrorist attack, and that they are willing to accept government surveillance.
Aaron Blake calls the barbs traded between the Christie and Paul camps part of the fight for the future of Republican foreign policy:
Taken another way, Christie's remarks could be seen as laying down a marker in a potential matchup with Paul – pitting the party's still-dominant hawkish foreign policy wing against the new brand of libertarians.

Those close to Christie chalked up his remarks to his genuine and personal beliefs rather than any political gamesmanship – particularly given the hundreds of New Jerseyans who died on Sept. 11.

GOP strategists said it's part of a healthy dialogue that should continue through the 2016 campaign, whether or not Christie and Paul both run.

"We don't all have to agree on everything to be good Republicans," said GOP strategist Henry Barbour. "These sorts of candid policy discussions are healthy for the party and the country. Gov. Christie is not afraid to share his views on tough issues, and that's one of the reasons he has such broad support in New Jersey."

Added Scott Reed, who managed Bob Dole's 1996 presidential campaign: "Once again, Christie is the canary in the coal mine on the fork in the road for the GOP on a major aspect of foreign policy. In 2015, the GOP debate will shift to developing a winning message for 2016, and Christie should be in the front row of the choir."
As does Ed Kilgore:
This long-range fight comes a day after PPP released a survey showing Paul and Christie running first and second (Christie's actually tied with Jeb Bush and Paul Ryan) among Republicans expressing an early 2016 preference. You have to figure that Neocons—whose early 2016 heart-throb, Marco Rubio, is having a very difficult year so far—are ecstatic at having another apparent champion who can attract massive attention every time he opens his mouth, though some of them may be annoyed at Christie's assertion of identity between Bush's and Obama's policies. For his part, Christie could use a source of support in the GOP that extends beyond northeasterners or people fixated on general election polls.

Given the apparent readiness to rumble of both sides in this fight, it could get pretty wild pretty fast. And unlike some of the GOP's intraparty arguments—say, over exactly which hostage to take in demanding an insane Cut, Cap and Balance constitutional amendment, or whether instead to demand the repeal of Obamacare—this one is real.
It's not entirely surprising that Christie would be coming down on this particular side of the debate on foreign policy and national security that's been developing in the Republican Party over the past several months. This, after all, is a guy who was appointed U.S. Attorney for New Jersey less than two months after the September 11th attacks and whose office had to deal with terrorism related cases many times during the roughly seven years he served in that capacity. It's long been known that he was a close ally of New York area Republicans such as Rudy Giuliani and he was among the earliest sitting Governor's to endorse Mitt Romney in 2012. Given his history, it's not at all surprising that he'd be in disagreement with some of the positions that Rand Paul and others have been taking of late regarding foreign policy and civil liberties. Moreover, being Chris Christie, it's also not surprising that he'd use strong rhetoric to attack a position he disagree with. That's how the guy rolls and, if he does end up running for President in 2016, that's the kind of campaign we can expect him to run. So, call it a preview of coming attractions if you like.
Nonetheless, I have to agree with Ramesh Ponnuru when he calls Christie's attacks on Paul "dumb":
Libertarians are an important part of the Republican coalition. Republican politicians frequently disagree with libertarians on issues, but a broad-brush attack will understandably anger them. And even Republicans who aren't down-the-line libertarians share some of their concerns. Representative James Sensenbrenner of Wisconsin, for example, is a longtime supporter of the Patriot Act. He is, in other words, not a clone of Kentucky Senator Rand Paul. But Sensenbrenner also favored the amendment to rein in the NSA that the House narrowly voted down this week. These Republicans can be persuaded to overcome their libertarian instincts on many issues — but not by being told that they shouldn't have these instincts in the first place.

The Republican Party badly needs a debate over national security and civil liberties, but that debate will be useful only to the extent it gets beyond generalities. And another thing that Republicans need — at least those who are considering Christie as their presidential standard-bearer in 2016 — is to see that the man is capable of a little finesse, especially when it comes to managing the Republican coalition.
Ponnuru is correct here to criticize Christie for being so dismissive of the rising voices of libertarian-oriented voices like Rand Paul in the Senate and Justin Amash in the House. The Republican hasn't had an honest debate about national security and civil liberties in decades. The last time it came close to having one was in the years immediately after the Second World War when there was, briefly, a debate between the internationalists led by men such as Dwight Eisenhower and Richard Nixon and those such as Senator Robert Taft who advocated a more inward looking foreign policy in the wake of a long war and an even longer Great Depression. The rise of the Cold War, which turned into a hot war within five years after the end of World War II when the United States found itself involved in Korea, cut that debate short fairly quickly, though. For the next 40 years or so, Republicans of all stripes stayed united behind an anti-Communist vision of foreign policy that was actually fairly universal for both parties until at least the Vietnam era. There was some debate in the GOP about national security in the 90s as the Soviet threat receded and the various tribal and ethnic conflicts began to reassert themselves, but that debate was again largely cut short by the September 11th attacks and a decade of war in Iraq and Afghanistan. Now that we're nearing the point where both of those wars will be behind it, it seems to be the perfect time for the GOP, and indeed the entire nation, to start talking about what direction our national security policy should be moving, and how much we should be willing to give up our civil liberties in the name of "safety."
Governor Christie's comments, therefore, were decidedly unhelpful to the overall debate that needs to be taking place in the GOP specifically and the nation generally. In addition, they're largely wrong. There's nothing "dangerous" about the idea that we ought to think carefully about what direction we want our foreign policy to go rather than jumping at every opportunity to intervene in situations that we clearly don't completely understand or where, as in Syria, there don't seem to be any good guys. There's also nothing "dangerous" about questioning the idea of handing more and more surveillance power over to the state while pretending that there isn't a possibility of those powers being abused at some point in the future. We've spent ten years now fighting dubious wars in far corners of the world while handing over more and more unchecked power to law enforcement and the intelligence community and it's unclear what we have to show for it.
Most importantly, though, Christie is wrong because he adopts the argument of many of those on the neo-conservative side of this argument that there has to be a choice made between liberty and safety, and that the threat of international terrorism is so great that we must give up more and more of our liberty in the name of this elusive goal of "safety." Contrary to those who may be whispering in Governor Christie's ear when it comes to foreign policy, there are no easy answers to most of these questions and to dismiss well-founded criticisms like those that Senator Paul and others have been raising as "dangerous" or to refer to them as "esoteric, intellectual debates." For better or worse, these are questions that we will need to be dealing with for many years to come, some of them are ideas that would have saved us a lot of grief had we adopted them long ago, and it's simply irresponsible to close of debate on the issue in the manner that the Governor attempted to do last night.
The effort to demonize those who question the neo-con status quo in Republican foreign policy aren't going to succeed, of course.  The debate has already been joined and polling has shown that there is, at the very least, a sizable minority in the GOP and in the country as a whole that is sympathetic to these arguments. Not even someone as bombastic as Chris Christie is going to be able to shut that debate down.