Romney In OH And PA On Election Day: Sign Of Confidence, Or Desperation?
The Romney campaign doesn't seem too confident of its path to victory.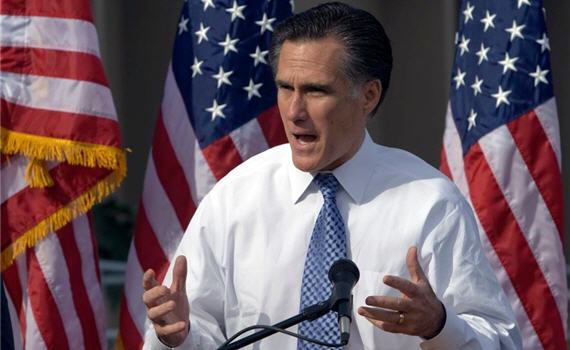 Up until four years ago, Presidential campaigns would usually end on the night before Election Day, usually with a big rally in an important state. Four years ago, President Obama ended his campaign with a massive rally in Prince William County, Virginia that drew tens of thousands of people, but then he went to Indiana on Election morning.  This year, the President will be ending his campaign in Des Moines, Iowa. Mitt Romney, meanwhile, will be holding his finally rally of the evening in Manchester, New Hampshire, where he started his campaign. But, that won't be the end of campaigning for him:
Mitt Romney has added two last-minute stops in the Rust Belt to his campaign schedule.

The Republican presidential candidate will stop in Cleveland, Ohio and Pittsburgh, Penn. on Election Day, instead of ending his campaign in New Hampshire Monday night as previously planned.

Barack Obama campaigned in Indiana on Election Day in 2008, a Republican-leaning state he won in an upset that will likely n ot be repeated this cycle. Sen. John McCain (R-Ariz.) rallied supporters in Colorado and New Mexico; he lost both states.

The last-minute decision is in keeping with a campaign that has continually pushed to find new openings and has edged up relentlessly in the polls, with Romney essentially deadlocked with Obama over the past two weeks in most nationwide surveys.
There's no word on whether or not the President will add any Election Day trips to his schedule, although if he did it would likely be to someplace like Ohio or Iowa so that it wasn't too far away from Chicago, the site of his Election Night gathering. Additionally, it's far more difficult for the President of the United States to schedule a last minute trip like this given security concerns so it's possible they'll just stick close to home.
As for Romney, though, the announcement of Election Day campaigning is likely to set off a round of speculation regarding why the campaign might be choosing to do this. To supporters, it might look as though the campaign is confident of victory, but if that were the case then why continue the mad dash that Romney has been on all weekend through Election Day? And, why Pennsylvania, a state that Republicans haven't won since 1988 and where Barack Obama still maintains a lead? Commenting on the weekend dash, Nate Cohn sees it as evidence that the Romney campaign isn't particularly confident about its path to victory:
[I]t is clear that Romney's campaign does not feel especially confident in any particular alternative route to the presidency that doesn't involve Ohio. While the Obama campaign visited Wisconsin more than anywhere other than Ohio, the Romney campaign visited Wisconsin just twice—as many as long shots like Pennsylvania and Nevada, and only one more than the longer-shot of Minnesota. The fact that the Obama campaign only made one stop in Nevada suggests that they're not especially concerned by any of those states.

Candidate time is valuable and finite. If the Romney campaign felt that any of these options were especially strong, the campaign would have chosen to emphasize one of Nevada, Wisconsin, Pennsylvania, and Minnesota. The fact that Nevada and Wisconsin can be grouped in the same category as Pennsylvania and Minnesota doesn't speak well to Romney's chances in the former two, where presumably Romney would have spent more time if their data showed a tighter race. And the fact they felt compelled to make three stops in Minnesota and Pennsylvania might say something about how they feel about their main path to victory. Is it possible that the Romney campaign feels so comfortable with their position in Iowa, Ohio, Virginia, and Colorado that they're on the offensive going for 300-plus? I suppose, but I doubt it.
The decision to go back to Ohio on Election Day is, perhaps, understandable. Barack Obama went to Indiana on Election Day 2008 in part no doubt because his campaign saw the traditionally Republican state as a winnable target, and to the extent that an appearance there early on Election Day  might motivate supporters it's likely worth the time. Ohio is one of the keys to the election this year, so a similar rally there this year could potentially be valuable. I must admit, though, that I'm not sure why they're going to the Cleveland area, which is heavily Democratic. Instead, it would make sense to go down to Hamilton County near Cincinnati, a traditionally Republican County that went marginally for Obama four years ago. That's an area where they could possibly benefit from a last minute push. But, that's nitpicking somewhat and I'll just assume the Romney campaign knows what its doing in Ohio.
Pennsylvania, though, makes little sense at all.  The President has a 3.9 point lead in the RealClearPolitics average there, every poll within the last two weeks but one has shown the President with a lead outside the margin of error, and the last poll that showed Romney leading there was back in February from the same pollster that shows the race tied. The odds of winning Pennsylvania but not Ohio, which appears to be what the decision to concentrate on the state at this late hour is based on, is incredibly low. If the Romney campaign really wanted to utilize their Election Day trip effectively, why waste it on a state they're unlikely to win. Why not go to Virginia, which is far more likely to slip into Romney's camp?
I will readily admit I was wrong if Romney ends up winning this thing, but I tend to agree with Cohn that these last minutes trips are more a sign of desperation than confidence at Team Romney.