Ron v. Rand
It would appear that the Pauls have different views on Park51.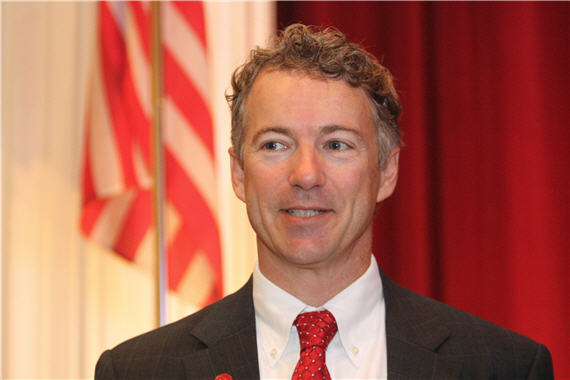 Rand Paul, Republican candidate for the Senate seat in Kentucky, sat for an interview with the Daily Caller and had the following to say in regards to Park51:
If the goal of the building's organizers is to reconcile, Paul thinks there's a better way to do that. "I think reconciliation is best promoted by — instead of having a multi-million dollar mosque — maybe having a multi-million dollar donation to the memorial site, would be better for all."

He said he doubts he could change Obama's mind on anything because they come at issues from such different philosophies — but if he could, he'd change the president's mind on the government's runaway spending.
In the grand scheme of things, one could argue that that is a non-answer.  At a minimum he is eliding the actual debate.  Still, given his libertarian leanings, one would have expected a somewhat stronger defense of property rights and general freedom of action.*
The especially striking thing here is that it was just a few months back that Rand Paul was so stridently wedded to his beliefs bout the sanctity of private property rights that it led him to criticize elements of the Civil Rights Act of 1964.  In several interviews back in May Paul tried to make a principled argument against certain articles of the CRA on the basis of his profound belief in the sanctity of property rights** (and he was, if I recall properly, roundly defended in many quarters, on those grounds).***
In terms of evaluating exactly what Paul believes, it is a bit odd that at one point he was willing to engage in a pointless**** debate on the CRA on the predicate that he was talking about principles, and yet when a contemporary case emerges that would allow him to make a strong point about those principles, he appears to be declining to do so.
Now, it is absolutely the case that there is not a direct analogy here between discrimination at the Woolworth's lunch counter and opposition the Park51 project, but in terms of basic principles, one of the ones clearly on the table here are property rights.  As such, one would have expected Rand's position on Park51 to be more like his father's rather that the squishy political dodge noted above.
And, in re:  Obama and "different philosophies" I think he is right, on balance.  Still, on this topic I find it ironic that Obama has come closer to what I would have though would have been Rand Paul's philosophy on this issue.
Bottom line:  I am somewhat surprised at Rand Paul's positions.  On the other hand, it is not all that unusual for practical politics to trump abstract political philosophy, and this is likely what is going on here.
Others commenting on this:
_________________
*At a minimum, the recommendation of a massive donation of cash to the memorial strikes me as decidedly anti-Randian (of the Ayn type), given her disdain for charity.  However, I am unsure if Rand Paul has ever cited Objectivist views, so this comes to mind more because of his first name than anything else, I guess (which, for the record, he states in the DC piece, is not a case of being named after Ayn Rand).
**Which, for the record, I took issue with.  And, just to be clear, my position on Park51 is not just one of private property rights, although that is part of it.  I think that private property rights are fundamentally important, and should only be abridged in extreme circumstances, like massive discrimination against a large number of American citizens.
Also, I fully understand that there have been no actual actions (apart from a lawsuit, that I expect has no chance) to abridge the property rights of the Park51 project.  Still, there are an awful lot of people who think that, on balance, their sensibilities ought to outweigh property rights.  Beyond that, there are multiple issues going on here.
***Indeed, it would be interesting to see the positions on Park51 of those who came to Paul's defense regarding the CRA.
****Pointless insofar as the CRA is settled law.