Running Out Of Angry White Guys
Lindsey Graham: "We're not generating enough angry white guys to stay in business for the long term."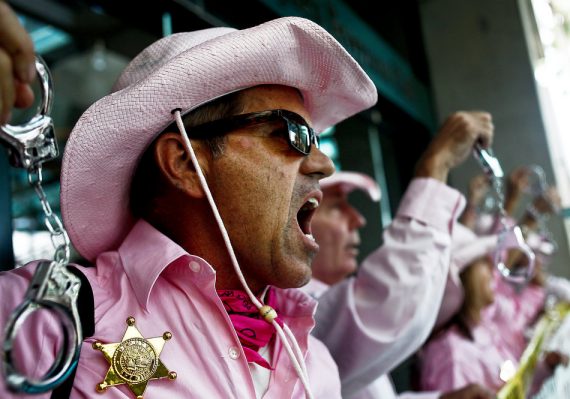 Quote of the day honors go to Lindsey Graham: "We're not generating enough angry white guys to stay in business for the long term."
WaPo ("As Republican convention emphasizes diversity, racial incidents intrude"):
From the convention stage here, the Republican Party has tried to highlight its diversity, giving prime speaking slots to Latinos and blacks who have emphasized their party's economic appeal to all Americans.

But they have delivered those speeches to a convention hall filled overwhelmingly with white faces, an awkward contrast that has been made more uncomfortable this week by a series of racial headaches that have intruded on the party's efforts to project a new level of inclusiveness.

[…]

"The demographics race we're losing badly," said Sen. Lindsey O. Graham (S.C.). "We're not generating enough angry white guys to stay in business for the long term."

On Tuesday, convention organizers ejected two attendees after they reportedly threw peanuts at a black CNN camerawoman and told her, "This is how we feed animals." Organizers called the conduct "inexcusable and unacceptable."

That followed an on-air shouting match between MSNBC host Chris Matthews and Republican National Committee Chairman Reince Priebus over whether presidential nominee Mitt Romney was injecting race into the campaign by joking about President Obama's birth certificate and attacking his record on welfare reform.

[…]

And on Wednesday, Yahoo News fired Washington bureau chief David Chalian after a live microphone caught him telling a colleague, before an online event, that Romney and his wife, Ann, were "happy to have a party with black people drowning," a reference to the RNC's decision to go ahead with the convention while Hurricane Isaac lashed New Orleans. Chalian later apologized.
The "series of racial headaches" doesn't much bother me. They consist of one legitimate incident involving two people whose identity and relationship to the convention is unknown, Chris Matthews having a spittle-flecked rant about a controversy that was several days old, and another legitimate incident that redounded to Republican advantage by fueling the "liberal media bias" narrative.
But the larger issue is troubling, indeed, and foreshadows doom for the GOP unless it undergoes a major change.
While I'm willing to dismiss Romney's birther joke as hamhanded, the fact that an absurdly high percentage of the party believes against all evidence that our president was born in Kenya points to something rotten in the core. The notion that a black man named "Barack Hussein Obama" couldn't possibly be American is worse than casual racism; it's a fundamental misapprehension of what it means to be American. Similarly, the belief against all evidence that Obama is a Muslim—and thinking that, too, disqualifies him from the presidency—shows a stunning lack of tolerance.
Further, while some of the best speeches of the convention thus far have been given by minorities—Condi Rice, a black woman, has given by far the best speech yet—the fact that the GOP has to reach down to obscure office-holders to find diversity to put on display—and needs to put diversity on display to begin with—spotlights, not hides, a major problem.
There's a clear path for the Republican Party to make inroads with blacks and Hispanics: shared social values inspired by a fundamentalist Christianity that they have in common. And the party has, going back at least to the days of Jack Kemp, been trying to make the argument that it's emphasis on self-reliance is ultimately much better for minorities than the Democratic welfare state and set-asides.  That's a make-able case.
But to make a case requires that the audience listen with some degree of trust. And that's impossible so long as a huge part of the base makes it clear that they don't really consider non-whites to be Americans. Or even so long as Condi Rice is considered the minimum standard for being "one of the good ones."
Frankly, it may just take fifteen or twenty years for the old racists to slowly die off and get replaced by a younger generation that can't fathom an America with segregated schools and lunch counters, much less pines for it.
Hat tip: Brian Fung