Rush Limbaugh Blames The Left For Forcing Him To Make Crude, Disgusting Comments
You didn't think it was over, did you?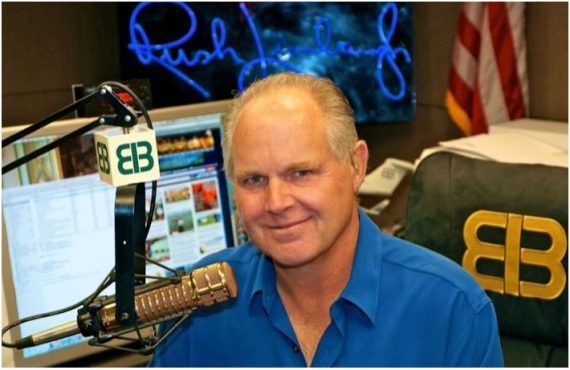 After Saturday's apology, there was plenty of speculation about what Rush Limbaugh might say regarding his comments last week about Sarah Fluke that created a political firestorm. Well, it didn't take long for him to spin the story to his advantage:
Rush Limbaugh on Monday kicked off his afternoon radio show by insisting that his written apology to Sandra Fluke over the weekend was "heartfelt" and "sincere" and the conservative talk host brushed off the continuing withdrawal of advertisers from his program.

"I always tried to maintain a very high degree of integrity and independence on this program. Nevertheless, those two words were inappropriate, they were uncalled for, they distracted from the point that I was actually trying to make, and I again sincerely apologize to Miss Fluke for using those two words to describe her," the conservative radio host said. "I do not think she is either of those two words."

Explaining that he never really believed that the Georgetown University law student was actually a "slut" or a "prostitute," Limbaugh, speaking on the air for the first time since extending a rare apology over the weekend, said the message had been heartfelt.

"The apology was heartfelt. The apology was sincere," he said.

Limbaugh also expressed regret for stooping down to the level of Democrats in discussing the issue of contraception coverage.

"In fighting them on this issue last week, I became like them. Against my own instincts, against my own knowledge, against everything I know to be right and wrong, I descended to their level when I used those two words to describe Sandra Fluke. That was my error. I became like them," he said.
Were this the first time in his 20-odd year career that Limbaugh had something crude, rude, insulting, or inappropriate, he might have a point with that last comment of his. But, of course, it's not. Last week's comments aren't unusual because they're completely consistent with his entire schtick.
You can all judge that comment yourselves, to me it seems incredibly self-serving and phony. And not at all surprising. In any event, the controversy doesn't seem to be completely over. As of the last count, twelve national advertisers had suspended their advertising on Limbaugh's show, and a radio station in Hilo, Hawaii had decide to stop running his show.
Is this the end of Rush Limbaugh? No, I doubt it. He'll ride this storm out just as he has all the others. The thing that amazes me is that people on the right continue to defend him, and even to attack Sandra Fluke, instead of realizing the extent to which they've sold their souls.
On that last point, Ross Douthat, hit the ball out of the park with this :
The best evidence that conservatism has a Limbaugh problem, in this sense, isn't so much the fact that the nation's most popular right-wing talk show host sometimes says offensive things that create a backlash against the American right as a whole. Rather, it's that when the spotlight isn't on Limbaugh, and when his excesses aren't front-and-center and thus impossible to deny, too many conservatives — including not just finger-in-the-wind politicians, but some of the country's most sagacious conservative intellectuals — are weirdly reluctant to acknowledge that there are any valid critiques of him at all.
Indeed. In fact, the reaction that I've noticed from the online right to Limbaugh's apology, such as it is, is to circle the wagons and double down on the personal attacks on Sandra Fluke and anyone else who dares disagree with them. Quite honestly, it strikes me as the reaction one would expect from someone fighting a battle that they cannot possibly win.