Are Republican Politicians Afraid Of Rush Limbaugh?
The GOP has sold its soul.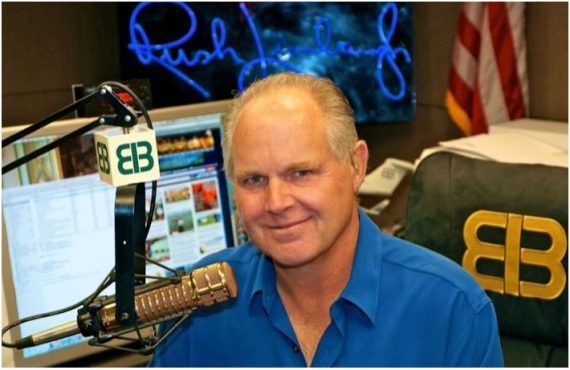 Not surprisingly, each of the Sunday morning talk shows spent at least some time talking about last weeks' controversy du jour, the comments that Rush Limbaugh made about Sandra Fluke after her testimony before a panel of House Democrats. Perhaps the best comments, though, came from George Will on This Week who pointed out that the same Republican candidates for President who criticize the President for allegedly not standing up to America's adversaries (a position that would surprise Osama bin Laden and Anwar al-Alwaki no doubt) seemed to be afraid to offend a talk show host:
ABC's George Will told me Sunday on "This Week" that GOP leaders have steered clear of harshly denouncing Limbaugh's comments because "Republican leaders are afraid of Rush Limbaugh."

"[House Speaker John] Boehner comes out and says Rush's language was inappropriate. Using the salad fork for your entrée, that's inappropriate. Not this stuff," Will said. "And it was depressing because what it indicates is that the Republican leaders are afraid of Rush Limbaugh. They want to bomb Iran, but they're afraid of Rush Limbaugh."

(…)

While Rick Santorum said Limbaugh's comments were "absurd," he said the radio host was an "entertainer" and "an entertainer can be absurd."

"No," Will said about Santorum's response. "It is the responsibility of conservatives to police the right and its excesses, just as the liberals unfailingly fail to police the excesses on their own side."
In an ideal world this is would be true, but then in an ideal world it would also be true of people on the left. When was the last time you heard a Democratic politician call out the likes of Markos Moutsalis, Ed Schultz, Michael Moore, Bill Maher, or Keith Olbermann when they've made comments that went over the top? On some level, asking a candidate for President to comment on every stupid thing that a talk show host says is kind of stupid. There are far more important issues that the country needs to be discussing right now and yet the media, always more interested in controversy than substance, doesn't ask about the economy. They ask about contraception, and they ask the candidates to comment on something that Rush Limbaugh said. Is this really necessary? Do we really need to demand that every Republican denounce something outrageous that Rush said, or that every Democrat denounce Ed Schultz when he used the same word Limbaugh did in reference to Laura Ingraham? On some level I don't see what it really accomplishes.
At the same time, though, once the question is asked one has to wonder why it was so hard for any of these Presidential candidates, with the exception of Ron Paul, to say what should have been said about Limbaugh's comments about Ms. Fluke. How hard can it be to say that it's wrong to call a young woman a slut, no matter who it is who said it? Well, as Tod Kelly pointed out last week, the problem for Republicans is that there is now a symbiotic relationship between the party and the Fox News/talk radio propaganda machine that makes it risky for anyone to risk alienating the guys with the microphones:
In the late 90s through the early and mid 00s, the GOP found that it could increase both number of voters and voter passion by aligning itself with a media machine that was initially created to build ratings from shock value. The wide success and popularity of conservative talk radio hosts in general, and of Limbaugh in particular, had already been widely acknowledged as the force that had delivered the house to the Republicans in '94. Republican heavy hitters as well as Righty wanna be-s began to find that their success in the polls was often directly related to their exposure on these shows, where they were treated as mythic folk heroes. The advent of FOX News took that trend and increased it exponentially with TV coverage. The GOP found, much to its delight, that by using the segment of the media that it controlled, it could continually rally its base and win elections without dealing with the traditional difficulties of having to sell superior policy proposals. Rather than giving detailed stances on what they might do in power, they were instead able to focus on demonizing the opposition to self-selected media people that neither asked them to clarify their own plans or ever questioned the claims about their opponents. In a world as hard and difficult as politics, the GOP found a way to make everything easy.

But, as Terry Pratchett has oft said, the problem with the easy way is that eventually it makes everything so damn hard.

The media business model the Right chose to embrace was based on the shock-radio model. An inherent flaw with this type of model is that while it leads to quick ratings and advertising profits, it can be difficult to sustain. If you spend one week calling the President a liar and an idiot, it's not going to be long before calling him a lying idiot isn't really all that shocking. You have to continually push just a little bit more as you go, or risk being irrelevant in the shock-media world. This started happening in the 00s, with the rise into the mainstream of people such an Ann Coulter and Mark Levine. At first you could tell that the rank and file of the right were aware that their envelope was being pushed, but their response was usually some form of the following: "Yeah, Coulter is a little nutty when she says that Democrats actually want the terrorists to kill US citizens, but it's OK because when she says it it really bothers the liberals." And so, as time went on and claims became more and more outrageous, the excuse that if things bothered liberals it was OK grew within both the media machine and its base.
Kelly makes a good point when he compares talk radio to shock radio, because there are a lot of similarities. The Limbaugh's and Hannity's of the world may not use the explicit language and explicit subject matters that Howard Stern does, but their styles are far more similar than they are different. Both styles have at their core the objective of attracting maximum attention by pushing the edge of controversy and propriety as far as they're able to, and both have been very successful at attracting listeners. It's a great way to make a living as a radio program host, and Rush Limbaugh has been successful beyond the dreams of avarice at it. I don't care to listen to his show, but I give him credit for having a dream and succeeding at it, the same goes for Howard Stern. The problem for Republicans is that, at some point, they chose to ally themselves with this business model designed primarily to attract viewers (rather than win elections). Then when Roger Ailes decided to take a similar model to cable, the marriage become official. Republican fortunes were now tied to a business model built on the idea of using sensationalism to attract viewers. And now we've seen the results.
As Kelly goes on to point out, now that the GOP has become so entangled with this media machine, it's very difficult to get away even when it's clear that the relationship harms the long term interests of the party. For example, anti-immigration rhetoric plays really well in this media environment, but it's political suicide in a nation where Hispanics are the fastest growing minority group. The same goes for anti-gay rhetoric.
But, there's a bigger problem, and it goes to the real reason that Republicans who actually care about the future of their party should be concerned. In many ways, the GOP's incestuous relationship with the "shock political talk" media machine makes it incredibly difficult for it to do what political parties have done in the United States from the beginning, adapt its message for changing times and changing circumstances. By reinforcing the base's insistence on ideological purity, the Limbaugh's of the world push the GOP further to the right in a nation that is, at it's core, a centrist one. That is not in the long term interests of the party, and one would think Republicans would recognize that.
Kelly concludes:
For a while now the Right has held tight to the belief that if the ratings are high and whatever you do pisses off other people, you must be doing something right. And in a way, they are correct: Battling contraception and calling women that are on the pill sluts that should have to be taped having sex so they can whack to it does indeed increase ratings, and it does indeed piss off other people.  So they've got those things down pat.

What it doesn't do is win elections, contribute to the dialogue we should be having, or make your party particularly relevant. But for what it's worth, I understand that Obama is thankful. So there's that.
There's no doubt that he's thankful, because when this campaign is over there will be some people saying that last week was the week the GOP lost the 2012 Presidential Election. And they might just be right.