Russia Develops Pizza Delivery Drone While U.S. Lags Woefully Behind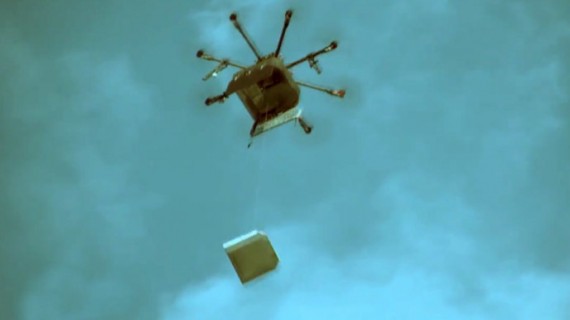 The Moscow Times reports that a Russian company has perfected the technology to deliver pizzas via drone:
A pizzeria in the Komi republic's capital city of Syktyvkar has launched a helicopter drone-delivery service.

DoDo Pizza's first unmanned delivery was made on Saturday to much applause from witnesses in the city's main square.

According to the regional news agency FlashNord, the drone was able to complete its task in just half an hour, and the pizzeria's owners plan to make drone deliveries a regular practice.

The chopper drones have been outfitted with everything necessary to ensure the deliveries go smoothly: they even contain video cameras monitored by the restaurant's manager, who calls the customer at the time of delivery to make sure the pizza does not fall into the wrong hands.

Once the manager sees that a customer has come outside to accept the delivery, the pizza is lowered to the ground using a cable. The drones are not yet equipped to accept cash; payments must be made at the time an order is placed, using a bank card.

The chopper drones were developed by a Russian company called CopterExpress, which says in a statement on its website that the devices can generate a speed of up to 40 kilometers per hour and can carry up to five kilograms.
Here's video showing the drone in operation:
To date, drone delivery is something that has been discussed in the United States but not implemented on any wide scale. Dominos has talked about the idea of pizza delivery via drone and, of course, there's the Amazon drone delivery plan that Jeff Bezos talked about on 60 Minutes last year.  Meanwhile, the Federal Aviation Administration has shut down a service that delivered beer to fisherman on the ice in Minnesota, is trying to ban drones used to provide first-person camera views of famous sites and this week issued a ruling that effectively seems to outlaw drone delivery services for the time being. Meanwhile,  the National Park Service has banned drones in National Parks. Elsewhere in the world, there's a restaurant in London where sushi is delivered by drone, and now the Russians have this pizza delivery drone.
When is this nation going to address the Delivery Drone Gap?