Russian Government Projects Sanctions, Declining Oil Prices, Will Lead To Recession In 2015
Russia's own government is projecting that its economy will slip into recession next year. How that will impact Putin's current belligerence remains to be seen.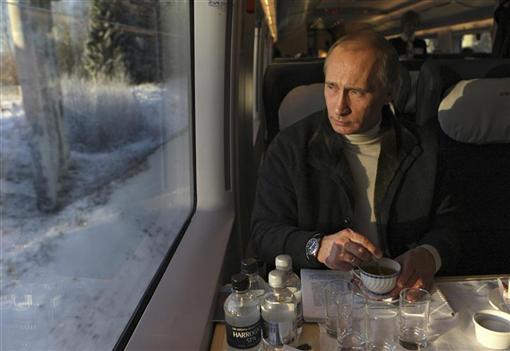 The Russian Government is saying that it expects the nation's economy to enter a recession in 2015 thanks to a combination of sanctions from the West over the fighting in Ukraine and falling oil prices:
MOSCOW — After months of insisting that Russia could weather sanctions and plunging oil prices, Moscow has for the first time acknowledged that the economy would fall into a recession next year.

The Ministry of Economic Development, which publishes the government's economic outlook, on Tuesday revised its forecast for 2015 to show a contraction of 0.8 percent, compared with a previous projection of 1.2 percent growth.

The ruble dropped against the dollar, having opened at 52 to the dollar and slipping to 53 in afternoon trading on Tuesday. That continued its nose dive in recent months, driven by Russians' fears of economic isolation and their eagerness to change rubles into dollars or euros to move wealth out of the country. So far this year, the ruble has fallen more than 40 percent against the dollar.

The Russian stock market index Micex also dropped on the announcement, but it regained the loss later in the afternoon.

Also boding ill for the Russian economy was the announcement on Monday by President Vladimir V. Putin to scrap plans for South Stream gas pipeline, a grandiose project that was once intended to establish the country's energy dominance in southeastern Europe but that instead fell victim to Russia's increasingly strained relationship with the West.
The Wall Street Journal has further details:
Russia's Economy Ministry warned that the country will slip into recession next year and the ruble will remain weak, in the government's strongest admission yet of the depth of the damage wrought by the drop in oil prices and Western sanctions.

While many private and foreign economists have been warning of a contraction for weeks, the government had stuck to its forecasts that Russia would eke out slow growth next year. But the sharp drop in oil prices—which has knocked the ruble to a record low of 54 rubles to the dollar on Tuesday—has dashed remaining hopes.

The latest forecast drew quick criticism from the Finance Ministry which called it 'too gloomy' and said it could be revised. A few hours after being published, the report disappeared from the Economy Ministry's website in a move a spokesman said was 'technical.'

The Economy Ministry said Tuesday it sees the economy shrinking by 0.8% in 2015 compared with earlier expectations for recovery in economic growth to 1.2% from around 0.5% this year. A month ago the central bank called for zero growth next year.

The new forecast comes as Russia is on track to post its weakest growth since the global financial crisis this year, pressured by the penalties imposed by western countries after Moscow's annexation of Crimea and its alleged support of rebels in Eastern Ukraine. The Kremlin denies backing the rebels.

Plunging oil prices are taking their toll too. The ruble tumbled to a record low against the dollar on Tuesday and is down nearly 40% year-to-date following the recent dive in the price of oil below $70 a barrel from more than $100 in the summer. Oil and gas exports are Russia's main source of foreign-currency revenues.

A contraction in GDP next year would be the first time the Russian economy has shrunk since 2009.

"We changed our forecast from growth to recession about two months ago due to negative dynamics in investment and declining oil prices. Our forecast envisages a 1.5% contraction in the economy next year," said Vladimir Osakovsky, chief economist at the Bank of America Merrill Lynch in Moscow.

"I think that Russia's economy is vulnerable to three sorts of crisis—structural, conjectural and geopolitical," said Deputy Economy Minister Alexei Vedev.

The Economy Ministry said it had previously expected some respite in terms of external pressure on the Russian economy by mid-2015 but now it expects the Western sanctions to still be in place by 2016.

The ministry lowered an average 2015 oil price forecast to $80 per barrel from $100 per barrel. Such a revision is expected to keep an average ruble rate in 2015 at 49 per dollar compared with earlier expectation of 37.7. The real effective ruble rate is expected to weaken by 13.5% next year.

(…)

Capital investment is now seen contracting by 3.5% next year versus an earlier call for 2% growth. The economy ministry also lowered forecasts for households' wealth. It sees real disposable incomes contracting by 2.8% next year compared with previous expectations for 0.4% growth. In another sign of economic crisis, 2015 unemployment rate is now seen reaching 6.4% compared with previous forecast of 6.1%.

Looking further, the Economy Ministry expects the GDP slump to reach the bottom in mid-2015. Mr. Oreshkin said the current economic deterioration was akin to 2009 and under an optimistic scenario the economy will rebound and grow by 2.5%-3% in 2016.
In addition to this gloomy forecast for the future, the twin impacts this year of both sanctions and the ongoing collapse in world oil markets, which has led, among other things to the aforementioned collapse in the value of the rouble, has caused Russia to drop from the eighth biggest economy in the world to, according to an estimate in The Telegraph, the point where it ranks somewhere down in the teens with an economy the equivalent of Spain's and having been surpassed by nations such as Italy, India, Canada, and Australia. Obviously, much of this could change if oil prices go back up, but for the moment the trends both in terms of energy prices and sanctions are both moving in directions that are detrimental to the Russian economy, and that's having an impact on the Rouble on world markets that if further harming the Russian economy, especially since it is serving to make any effort by Russia to purchase goods overseas more expensive thanks to unfavorable exchange rates. If those trends continue, then it's likely that the forecasts for this recession to be a short one will likely prove to be optimistic, but it's far too early to tell that at this point, especially since energy prices could easily swing back in the other direction on a moment's notice.
Over at National Review Nat Brown dissects the grim numbers further:
While the country has sufficient reserve funds to weather the short-term storm, the medium-to-long term is another question entirely, says Natasha Udensiva, a managing partner at Eurasia Energy Associates and a lecturer in international affairs at Columbia University. How long might the Russians be able to maintain their current stance? "They say they'll be fine for two, three years," Udensiva tells NRO. "I think they'll be fine for at least one year and a half. Despite this huge inflation and all the terrible things going on in the country, they still have a lot of assets."

A large factor in the ruble's erosion of value has been the fall in global oil prices, which have declined steadily since the summer and fallen off even quicker in the past couple weeks. A large part of the currency's dive is connected to the markets' view of Russia's economy as dependent on the price of oil, and Russia's economy is pegged to high oil prices. Leon Aron, resident scholar and director of Russian Studies at the American Enterprise Institute tells NRO. "According to Russian and Western economists, Russia can balance the budget only at $117 a barrel; the national economy can only grow at $92-93 a barrel; and it goes into a recession at $80 or less." As of this writing, the price hovers around $70 a barrel.

Sanctions imposed on Russia by the United States and the European Union on top Russian-government officials, state-controlled oil companies, and major Russian banks are keeping the pressure on its economy — as much through perception as practical value. "Russian economists call them 'gray' sanctions," Aron says. "That is, they create a sensibility, one very damaging in the mid to long run." One of their particularly damaging effects is that Russian corporations, even those not directly affected by the sanctions, are now all but unable to borrow money from Western banks. Meanwhile, the country has $300 billion in corporate debt maturing over the next two years, and it'll need to be refinanced. Udensiva agrees: "The sanctions are really squeezing them. There are a lot of projects they have to put on hold — mega projects — because they have absolutely no cash flow."

Even without the external pressure of sanctions and cheap oil, Russia's economy is hardly healthy. Rife with corruption and cronyism, lacking a true free market and or functional infrastructure, the economy has been headed for trouble for quite a while. According to Udensiva, economists had been predicting a decline well before the crisis in Ukraine. Only high oil prices had papered over the problems, she says, and fundamental reforms to the economy (such as a more independent legal system, less state control of industry, and lower levels of subsidies) are necessary.
As always, of course, the big question about news like this is what, if any, impact any of this might have on Russian policy in Ukraine and elsewhere in the world going forward. On at least some level, after all, it would seem as though it would be difficult for Vladimir Putin to keep his current belligerent tone and policies in place in the face of declining economic conditions inside Russia itself. Obviously, if the Kremlin chose to, it could continue funding the Russian military as it wished without regard to the state of the economy but, at some point, the economic chickens would come home to roost, including the possibility of internal instability should the economic deteriorate to the point where it begins to cause real pain for the Russian people themselves. More importantly, a declining Russian economy puts the lie to any claim on Putin's part that Russia should be treated like a First World nation and undercuts whatever influence he may have left among groups like the G-20, as well as undercutting the appeal of the Eur-Asian Union that he keeps trying to lure nations that used to comprise parts of the Soviet Union into. It also tends to weaken Russia's position vis a vis China, which at the moment seems to be the only viable economic partner Moscow has. The prospect of economic ties to China sounds like it could be helpful to Russia, of course, but in reality it's obvious that the Chinese merely view Russia as a source of raw materials —- including both energy and minerals from Siberia — and not any kind of equal economic power, so it's unlikely that Moscow is getting the better part of the deal in any relationship with Beijing. Given all of this, it seems rather obvious that Russia is going to reach a point where its reach is going to exceed its grasp, and it's likely to reach that point far quicker than the old Soviet Union did thanks to the fact that, this time, it is cannot shield itself from the impact of the world economy and global capital markets.
If these trends continue, then Putin is likely to face a choice in the not too distant future. He can continue with a course of adventurism and revanchism that seems to be doing little more than unite Europe against him and bring pain to his nation's economy, or he can find a way to back down. As with anything dealing with this former KGB agent, what's going on in his mind remains something of a mystery.