Russia's Economy is Collapsing But Not Fast Enough
Sanctions and a costly war are taking their toll.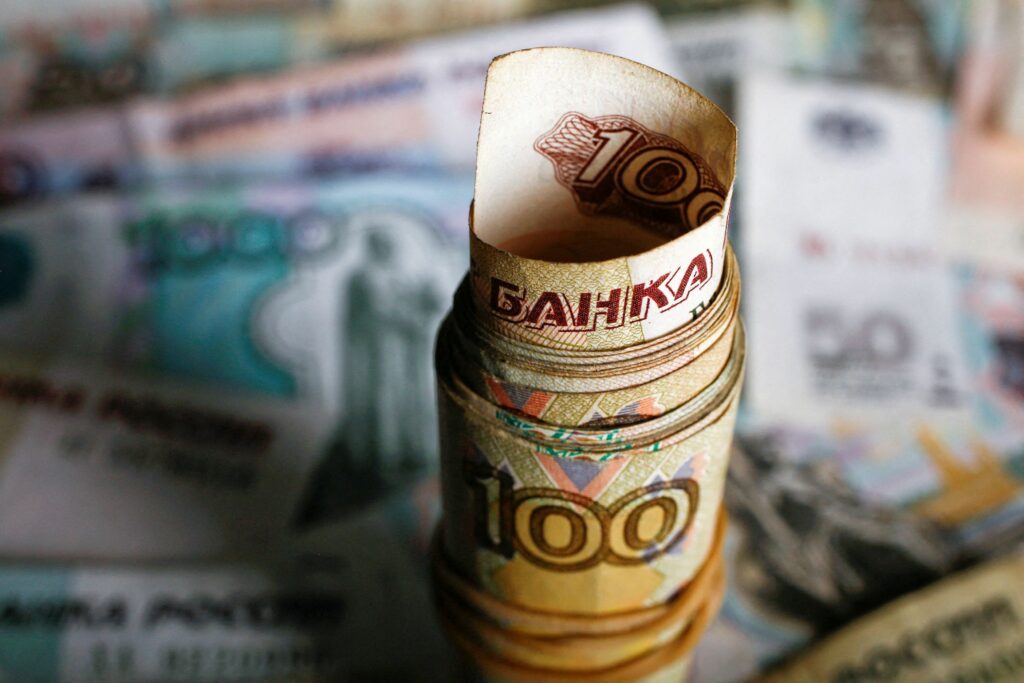 WSJ ("Russia's Economy Is Starting to Come Undone"):
The opening months of Russia's invasion of Ukraine last year drove an increase in oil and natural-gas prices that brought a windfall for Moscow. Those days are over.

As the war continues into its second year and Western sanctions bite harder, Russia's government revenue is being squeezed and its economy has shifted to a lower-growth trajectory, likely for the long term.

The country's biggest exports, gas and oil, have lost major customers. Government finances are strained. The ruble is down over 20% since November against the dollar. The labor force has shrunk as young people are sent to the front or flee the country over fears of being drafted. Uncertainty has curbed business investment.

"Russia's economy is entering a long-term regression," predicted Alexandra Prokopenko, a former Russian Central Bank official who left the country shortly after the invasion.
Given that Russia is engaged in a murderous campaign of wanton destruction in Ukraine, this would seem to be good news. It would indicate that Western sanctions are having their desired effect and that Putin's war machine may come grinding to a halt soon.
Alas, not so much.
There is no sign the economic difficulties are bad enough to pose a short-term threat to Russia's ability to wage war. But state revenue shortfalls suggest an intensifying dilemma over how to reconcile ballooning military expenditures with the subsidies and social spending that have helped President Vladimir Putin shield civilians from hardship.

Russian billionaire Oleg Deripaska warned this month that Russia is running out of cash. "There will be no money next year, we need foreign investors," the raw-materials magnate said at an economic conference.

Having largely lost its European market next door, and with other Western investors pulling out, Moscow is becoming ever more reliant on China, threatening to realize long-simmering fears in Moscow of becoming an economic colony of its dominant southern neighbor.

"Despite Russia's resilience in the short term, the long-term picture is bleak: Moscow will be much more inward-looking and overly dependent on China," said Maria Shagina, a senior fellow at the International Institute for Strategic Studies think tank in London.

A big part of the dimming outlook stems from a bad bet by Mr. Putin last year that he could use Russian energy supplies to limit Western Europe's support for Ukraine.

European governments, instead of tempering their support for Kyiv, moved rapidly to find new sources of natural gas and oil. Most Russian gas flows to Europe stopped, and after an initial jump, global gas prices fell sharply. Moscow now says it will cut its oil production by 5% until June from its previous level. It is selling its oil at a discount to global prices.

As a result, the government's energy revenue fell by nearly half in the first two months of this year compared with last year, while the budget deficit deepened. The fiscal gap hit $34 billion in those first two months, the equivalent of more than 1.5% of the country's total economic output. That is forcing Moscow to dip deeper into its sovereign-wealth fund, one of its main anti-crisis buffers.

The government can still borrow domestically, and the sovereign-wealth fund still has $147 billion, even after shrinking by $28 billion since before the invasion. Russia has found ways to sell its oil to China and India. China has stepped in to provide many parts Russia used to get from the West.

Russian officials have acknowledged the difficulties but say the economy has been quick to adapt. Mr. Putin has said his government has been effective in countering the threats to the economy.
The country and its oligarchs are paying a steep price for the Ukraine invasion and it may well be a permanent one. Even after sanctions lift, Western Europe may be reluctant to go back to relying on an autocratic regime for their energy supply.
"You know, there is a maxim, guns versus butter," Mr. Putin said in a state-of-the-nation address last month. "Of course, national defense is the top priority, but in resolving strategic tasks in this area, we should not repeat the mistakes of the past and should not destroy our own economy."

For much of Mr. Putin's more than 20 years in charge, high oil and gas revenue underpinned a social contract that saw most Russians largely staying out of opposition politics and protests in exchange for rising living standards.

The International Monetary Fund has estimated that Russia's potential growth rate—the rate at which it could grow without courting inflation—was around 3.5% before 2014, the year it seized Crimea from Ukraine. That has now fallen to around 1%, some economists say, as productivity declines and the economy becomes technologically backward and more isolated.

"For an economy like Russia, 1% is nothing; it's not even a maintenance level," said Ms. Prokopenko, the former central bank official.

The fall in exports, tight labor market and increased government spending are worsening inflation risks, the central bank said this month. Russia's inflation was running at around 11% in February compared with that month last year. That rate will temporarily fall below 4% in the coming months, the central bank said, though that is because of the high comparison base of the post-invasion surge in prices last year. A number of other economic indicators will also temporarily improve in the coming months due to such base effects, economists say.
Unfortunately, Putin is quite insulated from these effects. Unless the oligarchs turn on him in unison, he's going to be able to carry on indefinitely despite these setbacks.