Ruth Bader Ginsburg: Americans Are Ready For Nationwide Same-Sex Marriage
Justice Ginsburg acknowledges the fact that, over the past nineteen years, same-sex marriage has gone from something that most Americans oppose to something that most Americans are willing to accept.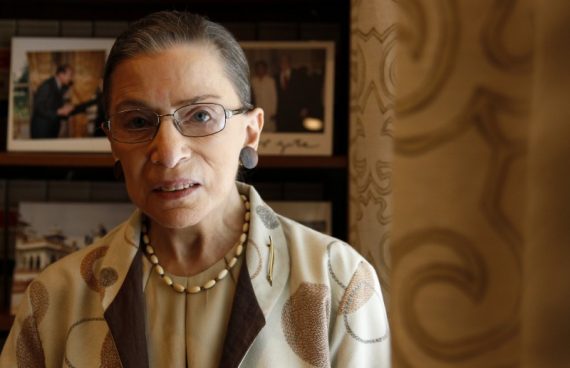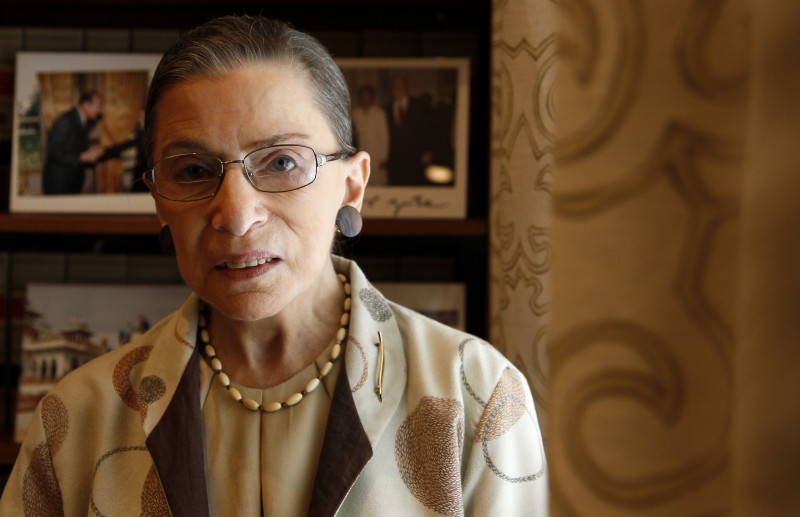 In what many are taking as the dropping of a pretty big hint about the mood of her fellow Justices when it comes to the same-sex marriage, Supreme Court Justice Ruth Bader Ginsburg told Bloomberg News that she believed that the American public would largely accept the legalization of same-sex marriage if the Court were to rule that way in June:
Americans are prepared to accept a U.S. Supreme Court ruling legalizing same-sex marriage, Justice Ruth Bader Ginsburg said, pointing to what she described as a sweeping change in attitudes toward gays.

In an interview Wednesday in the court's oak-paneled east conference room, Ginsburg also said President Barack Obama's health-care law, which is under attack in a case before the Supreme Court next month, will be a central part of his legacy.

The 81-year-old justice discussed the public's increasing acceptance of gays against the backdrop of resistance by Alabama officials to a federal court order that took effect Monday and made it the 37th gay-marriage state. With the high court set to rule on the issue by June, she said it "would not take a large adjustment" for Americans should the justices say that gay marriage is a constitutional right.

"The change in people's attitudes on that issue has been enormous," Ginsburg said. "In recent years, people have said, 'This is the way I am.' And others looked around, and we discovered it's our next-door neighbor — we're very fond of them. Or it's our child's best friend, or even our child. I think that as more and more people came out and said that 'this is who I am,' the rest of us recognized that they are one of us."

The number of gay-marriage states has soared in recent years, largely because of court rulings. Only 12 states permitted such unions in June 2013, when the Supreme Court threw out part of a law that denied federal benefits to legally married same-sex couples. The majority's reasoning in that case prompted lower courts to strike down bans on gay marriage.
As Ben Brody notes, Ginsburg is largely correct that, at least on a national basis, Americans as a whole have become far more accepting of same-sex marriage than they used to be:
"The change in people's attitudes on that issue has been enormous," Ginsburg said, and indeed it has. According to Gallup, as of May 2014, 55 percent of Americans believe marriages between same-sex couples should be recognized by law in the same manner as traditional marriages (the most recent data available). Among those age 18 to 29, support for recognizing gay marriages reached 78 percent last year.

That's a striking change from the era when Ginsburg, 81, ascended to the court in 1993. When the Defense of Marriage Act became law in 1996, allowing states to deny recognition to same-sex marriages performed in other states, Gallup asked a similar question. Just 27 percent of Americans said marriages between gays and lesbians should be valid. Ten years later, support had soared to 42 percent, but a majority of Americans still opposed such marriages.

By 2013, when Ginsburg joined a majority of justices to strike down DOMA, support for same-sex marriage had risen above the halfway mark. Today, same-sex marriages are legal in 37 states (Alabama became the latest this week, over the protests of the state Supreme Court chief justice). The U.S. Supreme Court could decide to make marriages legal nationwide in a decision expected this summer.
The Gallup Poll that Brody writes about, which I wrote about myself last May, includes this chart which shows just how much public acceptance of same-sex marriage has changed since Gallup started asking about the issue nineteen years ago: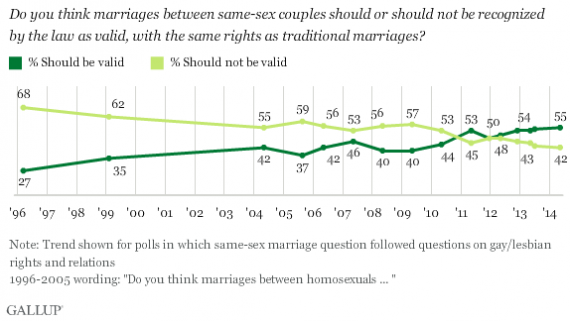 By way of comparison, consider this chart from a 2011 Gallup poll which showed that 87% of Americans were accepting of interracial marriages: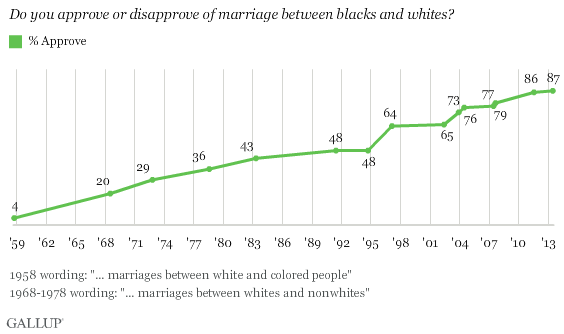 The Supreme Court's decision in Loving v. Virginia, which struck down the remaining state laws against interracial marriage was handed down in 1967, and at that point only some 20% of Americans approved of interracial marriages. It wasn't until the mid-1990s, some thirty years after the Court's landmark ruling, that support for interracial marriage reached the same levels that support for same sex-marriage is at today. Part of the reason for that, obviously, is generational and the fact that the population of the country was becoming dominated by the Baby Boomers and younger generations for whom race isn't nearly as big a deal as it was for older generations. Additionally, interracial marriage became a far more common phenomenon in the wake of the Loving decision, and that alone led people to realize that interracial couples were just like any other married couple.
What's remarkable about the change in public attitude about same-sex marriage is the extent to which it has changed so rapidly in such a short period of time. Even in our fast moving internet era, nineteen years is not a very long period of time and the fact that public attitudes on same-sex marriage, as well as general public attitudes toward homosexuality itself, changed so quickly is fairly astounding. We've pondered the reasons for this rapid change several times here at OTB over the years, but it seems to me that the most likely explanation is the one that Ginsburg herself makes note of above. As a general rule, people's attitudes on issues like this are influenced by what they are exposed to and the people they know. Over the past thirty years or so, it's become far easier for gays and lesbians to live their lives openly and, as that has happened, Americans have come to find that friends, neighbors, and even family members were gay and that they were just like everyone else in terms of what they wanted out of their lives. Because of that, they've become far more accepting of something like same-sex marriage, which just two decades ago seemed like an alien concept to most people. Given all of that, a decision by the Court declaring the bans on same-sex marriage still being enforced in thirteen out of the fifty states are unconstitutional is unlikely to be as big a cultural shock as one might have thought it would be even five years ago. Yes, there will be some places where people will resist, and the hard right wing of the Republican Party will make noises about "judicial activism" and other nonsense, but in the long run a decision in favor of marriage equality will likely be seen in retrospect as so self-evident that people will wonder why we were even debating it to begin with.
On another note, National Review's Ed Whelan believes that there's something inappropriate about Ginsburg's comments:
How can Ginsburg possibly think that it's proper judicial conduct for her to speak out on this issue while the marriage case is pending before the Court? If she had any sense of her duty to maintain both the appearance and the reality of impartiality, she would recognize that she is now obligated to recuse herself from the case. But of course she won't.
Whelan, obviously, is opposed to the legal arguments in favor of same-sex marriage so it isn't surprising that he'd be critical of Ginsburg's comments here, but his comments here strike me as being way off base. Justice Ginsburg's comments don't address the merits of the same-sex marriage cases before the Court, nor do they address the merits of the legal arguments for or against same-sex marriage generally. She was asked specifically whether she believed that the American public was "ready" for a Supreme Court decision that legalized same-sex marriage, a question that is obviously addressed to comments she's made in the past about the Court's 1972 decision in Roe v. Wade and her belief that, in retrospect, the Court may have gone too far in that case because the public wasn't ready culturally.  In that context, there's nothing at all inappropriate about what she said here and the suggestion that she should recuse herself is, quite frankly, absurd.
Finally, I suppose that one can take Justice Ginsburg's comments as yet another indication of where the Court is likely to go on this issue, but in that case it would be only the latest in a number of signals we've gotten from the Justices that seems to indicate that there is at least a nominal majority of Justices who are prepared to issue a decision striking down the remaining state law bans on same-sex marriage. It's always possible, of course, that things could turn out far differently and the Court could uphold such bans, but at this point that would be the most surprising outcome from this case.