Ryan Zinke Out At Interior Department
The scandal-plagued Secretary of the Interior is leaving office at the end of the year.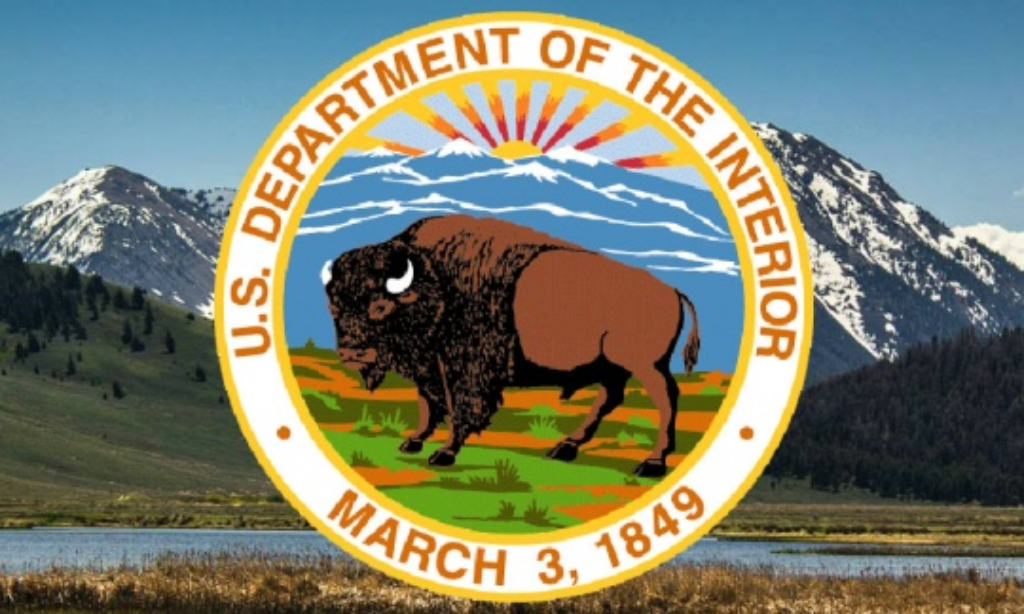 President Trump took to Twitter (where else?) this morning to announce that his embattled Secretary of the Interior Ryan Zinke would be leaving at the end of the year:
Interior Secretary Ryan Zinke, a key figure in President Trump's sweeping plan to reshape the nation's environmental framework, will leave his post at the end of the year, Mr. Trump said on Saturday. Mr. Zinke's departure comes amid numerous ethics investigations into his business dealings, travel and policy decisions.

"Secretary of the Interior @RyanZinke will be leaving the Administration at the end of the year after having served for a period of almost two years," Mr. Trump wrote on Twitter. "Ryan has accomplished much during his tenure and I want to thank him for his service to our Nation." The president said he would name a replacement this coming week.

Mr. Zinke is the latest Trump official to exit an administration plagued by questions of ethical conflict. And his departure comes as Mr. Trump has begun a shake-up in his administration. In early November, the president fired Attorney General Jeff Sessions, and last weekend he announced that his chief of staff, John F. Kelly, was leaving.

Mr. Trump has been looking at replacing a number of other cabinet officials. He has been telling associates for weeks that the commerce secretary, Wilbur Ross, will be leaving now that the midterm elections are over, and he has also frequently complained about Betsy DeVos, the education secretary. But Mr. Trump is aware that the confirmation processes for any new nominees are likely to be more contentious in the second half of his term, as he faces re-election.

Mr. Zinke, a former Montana congressman and member of the Navy SEALs best known for riding an Irish sport horse through Washington on his first day in office, oversaw mineral extraction and conservation on roughly 500 million acres of public land. He had become the subject of several federal investigations, one of which his department's top watchdog has referred to the Justice Department, a potential step toward a criminal investigation.

The inquiries include an examination of a real estate deal involving Mr. Zinke's family and a development group backed by the Halliburton chairman, David J. Lesar. Mr. Zinke stood to benefit from the deal, while Mr. Lesar's oil services company stood to benefit from Mr. Zinke's decisions on fossil fuel production.

Mr. Zinke has repeatedly denied wrongdoing. "I followed every procedure, every policy, every rule, and most importantly I followed the law," he said in an interview in April.

But in one of the final acts of Mr. Kelly's tenure as White House chief of staff, his team told Mr. Zinke that he should leave by year's end or risk being fired in a potentially humiliating way, two people familiar with the discussion said.

Mr. Trump had tolerated the seemingly endless drips of scandal surrounding Mr. Zinke in part because he liked him personally and in part because his focus on the cabinet was concentrated on his desire to oust Mr. Sessions. But as the incoming House Democratic majority made clear that Mr. Zinke would be a prime target, Mr. Trump's aides convinced him that the time had come to shove out Mr. Zinke.

A few months ago, the White House counsel's office indicated to some West Wing aides that officials would be less likely to be subpoenaed by the new House majority if they left before the new Congress was sworn in in January. That has helped speed up the departures of several.

"This is no kind of victory, but I'm hopeful that it is a genuine turning of the page," said Representative Raúl M. Grijalva, who as the incoming chairman of the House Natural Resources Committee has repeatedly tangled with Mr. Zinke. He added, "The next interior secretary should respect the American people's desire for strong environmental standards and an end to corporate favoritism."
Here's the President's Twitter statement on Zinke's resignation:
Secretary of the Interior @RyanZinke will be leaving the Administration at the end of the year after having served for a period of almost two years. Ryan has accomplished much during his tenure and I want to thank him for his service to our Nation…….

— Donald J. Trump (@realDonaldTrump) December 15, 2018
…….The Trump Administration will be announcing the new Secretary of the Interior next week.

— Donald J. Trump (@realDonaldTrump) December 15, 2018
Although he didn't draw the headlines like other members of Trump's Cabinet, Zinke did come with some controversy and some rather odd behavior as Secretary of the Interior. On his first day in office, for example, Zinke showed up for work on horseback, taking a route down Pennsylvania Avenue to the Interior Department's headquarters on C Street in Washington D.C. He also revived the odd and rather archaic practice of insisting that a special flag assigned to him as a Cabinet Secretary be flown at Department headquarters when he was in the building and that it be taken down when he was not in the office, a practice that many people pointed to as amusingly similar to the practice in the United Kingdom of raising or lowering the Royal Standard whenever Queen Elizabeth II was present at Buckingham Palace.
Those are just harmless personal quirks, though. The other allegations against Zinke were far more serious:
Beyond examining the real estate deal, the Interior Department's inspector general had faulted Mr. Zinke for allowing his wife, Lola, to travel in government vehicles, contrary to department policy, and chided him for using $12,000 in taxpayer money to take a charter plane after a talk to a hockey team owned by one of his biggest donors.

The inspector general has also been examining the secretary's decision to block two Native American tribes from opening a casino in Connecticut after his office received heavy lobbying from MGM Resorts International. The entertainment giant had been planning its own casino not far from the proposed tribal one.

Delaney Marsco, ethics counsel at the Campaign Legal Center, a nonpartisan watchdog group, said Mr. Zinke's actions had sometimes been overshadowed by Mr. Pruitt's more obvious fumbles. That let the secretary operate in an "ethical Wild West," she said.

"There are these laws and these ethical norms that are being blown to bits by these cabinet secretaries," Ms. Marsco said. "And that's the pattern, the problem, that keeps us up at night."
In addition to these controversies, Zinke also found himself wrapped up in controversy in the wake of Hurricane Maria in Puerto Rico when a small energy firm that just happened to be from Zinke's hometown of Whitefish, Montana was awarded a $300 million contract to restore the electric grid in Puerto Rico, which had been devastated by the storm. That decision turned out to be an utter disaster as the company was nowhere near being prepared for a job of that type and the contract was ultimately repealed. Zinke denied having any role in the matter, but the issue apparently remains under investigation by the F.B.I. and the Interior Department's Inspector General.
Given all these controversies, Zinke's departure is not surprising. Had he stayed on it's likely that he would have become the focus of several committee investigations and a point of controversy for an Administration that is already facing a load of potential investigatory headaches from the new Democratic-controlled House of Representatives. His resignation is unlikely to be the last we'll see before the end of the year.
Graphic via Department of the Interior