Santa's a Socialist
And other tales from the AK special election.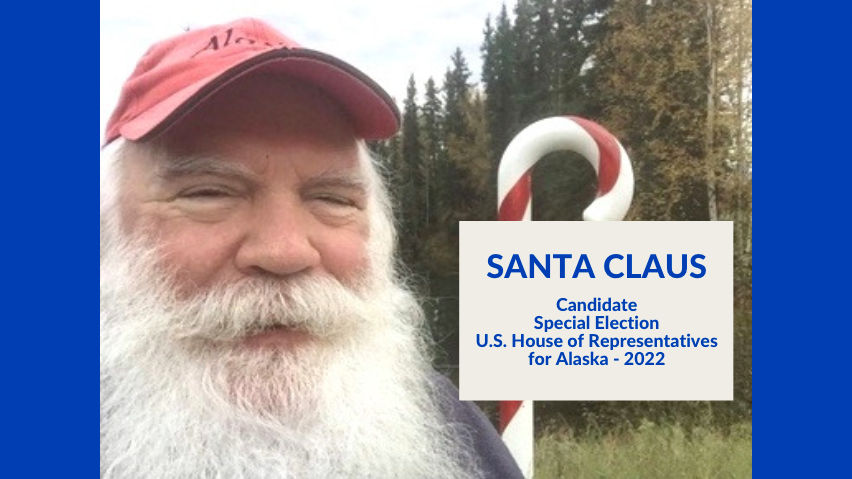 Commenter CSK did what I should have done for my first post on this topic, he went to the local press where there are far more details than the NYT write-up provided. Specifically, the Anchorage Daily News: 51 candidates: A wild U.S. House race takes shape in Alaska. Instead of updating the previous post, there was enough wroth commenting for a second post.
First, we all knew it, Santa is a socialist (quite frankly, I am not sure that he isn't a utopian Marxist):
Santa's hat was among those thrown in the ring Friday, when Santa Claus joined the race.

The man once known as Thomas O'Connor changed his legal name in 2005 and now lives, aptly, in the city of North Pole, outside Fairbanks, where he serves on the city council.

[…]

He is not affiliated with any party but describes himself as an "independent, progressive, Democratic socialist." He also said he would not hire any staff or accept campaign donations.
And, to be honest, were I in Alaska, I might have to vote for him just for the following:
"I don't like getting dressed up," Claus said. "So I'm thinking, well, if I went to Congress, maybe I should just wear the Santa suit."
Although I don't think he has done the calculation as to DC weather (the winner will be declared in time to go to the nation's capital during the summer). If you have ever been in DC in July, your know what I am talking about.
As to process:
The 51 candidates continued to stream in until the 5 p.m. Friday deadline, two weeks after the sudden death of Don Young, the state's congressman of 49 years. Some of the candidates were proteges of Young; others were rivals. And their experience runs the gamut from political novices to veterans of statewide campaigns.

Watching the candidate list balloon on Friday was something of a jaw-dropper, with new candidates — known and unknown — appearing with each Division of Elections update. By the end of the day, Alaskans were looking at an election — actually, an upcoming series of them — unlike anything seen before, with dozens of candidates, a statewide mail-in primary and the implementation of ranked-choice voting, which fundamentally changes the way elections work here.
I will say that the serendipity of the deadline being April 1st is fabulous.
The large number of candidates owes to the fact that the barrier for entry is a mere $100. Quite frankly, it might be worth a hundred bucks just to have your name on the ballot as a novelty. As a certified elections nerd, I would have been tempted to run were I a resident of Alaska just so I could frame a ballot with my name on it and to be able to say that I once ran for Congress.
Also, it would be a perfect illustration of the role we expect parties to play: as a filtering mechanism for the ballot. While I frequently argue we have too few parties in the US, it is also true that unfettered access to the ballot leads to substantial confusion (and hence things like name recognition and gimmicks become potentially the most important differentiators in this type of election). Fifty-one candidates for a single seat, even with a top-four process, is simply overkill.
Also, note the intra-party competition (which really fully reduces party membership to individual selection):
Here is a full list of the candidates: Dennis "Denny" W. Aguayo (nonpartisan), Jay R. Armstrong (R), Brian T. Beal (undeclared), Tim Beck (undeclared), Nick Begich (R), Gregg B. Brelsford (undeclared), Robert Brown (nonpartisan), Chris Bye (Libertarian), John T. Callahan (R), Arlene Carle (nonpartisan), Santa Claus (undeclared), John B. Coghill Jr. (R), Christopher S. Constant (D), Breck Craig (nonpartisan), Lady Donna Dutchess (nonpartisan), Otto H. Florschutz III (R), Laurel A. Foster (nonpartisan), Thomas "Tom" R. Gibbons (R), Karyn Griffin (undeclared), Al Gross (nonpartisan), Andrew J. Halcro (nonpartisan), Ted S. Heintz (Libertarian), William "Bill" D. Hibler III (nonpartisan), John Wayne Howe (Alaska Independence), David Hughes (undeclared), Don Knight (nonpartisan), Jeff B. Lowenfels (nonpartisan), Robert "Bob" Lyons (R), Anne M. McCabe (nonpartisan), Mikel R. Melander (R), Sherry M. Mettler (undeclared), Mike Milligan (D), Richard R. Morris (nonpartisan), J.R. Myers (Libertarian), Emil Notti (D), Robert Ornelas (American Independent Party), Sarah Palin (R), Silvio E. Pellegrini (undeclared), Mary S. Peltola (D), Joshua C. Revak (R), Tara M. Sweeney (R), Jesse Sumner (R), Maxwell Sumber (R), David Thistle (undeclared), Ernest F. Thomas (D), Richard "Clayton" Trotter (R), Bradley D. Welter (R), Jason G. William (undeclared), Adam L. Wool (D), Jo Woodward (R), Stephen Wright (R).
This is quite the way to inaugurate Alaska's new electoral process:
The election will be Alaska's first after voters in 2020 adopted a citizens initiative under which the outcome of statewide races will be decided through ranked-choice voting — but first, all candidates run against each other in a nonpartisan primary. Only the top four vote-getters in the primary advance to the general election.

[…]

When it comes, the ballot will be a hefty one, with candidates listed alphabetically by last name, A-Z.

[…]

The final results will be tallied June 26, the deadline for ballots to arrive from overseas voters.

The four candidates who receive the most votes will advance to the Aug. 16 statewide primary, where a winner will be chosen by ranked-choice voting.

The special general election is on the same date as the primary for a full term in office, and one or more candidates could appear in both the special general and the regular primary. The four winners of that primary will advance to a ranked-choice vote during the November general election.
I will end this topic with the following quote (emphasis mine):
"My greatest qualification is that I'm a fully functional adult," said John Callahan, a public affairs officer for the Alaska Air National Guard. He filed the necessary paperwork at the Anchorage office of the Division of Elections and paid the $100 fee just an hour before the 5 p.m. deadline. "We've been sending weirdos to D.C. for 50 years, and I feel like it's just time we sent a normal person."