Santorum Says 'Bullied' by SNL
Rick Santorum says Saturday Night Live is bullying" him  for "standing up for the traditional family."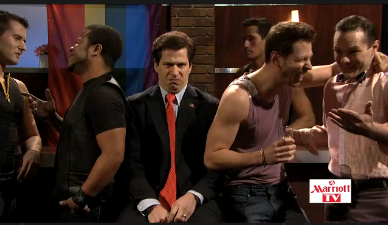 Rick Santorum says Saturday Night Live is bullying" him  for "standing up for the traditional family."
The Hill ("Santorum calls SNL sketch 'bullying'"):
SNL, in a send-up of last week's Bloomberg/Washington Post debate that set candidate's seating order based on poll numbers, said seating for the skit was based "on the likelihood of the candidate winning the nomination."

Actors playing contenders Herman Cain and former Massachusetts Gov. Mitt Romney were seated at the table, while Texas Gov. Rick Perry was placed in the corner of the set, Rep. Ron Paul (Texas) was banished to a parking garage, former Speaker Newt Gingrich (Ga.) and Rep. Michele Bachmann (Minn.) were put a broom closet, and Santorum in "a crowded gay bar in the Castro district of San Francisco."

Although Santorum, played by Andy Samberg, had only a limited roll [sic] in the sketch, he was portrayed as upset and uncomfortable.
This is actually a brilliant comic premise. And it's well executed:
New Hampshire radio station WGIR asked Santorum on Sunday about the sketch — the former Pennsylvania senator said that while he hadn't yet seen it, he had been "hammered" for his support of conservative principles.

"We've been hammered by the left for my standing up for the traditional family and I will continue to do so," Santorum said. "The left, unfortunately, participates in bullying more than the right does. They say that they're tolerant, and they're anything but tolerant of people who disagree with them and support traditional values."

Santorum has been a frequent target of gay-advocacy groups, who have denounced his stances on gay marriage and the repeal of the military's "Don't ask, don't tell" policy. Last month, the candidate said that the gay community had "gone out on a jihad" against him for his stance against gay marriage.
"I welcome the criticism, go ahead. I'm going to stand up for the values that made this country great," Santorum said.
Santorum clearly doesn't understand what "bullying" means, much less what it means to be a public figure.
His stances on homosexuality are indeed traditional and still supported by large swaths of America. But the culture is changing rapidly on this issue and it's hardly surprising that gay groups are "hammering" him or that liberal comics are making jokes at his expense. We can argue about the propriety of individual attacks–I think the SNL bit is clever and not particularly mean-spirited while the infamous Google bomb is tasteless and crude–but public figures speaking out on controversial issues should expect to receive return fire. That's especially true of politicians, let alone those running for president.
Frankly, Santorum should be grateful SNL is paying him any attention at all. He's within the margin of error of my dog Molly in the polls and hasn't been a factor in national politics in five years.