Sarah Palin: An Affirmative Action Pick For Vice-President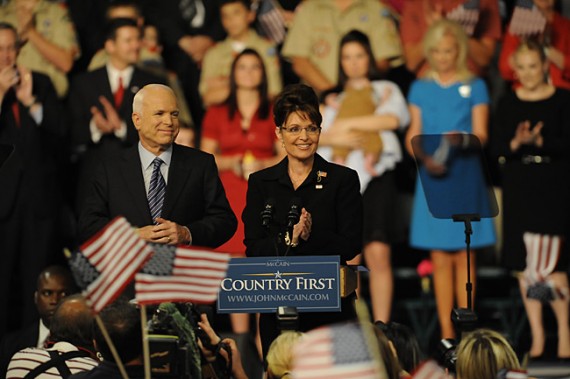 One of John McCain's closest advisers during the 2008 campaign reveals that Sarah Palin ended up on the short list of Vice-Presidential contenders without much vetting at all:
Aides to John McCain initially added Sarah Palin to his "short list" of potential running mates because McCain wanted a woman on the list, according to his campaign manager.

McCain entered the vice presidential selection process with a list of five possibilities: Tim Pawlenty, Mitt Romney, Michael Bloomberg, Charlie Crist, and Joe Lieberman, according to Washingtonian's profile (which isn't online) of Washington lawyer A.B. Culvahouse, who led the search.

"As the clock was running out, [campaign manager Rick] Davis say McCain asked to have at least one woman on the short list. His advisers went back to the long list and plucked out Palin's name," the magazine reported.
This isn't entirely unsurprising. The campaign book Game Change cataloged just how minimal the McCain campaigns vetting and preparation of Palin was prior to her being announced as McCain's running mate on August 29, 2008. More generally, though, it serves as further confirmation of the slip-shod, some would say irresponsible, decision making process that McCain engaged in while selecting his running mate.