Vetting A Running Mate In A Post-Palin World
The vetting process for a Vice-Presidential running mate will likely be very different with memories of the Sarah Palin debacle fresh in everyone's mind.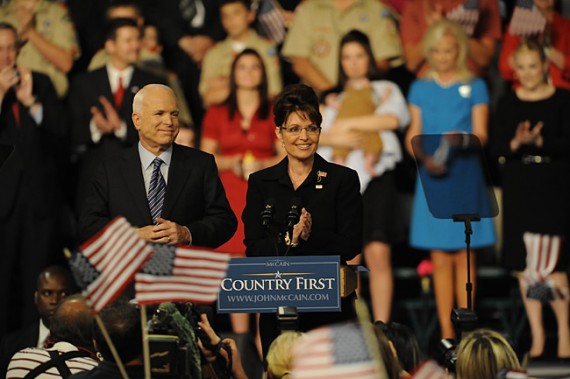 With Mitt Romney's nomination as the 2012 Republican nominee now essentially mathematically ensured, attention will quickly turn to the question of who he might select as his running mate. In all honesty, speculation on that matter has been going on even as Romney has been fighting off challenges from his opponents and subjected to speculation from pundits over whether he actually was still the inevitable nominee. The names that have been mentioned include some of the rising stars of the Republican Party including Chris Christie, Virginia Governor Bob McDonnell, Ohio Senator Rob Portman, Indiana  Governor Mitch Daniels, Florida Senator Marco Rubio, Wisconsin Congressman Paul Ryan, and former Florida Governor Jeb Bush. Other names that have come up are Republican politicians who have what can charitably be described as a limited political resume so far, including New Mexico Governor Susana Martinez and South Carolina Governor Nikki Haley. Some of the people on both these lists, such as Christie and Rubio, have already publicly said they aren't interested while others are clearly long shots, such as Bush.
It's possible that the eventual Republican Vice-Presidential nominee will be one of the people I've listed (I predicted at the end of 2011 that it would be McDonnell and see no reason to change that right now) or someone else. Whoever it is, though, there is a specter hanging over the process this time that stretches all the way back to August 2008:
Let's say you're moving steadily toward wrapping up the Republican presidential nomination and you allow yourself to begin thinking ahead to the question of a running mate.

Your party has a potentially devastating problem with Hispanic voters, so your thoughts naturally drift in that direction. After the contraception wars, it wouldn't hurt to have a woman at your side. It would be nice if you could have an ambassador to the Tea Party movement to help shore up your credentials with the right. And of course, it's always helpful to chose someone from a swing state.

In any other year, your musings might lead you to, say, Gov. Susana Martinez of New Mexico, a former prosecutor who checks all of those boxes, has bipartisan support in her home state and enjoys shooting handguns to boot.

But in the world after Sarah Palin and "Game Change," the chances of Mitt Romney or anyone else choosing a first-term governor lacking a national brand name and experience are greatly diminished. However good a fit she might be on paper, Ms. Martinez probably bears too many surface similarities to Ms. Palin to get a serious look, as The New Republic and others have pointed out.

And the fallout from the McCain campaign's selection of Ms. Palin for the No. 2 place on the ticket will extend well beyond the chances of any individual. For any Republican who makes it onto the short list of possible vice presidential nominees, the vetting process this year promises to be as thorough and intrusive as the vetting of Ms. Palin was rushed and incomplete.
In fact, the vetting process is likely to be three-fold, and even more intense than it's ever been thanks both to the Palin precedent, and the extent to which the Internet, social media, and 365/24/7 news coverage have become the driving force in politics this year. As soon as they decide to stop focusing on a Republican horse race that no longer exists, the media is going to start focusing on the Veepstakes, largely because there will be nothing else to cover until the conventions in late summer. They'll be speculating about who might be on "the list" — both "the short list" and the "the long list" — and they'll be dissecting their public records. At the same time, the campaign itself will be vetting nominees, and hopefully for their own sake, learning from the mistakes the McCain campaign made:
"One of the mistakes we made in the Palin process was one of assumptions," said Steve Schmidt, one of the McCain aides who guided the process. "We immediately made the assumption that anyone with 'Governor' next to her name has a base level of knowledge of history and policy that in a post-Palin world it isn't necessarily safe to assume."

Mr. Schmidt said this time around the nominee and his team will need to start the search and vetting much earlier and ask more probing questions intended to gauge the ability of the possible choices to think on their feet, master complex information and provide assurance they could handle the presidency if it came to that. And, he said, the nominee will face pressure to manage a much more rigorous process to prove to the media that the vetting has been thorough.

"What level of rigor is going to be applied to this?" Mr. Schmidt said. "Is the media going to demand, for example, to know who is running the vetting process? What is the criteria for the vetting process? How is the decision going to be made? How transparent will the process be?"
Of course, Palin's rather obvious lack of knowledge was only one of the problems she created for the Republican Party in 2008, as Ed Kilgore notes:
The conventional retroactive case on Palin also errs, I think, in figuring that the only problem with her was her lack of experience and knowledge. She was also, you might have noticed, a rather polarizing figure, and that was something about her that should have been obvious to anyone familiar with her behavior in Alaska, or her rock-star status in many precincts of the Christian Right, especially the anti-choicers, who idolized her long before the rest of the country had any idea who she was. Yet these characteristics—her "mavericky" rep back home, and her particular appeal to the very conservatives who mistrusted the guy at the top of the ticket—were precisely what attracted McCain to her in the first place. Today's McCainiacs are, I suspect, being a bit disingenuous in suggesting Palin's qualities completely blindsided them.
Kilgore makes a fair point. I haven't seen the HBO version of Game Change yet, but I did read the book and, of course, I followed the 2008 campaign fairly closely. It seemed pretty clear to me at the time that the Palin pick was a "Hail Mary" pass on the part of the McCain campaign. Even before the economic crisis that started in mid-September, it was clear they were in for an incredibly rough campaign with exceedingly long odds of victory. The candidates idea for a running mate, Democrat-turned-Independent Senator Joe Lieberman, was an absurd idea that would have (rightfully) torn the party apart and led to disaster in November. And none of the other candidates stood a chance of bringing any benefit to the campaign. So, they went for the candidate that appealed to the base without even bothering to consider what they were doing and they turned an incredibly polarizing figure into a leader on the American right.
Of course, it's worth noting that the selection of a running mate has never been an entirely flawless process, even in the modern era. It's well known that Dwight Eisenhower was never thrilled with the idea of Richard Nixon on the ticket, and considered dumping him more than once. Lyndon Johnson appears to have ended up as JFK's running mate when he accepted an offer that neither Kennedy nor his advisers thought he would accept. Spiro Agnew became Nixon's running mate largely because he was the last guy on the list that nobody objected to. George McGovernor had to dump Thomas Eagleton for Sargent Shriver, a move which just further demonstrated the overall incompetence of his campaign. In 1984, Walter Mondale responded to an insurmountable challenge against Ronald Reagan by selecting Geraldine Ferraro without fully investigating her husbands rather questionable business associations in New York. Dan Quayle's story is well known to everyone, of course. And, in retrospect, the selection of John Edwards in 2004 can best be seen as a bullet dodged. And, before the television era, running mates were chosen for reasons that had little to do with their competence or fitness for office.
Of course, all of this occurred in an era when we didn't have the constant attention on politics that we do now, and it's unlikely that we'll be going back to an era where the selection of a running mate won't be big news.  Which is why campaigns are going to have to be all the more careful.
Given his sour relationship with the base at the moment, Mitt Romney is likely to find himself in a similar position as John McCain when the time to pick a running mate comes along. The temptation to pick a superstar candidate to build their enthusiasm will be high, but one would think that they'll have the mistakes of 2008 in the back of their mind because the last thing the American right needs is another Sarah Palin.