Sarah Palin: The Most Significant Woman Of The Past Decade? Hardly
Just how significant is Sarah Palin in the grand scheme of things?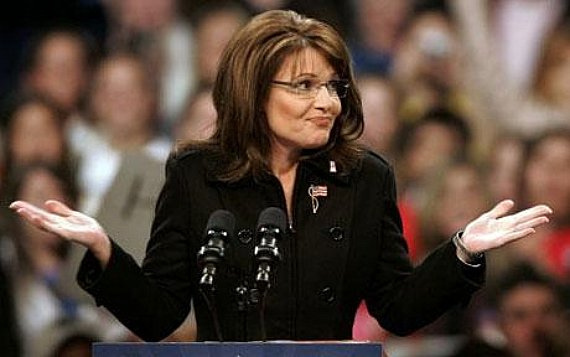 The Daily Caller's Matt Lewis, who is the author of The Quotable Rogue: The Ideals of Sarah Palin in Her Own Words was on MSNBC's Morning Joe today and, well, here's the conversation:
GEIST: You said a minute ago, Matt, she's the most significant woman of the 21st century. I can just hear our viewers screaming at their TVs. What about Hillary Clinton? Do you really think she's the most significant, more so than Hillary Clinton?

BRZEZINSKI: I can't, I can't –

LEWIS: I said arguably, and I think you could make a case for Nancy Pelosi, as well, by the way, and Hillary Clinton and I'm sure some others. But I think you could make a good case for Palin because of the way — look at the Tea Party movement, which she was sort of at the forefront of. I think you could make a good case that Sarah Palin was in fact the most significant woman in terms of driving the debate, and certainly in terms of media coverage Sarah Palin has dominated it.

BRZEZINSKI: Yeah, but so does Paris Hilton, but that doesn't mean they're significant.

SCARBOROUGH: Hold on one second, don't — let me stop right here. Don't compare her to Paris Hilton.

BRZEZINSKI: I didn't. I'm just saying –

SCARBOROUGH: You said so is Paris Hilton. You put her in the same category.

BRZEZINSKI: No. I'm saying there are people who get media coverage that maybe shouldn't?

SCARBOROUGH: She's one of two women — hold on a second, Matt.

LEWIS: The death panel comment is –

SCARBOROUGH: Hold on, hold on, hold on. Okay, let's put it in perspective. I'm tired of her. People ask, "Why do we bring her up." They'll ask, "Why are we talking about her here." You talk about Paris Hilton. I think that feeds into that narrative. Here's the bottom line: She is one of the two only women who have ever been nominated for vice president of the United States of America. That ain't nothing. It's just like Dan Quayle for four years after he was vice president –

BRZEZINSKI: Okay, you're going to have to let me respond.

SCARBOROUGH: — garnered more attention than that. That is why she remains significant.

BRZEZINSKI: No. I'm going to tell you there already was one and given the women that we have on the global landscape today, like Hillary Clinton, I mean, my lord. I'm sorry.

SCARBOROUGH: She's in the top 10. I'm not saying she's the most significant. You compared her to Paris Hilton.

BRZEZINSKI: No. I compared his statement about media coverage to Paris Hilton, okay? So, you know, you can jump on that like some of the –
Over at Hot Air, Ed Morrissey concentrates on Mika Brezinski's comparison of Palin with Paris Hilton, which may have been a little over the top. However, the broader point that the media has spent the last two years treating Palin as a far more important figure than she actually is happens to be pretty close to the truth. Every utterance, every Facebook note, every Tweet ends up being fodder for the insane world of cable television political punditry. Why? It's not because the media hates Palin, it's because she (1) is a constant source of content, (2) draws viewers. The same thing could be said for coverage of Lindsey Lohan's court battles, Charlie Sheen, or the Casey Anthony trial. If I was going to compare Palin to anyone, though, it wouldn't be Paris Hilton, it would be her fellow TLC alumnus Kate Gosselin in that they both seem primarily concerned with the trappings of fame and celebrity.
Has Palin had an impact on politics? Certainly, but I don't think it's anywhere near the impact that her supporters, and the pundits, tell us it is. She was the bottom half of a losing Presidential ticket, in that regard she belongs in the same category as Geraldine Ferraro and Dan Quayle. As much as I like Matt Lewis's writing, the idea that she's anywhere close to being the "most significant woman" of the past decade is just silly. If that title belongs to anyone, it would be someone like Hillary Clinton or, to look across the ocean, Angela Merkel. Palin was Governor for two years, ran for Vice-President, quit her job, and then endorsed a few candidates in 2010. Since then she's distinguished herself mostly by writing some stuff on Facebook and Twitter and taking a bus trip. If that's all she ends up having done politically, then she'll be remembered as the first female Republican candidate for Vice-President, and that's it. If she doesn't run for President, then ten years from now there will be a lot of people who are likely to be wondering whatever happened to that Sarah Palin person.
That last part may be the thing that finally gets Palin into the 2012 race, by the way. If she doesn't run then her place in the GOP is going to be eclipsed, by the eventual nominee and by Michele Bachmann. She may think that only by getting into the race can she protect the all important Palin Brand which she has, after all, trademarked. If that's her thinking, then the fact that she absolutely, positively cannot win a General Election wouldn't really matter to her.