Sean Connery, 1930-2020
The iconic actor best known as the original movie James Bond is dead at 90.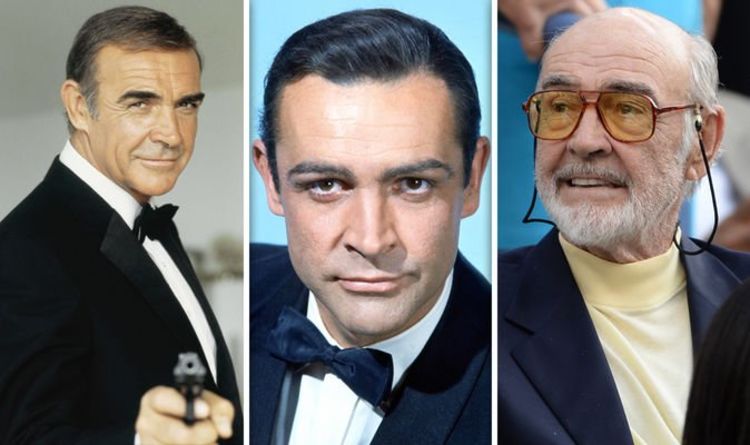 BBC ("Sean Connery: James Bond actor dies aged 90"):
Sir Sean Connery has died at the age of 90, his family has said.

The Scottish actor was best known for his portrayal of James Bond, being the first to bring the role to the big screen and appearing in seven of the spy thrillers.

Sir Sean died peacefully in his sleep, while in the Bahamas, having been "unwell for some time", his son said.

His acting career spanned decades and won an Oscar in 1988 for his role as an Irish cop in The Untouchables.

Sir Sean's other films included The Hunt for Red October, Indiana Jones and the Last Crusade and The Rock.

Jason Connery said his father "had many of his family who could be in the Bahamas around him" when he died overnight.

He said: "We are all working at understanding this huge event as it only happened so recently, even though my dad has been unwell for some time.

"A sad day for all who knew and loved my dad and a sad loss for all people around the world who enjoyed the wonderful gift he had as an actor."

Sir Sean was largely regarded as being the best actor to have played 007 in the long-running franchise, often being named as such in polls.

He was knighted by the Queen at Holyrood Palace in 2000. In August, he celebrated his 90th birthday.
BBC runs a separate obituary with this iconic photo: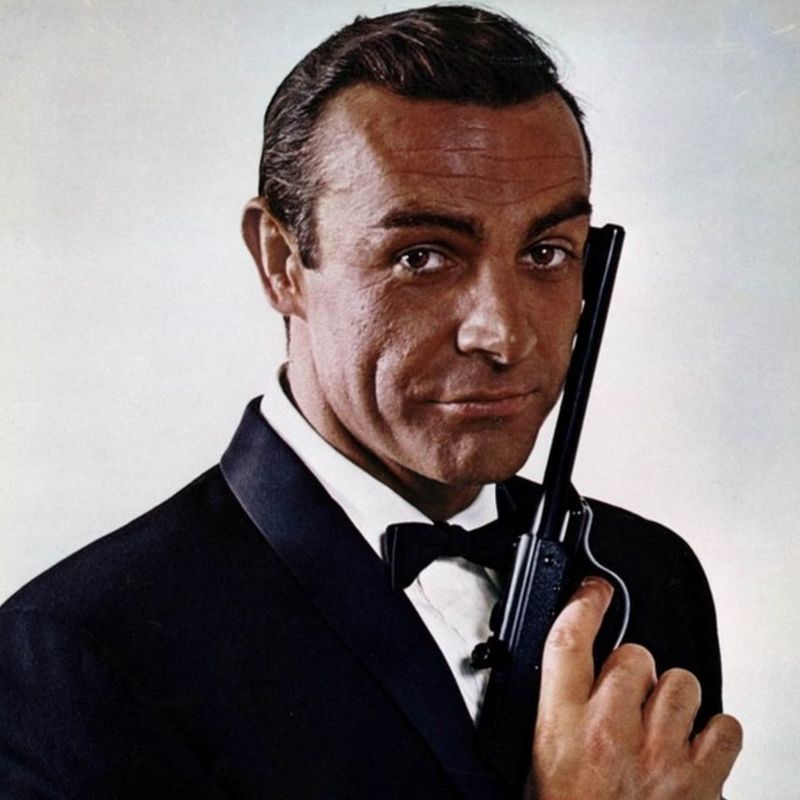 For many, Sean Connery was the definitive James Bond. Suave and cold-hearted, his 007 was every inch the Cold War dinosaur of the books.

He strode across screen, licensed to kill. He moved like a panther, hungry and in search of prey. There was no contest. His great rival, Roger Moore, by contrast, simply cocked an eyebrow, smiled and did a quip.

But whereas Ian Fleming's hero went to Eton, Connery's own background was noticeably short of fast cars, beautiful women and vodka Martinis – either shaken or stirred.

Thomas Sean Connery was born in the Fountainbridge area of Edinburgh on 25 August 1930, the son of a Catholic factory worker and a Protestant domestic cleaner.

His father's family had emigrated from Ireland in the 19th Century; his mother traced her line back to Gaelic speakers from the Isle of Skye.

The area had been in decline for years. Young Tommy Connery was brought up in one room of a tenement with a shared toilet and no hot water.

He left school at 13 with no qualifications and delivered milk, polished coffins and laid bricks, before joining the Royal Navy. Three years later, he was invalided out of the service with stomach ulcers. His arms by now had tattoos which proclaimed his passions: "Scotland forever" and "Mum & Dad".

In Edinburgh, he gained a reputation as "hard man" when six gang members tried to steal from his coat. When he stopped them, he was followed. Connery launched a one-man assault which the future Bond won hands down.

He scraped a living any way he could. He drove trucks, worked as a lifeguard and posed as a model at the Edinburgh College of Art. He spent his spare time bodybuilding.

[…]

In 1953, he was in London competing in the Mr Universe competition. He heard that there were parts going in the chorus of a production of the musical South Pacific. By the following year, he was playing the role of Lieutenant Buzz Adams, made famous on Broadway by Larry Hagman.

American actor Robert Henderson encouraged Connery to educate himself. Henderson lent him works by Ibsen, Shakespeare and Bernard Shaw, and persuaded Connery to take elocution lessons.

Connery made the first of many appearances as a film extra in the 1954 movie Lilacs in the Spring. There were minor roles on television too, including a gangster in an episode of the BBC police drama Dixon of Dock Green.
There's a whole lot more there, but most of you are familiar with the later part of the story.
The New York Times begins its obit ("Sean Connery, Who Embodied James Bond and More, Dies at 90") thusly:
Sean Connery, the irascible Scot from the slums of Edinburgh who found international fame as Hollywood's original James Bond, dismayed his fans by walking away from the Bond franchise and went on to have a long and fruitful career as a respected actor and an always bankable star, died on Saturday. He was 90.

His death was confirmed by Nicola Sturgeon, Scotland's first minister, on Twitter. "Our nation today mourns one of her best loved sons," she wrote.

"Bond, James Bond" was the character's familiar self-introduction, and to legions of fans who have watched a parade of actors play the role — otherwise known as Agent 007 on Her Majesty's Secret Service — none uttered the words or played the part as magnetically or as indelibly as Mr. Connery.

Tall, dark and dashing, he embodied the novelist Ian Fleming's suave and resourceful secret agent in the first five Bond films and seven over all, vanquishing diabolical villains and voluptuous women alike beginning with "Dr. No" in 1962.

As a more violent, moody and dangerous man than the James Bond in Fleming' books, Mr. Connery was the top box-office star in both Britain and the United States in 1965 after the success of "From Russia With Love" (1964), "Goldfinger" (1964) and "Thunderball" (1965). But he grew tired of playing Bond after the fifth film in the series, "You Only Live Twice" (1967), and was replaced by George Lazenby, a little-known Australian actor and model, in "On Her Majesty's Secret Service" (1969).
Variety ("Sean Connery, Oscar Winner and James Bond Star, Dies at 90") weighs in with:
Sean Connery, the Scottish-born actor who rocketed to fame as James Bond and became one of the franchise's most popular and enduring international stars, has died. He was 90.

Connery, long regarded as one of the best actors to have portrayed the iconic spy, was knighted by Queen Elizabeth II in 2000 and marked his 90th birthday in August. His death was confirmed by his family, according to the BBC, which notes that the actor died in his sleep while in the Bahamas. It's believed he had been unwell for some time. His last acting role had been in Stephen Norrington's "The League of Extraordinary Gentleman" (2003).

Connery was an audience favorite for more than 40 years and one of the screen's most reliable and distinctive leading men. The actor was recently voted the best James Bond actor in an August Radio Times poll in the U.K. More than 14,000 voted and Connery claimed 56% of the vote.
As I've noted before, I think Daniel Craig, who has actually played Bond longer than Connery, has long since surpassed him in the role. But it's really an unfair comparison.
The early Bond films, save "Thunderball," are virtually unwatchable today. The plotlines and sequencing are positively plodding. And the hero's casual misogyny, including slapping women around, is just painful.
Still, Connery's version was perfect for the time and quite faithful to the Fleming novels. Craig's Bond is simply more modern and the film-making is just so much better than it was more than half a century ago.
In hindsight, there's something charming about the Bahamas as a swanky destination only the rich and powerful could afford or brands like Stoli and Gordon's being ultra-premium signs of upper crust sophistication.
Connery the man is almost certainly more of a sheer badass. While he could be full of himself, sometimes thinking that he was James Bond, not simply an actor who played him. Still, his addition to the Indiana Jones films was sheer genius—the audience roared when he was first revealed as the protagonist's father. And he was quite good in films like "The Rock."