Sean Spicer Beclowns Himself Even More Than When He Was In The White House
Former White House Press Secretary Sean Spicer has hit the bottom of the barrel.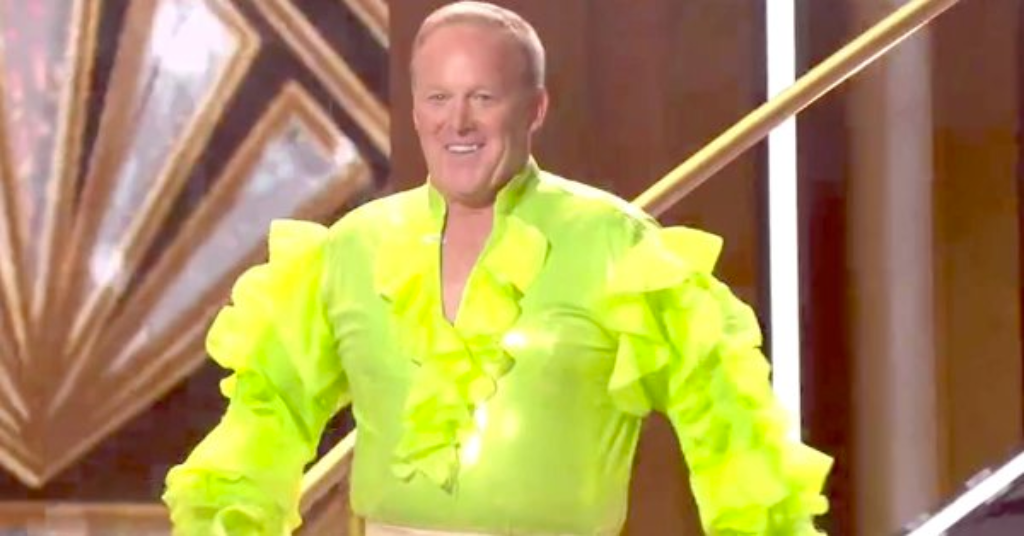 Call it a palette cleanser. Call it schadenfreude. Or maybe it's just the Nelson Muntz in me. Whatever the motivation, I simply can't let former White House Press Secretary Sean Spicer's premiere on Dancing With The Stars pass without comment:
Despite its best efforts, America could not shame Sean Spicer out of joining Dancing With the Stars. So there was the former White House press secretary on the ABC reality show's 28th season premiere on Monday night, wearing a frilly yellow shirt that evoked Big Bird and a pair of tight-fitting white pants.

It didn't get any better after that.

Spicer's big segment didn't come until the end of the premiere's second hour.

"I was Donald Trump's first White House press secretary," he said by way of introduction. "There's no question my time in the White House was tumultuous." After a montage of some of the least damning moments from his tenure, Spicer embarrassed himself further by gushing over the tweet Trump put out congratulating him on the reality gig. "It's nice to have the leader of the free world on your side when it comes to getting votes," he added.

Spicer was paired up with season 25 champion dancer Lindsay Arnold, who described her partner as dancing at a "pre-pre-school level," adding, "He definitely isn't natural at it."

"This wasn't part of the plan," Spicer told The New Yorker this week.

"Frankly, I'm just making money, trying to enjoy life." He will reportedly earn a minimum of $125,000 to appear on the show. Even host Tom Bergeron has expressed his displeasure with the casting.

When it came time to dance, Spicer banged some bongos and attempted a salsa to The Spice Girls' "Spice Up Your Life," ending with an exuberant knee slide.

"What were you doing there?" one of the judges asked when he was done. "It's like you were being attacked by a swarm of wasps." The best he could say was that it was "strangely entertaining."

"You were off-beat most of the dance," another added. "But you had fun!" The team ended up getting a total score of 12 out of 30 for the night, just barely beating Lamar Odom, who ended up with 11.
The first thing that one must comment on, of course, is the shirt, which looks like a version of Jerry Seinfeld's famous "puffy shirt" designed by someone obsessed with bright colors, although at least when Jerry wore it he had the excuse of not realizing what he'd agreed to thanks to Kramer's girlfriend the "low talker":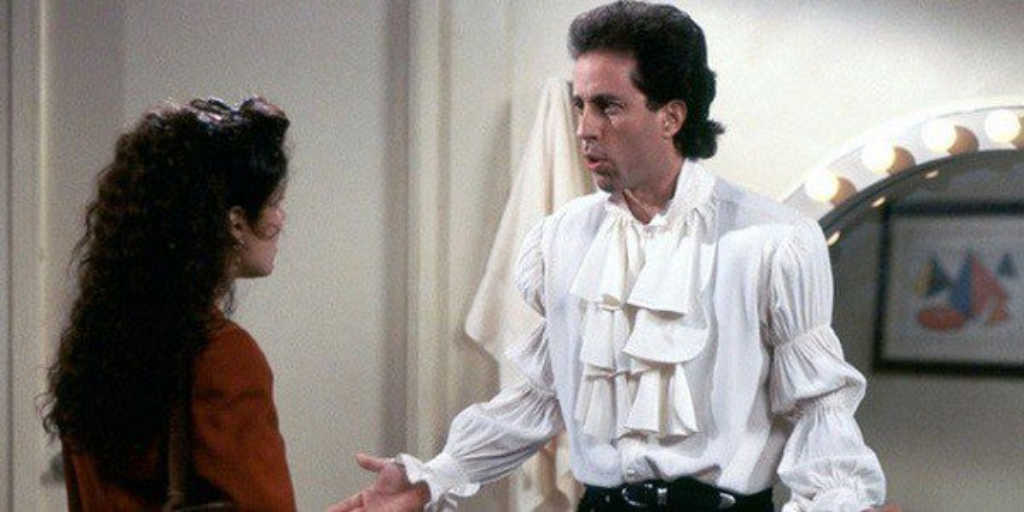 Here's the video:
That was, well, interesting I guess is the word. I suppose we can say that at least we can say that he didn't fall down, or drop his partner, or rip the seat of his pants. So I guess he has that going for him. Beyond that, though, I really don't know what to say other than to laugh, as I did when I first saw this when I woke up this morning.
Spicer isn't the first political figure to appear on the show. Other disgraced political figures who have shown up as contestants include former Congressman Tom DeLay, current Fox News Channel host Tucker Carlson, and former Texas Governor and current Secretary of Energy Rick Perry. Much like Spicer, all of them were, well, utterly horrible.
For his part Spicer, who was willing to humiliate himself on a daily basis when he went out before reporters and lied about even the most trivial things on behalf of the President, stands to make a pretty good sum regardless of how long he's on the air:
Sean Spicer could waltz away with a nice payday if he wins "Dancing With the Stars."

According to multiple sources, contestants on the ABC competition series make $125,000 for the show's rehearsal period and their first two weeks on the air. If they make it to week three and beyond, they begin to earn additional fees each week. Sources say that the maximum contestants can earn is $295,000. By comparison, Spicer was making just under $180,000 during his time with the Trump administration, per a White House report released in 2017.

Contestants on previous seasons could, according to reports at the time, make as much as $345,000, but potential earnings this season will fall short of that number. Of course, the potential benefits of being on "Dancing with the Stars" go beyond the fee earned from the production. Many have used their time on the show to jumpstart their careers and landed lucrative new positions. Alfonso Ribeiro, for example, won Season 19 of the show in 2014 before he was named the host of ABC's reboot of "America's Funniest Home Videos," which launched in 2015.
This probably isn't where Spicer thought he'd end up after leaving the office, but reports after he departed made it clear that he was finding it difficult to get offers to serve as a political analyst on one of the cable networks in no small part due to the controversies that erupted when he was Press Secretary for the President. Indeed, one can say with certainty that whatever credibility he had in the media went out the window on his first day on the job when he was forced by the President to go out in front of the press and lie about the crowd size on Inauguration Day. From that point forward, nobody took him seriously and he's paid the price for that.
Now he will go down as a guy in a ridiculous lime-green shirt that nobody takes seriously. Nice work there, Spicer.