Senate Committee Advances Gorsuch Nomination As 'Nuclear Option' Becomes Inevitable
The Senate Judiciary Committee voted to advance the nomination of Judge Neil Gorsuch even as it became inevitable that Republicans would be forced to invoke the 'nuclear option' to confirm him to the Supreme Court.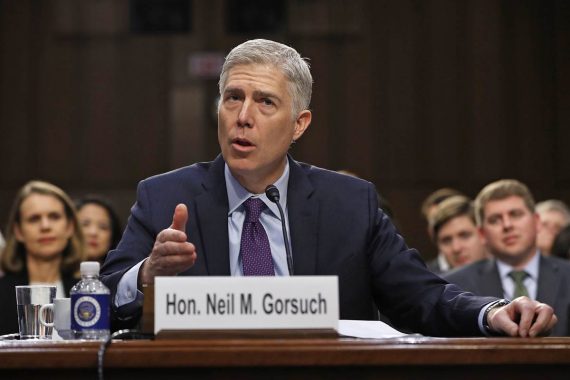 At the same time that the Senate Judiciary Committee voted to advance the nomination of Judge Neil Gorsuch to the Supreme Court to the Senate floor by the, it became clear that there was sufficient Democratic unity to block cloture on the nomination:
WASHINGTON — Senate Democrats on Monday appeared to secure the votes necessary to filibuster the Supreme Court nomination of Judge Neil M. Gorsuch, sending the body hurtling toward a bitter partisan confrontation later this week.

With an announcement from Senator Chris Coons, Democrat of Delaware, during the Senate Judiciary Committee's hearing to vote on Judge Gorsuch's nomination, Democrats found their 41st vote in support of a filibuster.

Later in the hearing, the Senate Judiciary Committee moved to approved the nomination in a party-line vote, 11 to 9, to move President Trump's selection to the Senate floor.

The committee vote was the first step in what will be a long road for Judge Gorsuch's confirmation this week. Under current rules, Democrats can block Judge Gorsuch unless he receives support from eight non-Republicans to break a filibuster.

If the filibuster holds, Republicans have hinted strongly that they will pursue the so-called nuclear option, changing longstanding practices to elevate Judge Gorsuch on a simple majority vote.

The nomination fight has been shadowed, in large measure, by the treatment of Judge Merrick B. Garland, whom President Barack Obama nominated in March 2016 after the death of Justice Antonin Scalia the month before. Republicans refused to even consider Judge Garland during a presidential election year.

But Democrats insist that their opposition to Judge Gorsuch stems from more than a thirst for payback. They have cited Judge Gorsuch's record on workers' rights and his degree of independence from Mr. Trump and conservative groups like the Federalist Society, among other concerns.

During the committee vote, senators took turns lamenting the state of the institution they serve, even as most seemed resigned to the upheaval that awaits the chamber.

Perhaps no member sounded as aggrieved as Senator Patrick J. Leahy, Democrat of Vermont and the Senate's longest-serving member.

He first suggested that treatment of Judge Garland by Republicans last year had convinced Judge Gorsuch that "this committee is nothing more than a partisan rubber stamp," allowing the nominee to evade straightforward questions during his hearings.

Mr. Leahy added that Senator Mitch McConnell of Kentucky, the Republican majority leader, had pledged to seat Judge Gorsuch by any means required, "even if that means forever damaging the United States Senate."

And he wondered aloud how the Senate had become so unrecognizable to him.

"I cannot vote solely to protect an institution when the rights of hard-working Americans are at risk," Mr. Leahy said. "Because I fear that the Senate I would be defending no longer exists."

Almost immediately, partisan sniping dominated the committee meeting.

Senator Charles E. Grassley, Republican of Iowa and the committee's chairman, accused Democrats of searching in vain for credible reasons to vote against Judge Gorsuch.

"This nominee that we're voting on today is a judge's judge," he said. "He's a picture of the kind of justice we should have on the Supreme Court."

Mr. Grassley suggested that some attacks in recent weeks from Democrats, which have included criticisms of the spending push from outside groups supporting Judge Gorsuch, defied the country's values.

"This is America," he said, "where people can spend their money where they want to spend it."
The rest of the committee hearing went about as you'd expect. Republicans voiced support for Judge Gorsuch unanimously while pointing to a record that has been praised by legal commentators on both sides of the political aisle and the highest possible rating from the American Bar Association. Democrats, meanwhile, concentrated mostly on their concern that Gorsuch allegedly has a record of siding with corporations over ordinary Americans and brining up the treatment of Merrick Garland by Republicans last year when they declined to bring his nomination up for hearings or a vote after the death of Associate Justice Antonin Scalia. To be fair, there were a handful of occasions where one of the Democratic Senators brought up a ruling from the Tenth Circuit where Gorsuch had been part of the majority or a dissent he had written, these cases amounted to a handful at best of the thousands of cases that have crossed his desk since being confirmed to the Tenth Circuit a decade ago and hardly seem like a fair basis upon which to judge an entire career. For the most part, though, the entire affair largely ended up being more of the same expected kabuki theater we've unfortunately come to expect with these kinds of hearings. While the members of the committee may like to pretend they were having serious discussions about important issues of judicial philosophy, all they were really doing was preaching to their respective bases while waiting for the process to play itself out.
Prior to today's hearing there was some question about whether or not Democrats would be able to get the 40 votes they need to block cloture on Gorsuch's nomination. Over the weekend, three Democrats, including Joe Manchin of West Virginia, Heidi Heitkamp of South Dakota, and  Joe Donnelly of Indiana, announced that they would support Gorsuch and vote to invoke cloture when the motion comes up later this week. Additionally, there were still a sufficient number of Democrats who had not announced their intentions to make it unclear whether there would be forty-one votes to block cloture. Senator Coons' announcement makes it certain that there will be, which of course means that the Senate will move forward toward a process that will ultimately lead to the Republicans following the path laid by Harry Reid in 2013 and using the so-called 'nuclear option' to eliminate the filibuster for Supreme Court nominees. While there has been some doubt in the past about whether Senate Majority Leader Mitch McConnell would have sufficient votes to do so, it now seems certain that he does. Not only do all fifty-two Republican Senators appear to be united behind McConnell's apparent plan but he's also got at least three Democrats who will vote with the Republicans on cloture and on the nuclear option. As Roll Call lays out, this process begins tomorrow when McConnell formally places the nomination on the floor, beginning a set period of debate that will expire on Thursday. At that time, the Senate will debate the nomination for the rest of Tuesday, all day Wednesday, and for part of Thursday. Once the mandatory debate time has expired, At that point, McConnell will bring up the motion to invoke cloture on the nomination so that the Senate can have a floor vote on the merits on Friday. That motion will fail absent last minute changes, and it's at that point that the "nuclear option" process will go forward. Once it is approved by a simple majority, Gorsuch's nomination will go forward with a final floor vote Friday morning that will, of course, pass on a simple majority.  At that point, Gorsuch will be confirmed and he'll be able to take his seat in sufficient time to take part in the final round of oral argument at the Supreme Court later this month.
As I've argued several times since Gorsuch's name was first placed in nomination, and as Steven Taylor argued this morning, this seems like a strange political hill for Democrats to die on. Not only is Gorsuch a highly-qualified nominee who everyone seems to agree would be a good addition to a Court filled with highly qualified Justices, but his presence on the Court would do nothing to change the ideological balance of the Court from where it was before Justice Scalia died in February of last year. It would seem more appropriate for Democrats to save their ammunition for the fight that really matters, which could come at any time in the next four years, or eight years in the event that President Trump is re-elected, a possibility that even with current Job Approval numbers I would suggest it is far too premature to discount. Three Justices are currently at or near eighty years of age, and while it's unlikely that either Justice Ginsburg or Justice Breyer would voluntarily step aside while Trump is President, actuarial reality tells us that both of them have more days in behind them than they do in front of them and the possibility of either one of them being forced to step aside for health reasons cannot be discounted nor, unfortunately, can the possibility of death in office. In that event, with the filibuster gone, Democrats would find themselves powerless to prevent a stalwart liberal from being replaced by a hard-right conservative, thus pushing the Supreme Court even further rightward for a generation or more. The smarter political move would seem to be to save the filibuster for that eventuality. Yes, it's possible that Republicans could simply use the nuclear option at that point, but Democrats would arguably be better positioned to make a stand in that situation, and possibly even succeed in blocking the nomination than they are now.
Instead, the Democratic base seems to be insisting that their Senators use every effort to block Gorsuch even though it will likely lead to an outcome they would likely come to regert. That is, of course, their choice, but it doesn't seem like very smart politics to me.