Senate Republicans Release Health Care Plan That Could Already Be Dead On Arrival
Senate Republicans released their proposed health care plan this morning, but it could already be doomed.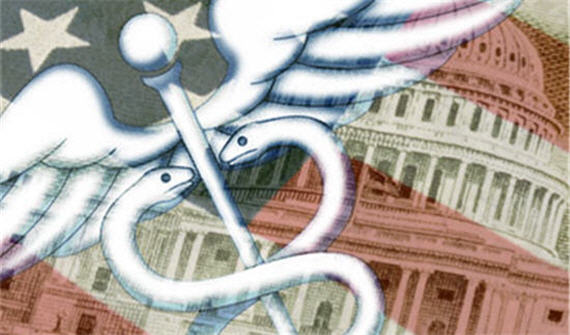 After weeks of behind the scenes, largely secret, meetings between a handful of Senators, Senate Republican unveiled the plan they intend to have the Senate debate and vote on before the July 4th recess:
WASHINGTON — Senate Republicans, who have promised a repeal of the Affordable Care Act for seven years, took a major step on Thursday toward that goal, unveiling a bill to cut Medicaid deeply and end the health law's mandate that most Americans have health insurance.

The 142-page bill would create a new system of federal tax credits to help people buy health insurance, while offering states the ability to drop many of the benefits required by the Affordable Care Act, like maternity care, emergency services and mental health treatment.

The Senate bill — once promised as a top-to-bottom revamp of the health bill passed by the House last month — instead maintains its structure, with modest adjustments. The Senate version is, in some respects, more moderate than the House bill, offering more financial assistance to some lower-income people to help them defray the rapidly rising cost of private health insurance.

But the Senate measure, like the House bill, would phase out the extra money that the federal government has provided to states as an incentive to expand eligibility for Medicaid. And like the House measure, it would put the entire Medicaid program on a budget, ending the open-ended entitlement that now exists.

It would also repeal virtually all the tax increases imposed by the Affordable Care Act to pay for itself, in effect handing a broad tax cut to the affluent, paid for by billions of dollars sliced from Medicaid, a health care program that serves one in five Americans, not only the poor but almost two-thirds of those in nursing homes. The bill, drafted in secret, is likely to come to the Senate floor next week, and could come to a vote after 20 hours of debate.

If it passes, President Trump and the Republican Congress would be on the edge of a major overhaul of the American health care system — one-sixth of the nation's economy.

The premise of the bill, repeated almost daily in some form or other by its chief author, the Senate majority leader, Mitch McConnell of Kentucky, is that "Obamacare is collapsing around us, and the American people are desperately searching for relief."

Mr. Trump shares that view, and the Senate bill, if adopted, would move the president a great distance closer to being able to boast about final passage of a marquee piece of legislation, a feat he has so far been unable to accomplish.

Democrats and some insurers blame the Republicans and Mr. Trump for sabotaging the law, in part by threatening to withhold subsidies used to help pay for deductibles and co-payments for millions of poor people covered by the law.

In the Senate, Democrats are determined to defend a law that has provided coverage to 20 million people and is a pillar of former President Barack Obama's legacy. The debate over the repeal bill is shaping up as a titanic political clash, which could have major implications for both parties, affecting their electoral prospects for years to come.

Mr. McConnell faces a great challenge in amassing the votes to win Senate approval of the bill, which Republicans are trying to pass using special budget rules that will allow them to avoid a Democratic filibuster. But with only 52 seats, Mr. McConnell can afford to lose only two Republicans, with Vice President Mike Pence breaking the tie. He may have already lost one — Senator Rand Paul, Republican of Kentucky, has indicated repeatedly that the bill is too liberal for him.

Democrats are unified in opposing the repeal efforts, and they have already assailed Republicans for the work they have done so far, criticizing them for putting the bill together without a single public hearing or bill-drafting session.

In the short term, the possible electoral consequences are more muted in the Senate than in the House, as only two of the Senate Republicans who face re-election next year, Dean Heller of Nevada and Jeff Flake of Arizona, are seen as vulnerable.

But Republican leaders still must contend with internal divisions that will be difficult to overcome. Numerous Republican senators from states that expanded Medicaid are concerned about how a rollback of the program could affect their constituents, and they face pressure from governors back home.

Some senators have concerns based on other issues specific to their states, including the opioid epidemic that has battered states like West Virginia and Ohio. And some of the Senate's most conservative members could resist a bill that they view as not going far enough in dismantling the Affordable Care Act.

Senators will not have long to sort out their differences. Mr. McConnell wants to hold a vote before lawmakers return home for the Fourth of July recess. If the repeal bill is still looming over the Senate, Republicans are certain to face intense pressure from constituents who wish to see the Affordable Care Act remain in place.
The short time frame in which McConnell is seeking to get Senate action on the proposal raises a number of issues that could make it hard for McConnell to get his wish  First, it's unclear if there will be sufficient time for the Congressional Budget Office to review and score the proposal. If there isn't then Senate Republicans won't be able to vote on the proposal until the CBO has released its report. For its part, the CBO stated via its Twitter account that it is aiming to release a report on the Senate by "early next week." If the report is released and it's anything similar to the CBO's assessment of the proposal that passed the House, which the CBO said would cause 23 million fewer people to have insurance coverage while having only a modest impact on premiums, then the will is most likely dead. Second, four conservative Senators who were elected on the promise that they would vote to "repeal Obamacare"  — Rand Paul, Ted Cruz, Mike Lee, and Ron Johnson — have signed a letter stating their opposition to the bill in its current form and have called on McConnell to make changes to the bill that would move it further to the right. Also of concern for McConnell are Republicans who represent states that accepted the PPACA's expansion of Medicaid along with the Federal money that comes with it. The Senate bill, if it became law, would eliminate that Federal assistance and potentially leave a number of states with large holes in the budget. As Amber Phillips notes, back in March four Republicans — Rob Portman of Ohio, Shelley Moore Capito of West Virginia, Lisa Murkowski of Alaska, and Cory Gardner of Colorado — signed on to a letter to McConnell that said they would oppose any bill that ended the PPACA's Medicaid expansion. That brings us to a total of eight Republican Senators who are at this point unwilling to sign on to McConnell's plan. NBC's Chuck Todd, meanwhile, reported within an hour after the bill was made public that at least three other Senators will announce opposition to the plan at some point today. Todd doesn't make clear who those Senators might be, but reports have indicated that both Susan Collins and Lisa Murkowski could end up opposing the bill's proposed elimination of Federal funding for Planned Parenthood, which would apparently include a bar on the use of Federal funds via Medicaid that cover routine services provided by Planned Parenthood clinics. Also of concern for Senate GOP leadership should be Senators Dean Heller of Nevada and Jeff Flake of Arizona who are considered to be the two Republican Senators whose seats are vulnerable in 2018. That brings us to the simple issue of math, With Democrats likely united in opposition to the plan, McConnell can only afford to lose two Senators on a final vote to get the bill through the Senate. Anything more than that, and the bill would fail to pass on even a 50-50 with Vice-President Pence providing the tie-breaking vote.
With all of this taken into account, the time between now and the scheduled Senate recess will likely be quite similar to the battle that we saw unfold in the House of Representatives over the passage of the House GOP's proposed legislation, which it labeled the American Health Care Act. On one side there will be the bloc of conservative Senators led by Rand Paul trying to force concessions out of McConnell and the Senate leadership that would push the bill further to the right.  On the other side will be Senators such as Portman, Capito, and Gardner who object to anything that appears to include the elimination of the PPACA's Medicaid expansion provisions. Also included in that mix are relative moderates such as Mark Kirk, Susan Collins, Dean Heller, and Jeff Flake, each of whom could end up opposing the bill for their own individual reasons. With that many people inside his own caucus threatening the wreck his plans, McConnell will be hard-pressed to get the Senate to a final vote before the close of business on July 3rd. After that, the Senate isn't scheduled to reconvene until July 7th, a period that could end up proving fatal to McConell's plan as opponents are given more and more time to organize opposition and coordinate efforts to stop the Senate GOP from passing the bill at all. Taking all of that into account, the bill introduced today could end up being pronounced 'dead on arrival' even before people finish digesting the impact it could have on one-sixth of the American economy.
In any case, for those interested, here's the Senate's proposed bill:
Senate Health Care Bill by Doug Mataconis on Scribd