Senators Who Voted Against Manchin/Toomey Take A Hit In the Polls, But Does It Matter?
Several Senators who voted against the Manchin/Toomey background checks bill have suffered in the polls, but it's unclear if that matters in the long run.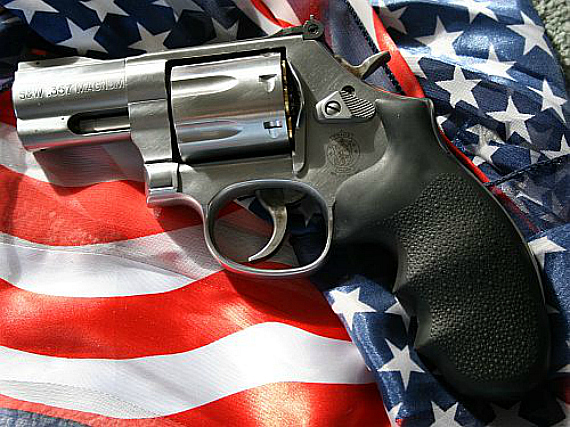 Polls taken in the immediate aftermath of the Senate's rejection of the Manchin/Toomey background checks bill are showing something of a backlash against Senators who voted against the Manchin/Toomey background checks bill:
Anyone who doubted that senators could suffer political fallout for their opposition to expanding background checks on gun buyers may want to talk to Sen. Jeff Flake (R-AZ).

The Arizona Republican who took office in January was one of five senators whose popularity at home has declined in the wake of their votes against the gun bill, according to a survey released Monday from Democratic-leaning Public Policy Polling. The measure, which was co-authored by Sens. Joe Manchin (D-WV) and Pat Toomey (R-PA), fizzled in the Senate earlier this month despite polls showing staggering public support for strengthening background checks.

The backlash appears to be the harshest for Flake, whose standing in Arizona cratered following his "no" vote on background checks. With an approval rating of 32 percent, Flake is already among the least popular senators in the country, according to PPP. Fifty-one percent of Arizona voters said they disapprove of Flake, while a majority of 52 percent said that his opposition to the gun legislation makes them less likely to vote for him in the future. Moreover, a plurality of 45 percent of Arizona voters said they trust Sen. John McCain (R-AZ), who was one of only four Republicans to support the measure, more than Flake on guns.

(…)

It's not much better for Alaska's two senators, both of whom voted against the background checks legislation. There, the once-popular Sen. Lisa Murkowski's (R) numbers have taken a huge dip. Forty-six percent of Alaska voters said they approve of Murkowski while 41 percent said they disapprove. That's down from a 54 percent approval rating found in PPP's February survey, when the pollster rated her as one of the most popular members of the Senate.

Her fellow Alaskan Sen. Mark Begich (D), who was one of four red state Democrats to vote against the background checks legislation, fared much the same. The poll showed the junior senator with an approval rating of 41 percent, while 37 percent said they disapproved of his job performance. In February, PPP showed Begich with a 49 percent approval rating.

Thirty-nine percent of Alaska voters said the vote made them less likely to support Begich, who is up for re-election next year. The same percentage said they are less likely to support Murkowski because of it. Meanwhile, about a third said the failed gun legislation will make no difference on future support of either candidate.

(…)

In Nevada, the backlash against Sen. Dean Heller (R-NV) appears less severe. His approval rating dipped to 44 percent in Monday's poll, down three points from PPP's survey conducted right before last year's election. Forty-one percent said they disapprove. Still, a plurality of 46 percent of Silver State voters said they are less likely to back Heller for re-election as a result of his "no" vote.

Sen. Rob Portman (R-OH), whose national profile rose last year after he emerged as a possible running mate to GOP presidential nominee Mitt Romney, has seen an 18-point drop to his approval rating in the last six months, according to PPP. In October, 35 percent of Buckeye State voters said they approved of Portman while a quarter said they disapproved. Today, his approval rating is under water: 26 percent said they approve of his job performance in PPP's latest, while 34 percent said they disapprove. Fortunately for Portman, a plurality of 39 percent of voters there said his vote against background checks will make no difference on whether or not they support his next re-election bid in 2016, although 36 percent said it is now less likely that they will back him.
There's also polling evidence to show that New Hampshire's Kelly Ayotte, a Republican who voted against the bill, has also suffered in the immediate aftermath of the bill's defeat.
Some readers will no doubt point to these polls as evidence rebutting the argument I made earlier this month that gun control is a low priority issue among voters (seehere and here) and that voting against Manchin/Toomey would be unlikely to harm those Senators that voted against it. On that I will make two points, while also addressing what these poll numbers might or might not mean.
First of all, it's important to note that these polls, like all polls, are merely snapshots in time. They reflect what people are feeling right now and, in the immediate light of a vote that took place less than two weeks ago. In that sense, it's not surprising that the numbers would be where they are. The question we don't know the answer to is whether these numbers will stay there when we're six months or a year away from the vote, and what impact that might have on an election at some point in the future. In the case of each of these Senators, it's important to note that these people are still fairly far away from their re-election bids. Mark Begich doesn't face the voters until next year, for example, and his fellow Alaskan Lisa Murkowski doesn't get to that point until 2016. Rob Portman and Kelly Ayotte also have until 2016 before they will be facing voters. And, finally, Jeff Flake and Dean Heller aren't up for re-election until 2018, which is so far away at this point that one wonders what the value of polling actually is at this point.
The second thing to remember about the voter intensity issue that I've noted in previous posts, is that it's always possible that this time things will be different and gun control will be a more important issue for voters than it has been in the past. Historically, though, the evidence suggests that this isn't the case and that, when it comes time to make decisions around an election, voters are likely to place far more importance on issues like the economy than they are on gun control, at least at the Federal level. If that changes, than the  assumptions that many political analysts are using when discussion these issues will have to be changed. However, we don't know yet if that's going to happen and these polls are just one data point at the moments. Check back in a year to six months and we'll see where we are.