"Sending A Message" To Iran Is Not A Good Reason To Attack Syria
Bombing Country B to "send a message" to Country A is not a valid argument for bombing Country B.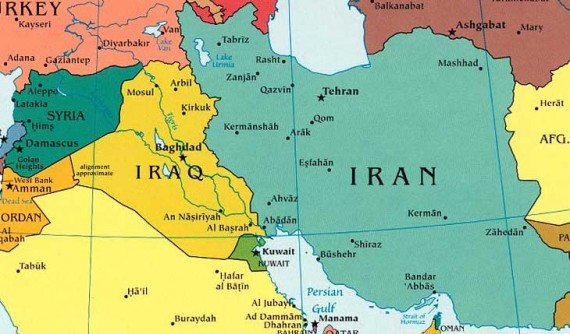 A common argument that one is hearing from advocates of military action against Syria is that doing so, or failing to do so, will supposedly have some kind of impact on the behavior of the Iranian regime. At it's most basic level, the argument asserts that, because Syria is an ally or "client state" of Iran (the term varies depends on who's making the argument), anything that harms Syria will harm the Iranians. In addition to that argument, many advocates of the President's proposed military strikes against Syria argue that Congress must approve the strikes because failure to do so will be seen by the Iranians as a sign of weakness and a sign that they would have a free hand regarding their nuclear program and their proliferation of weapons to terrorist groups such as Hezbollah and Hamas. In the L.A. Times, Benny Morris does a failure good job of representing this argument:
But Obama's Saturday announcement sent a contrary signal: Clearly, he and America are irresolute and hesitant about launching a short, limited strike against Assad's government, and they can be expected to be much more irresolute and hesitant when it comes to tackling the far greater threat posed by Iran's nuclear project. That could require a weeks- or months-long campaign against a more powerful enemy than Assad's Syria and might involve the United States in extended challenges around the globe, given Iran's allies in the Middle East and its terrorist proxy networks around the world.

The administration's spokesmen have been careful to declare that the president could launch a strike against Assad even if Congress voted against taking action. But this is probably hogwash. Having called on Congress for endorsement, as Prime Minister David Cameron did with Britain's Parliament, does anyone seriously expect Obama to strike Syria if Congress votes no (a vote that reflects current U.S. public opinion)?

No matter how Congress votes, Obama's maneuver has clearly signaled Jerusalem that, at the very least, Obama can be expected to vacillate when it comes to the Iranian nuclear installations, and to turn to Congress then as well — and Congress, one may assume, will be even more chary to issue a green light, given the far greater challenges posed by the Iranian issue. Israel's political and military leadership has surely come away from Obama's Hamlet-like zigzagging with a sense of shock and, even more important, with a sense of isolation in the Iranian context — one that won't disappear, even if the U.S. finally delivers a slap on the wrist against Assad.
There's really two parts to this analysis, and I think they're both wrong on many levels.
First, there's the assertion that how the United States ultimately treats Syria, or how Obama has acted in response to the situation in Syria over the past two years, tells us anything about how the United States in general, or this President in particular, would react in response to aggressive moves by the Iranians. What this argument seems to ignore, however, is the fact that Iran is far more strategically important to the United States and the West than the question of what happens in the Syria civil war. While the Syrian situation does have the potential to impact American national interests, Iran's position in the Persian Gulf region and the Straits of Hormuz makes it, and any action it may take, far more significant for the United States than anything that happens in Syria. If the Iranians think that American hesitancy regarding Syria, hesitancy that I would argue is very wise, tells them anything about how we'd react if they started taking aggressive action in the Gulf, the Straits, or against our Gulf region allies, they would likely soon discover that they were horribly mistaken. Thus, the argument that we must be aggressive with Syria to "send a signal" to Iran is just fundamentally absurd. Our policy toward one nation has nothing to do with the other.
The second part of this analysis is the, usually unstated, belief that Iran would be chastened by aggressive American action against the Assad regime. As Daniel Larison notes, this seems to involve a fundamental misreading of Iranian actions and intentions:
It doesn't seem to occur to them that attacking Iran's ally would increase Tehran's interest in acquiring nuclear weapons, or that an illegal and unilateral attack on Syria would undermine both negotiations with and international support for sanctions on Iran. While pretending that this attack makes Iran's acquisition of nuclear weapons less likely, they are supporting action that will make it more so. Unfortunately, because I fear the U.S. will attack Iran in an attempt to prevent that outcome, this means that war with Iran also becomes more likely. Of course, for some Syria/Iran hawks, that conflict is what they want, but I suspect many of them simply haven't thought things through very well.
An additional possibility is that an attack on Syria will drive Russia, and to some extent China, and Iran closer together.
The biggest mistake with this kind of reasoning, though, is that there is something fundamentally wrong with the idea that we should attack one nation for the purpose of "sending a message" to another country. Notwithstanding the arguments that the President's advisers have made this week, there's no evidence that Syria poses a serious threat to the United States, specious reasoning for the argument that the United States should be the enforcer of supposed international norms against chemical weapons, and no evidence that any action we take will do anything other than make a bad situation worse. The issues between us and Iran are far more complicated, and require far more nuance, than the simplistic analysis that this argument makes. If there is a good case to make for attacking Syria, then it should be made without raising the specter of a nuclear Iran. If you can't do that, then there is no good reason to attack Syria.