Washington Post Reporter Jason Rezaian, Four Others, Freed By Iran In Prisoner Exchange
Good news for Jason Rezaian and four other Americans, and another example of how diplomacy can help resolve disputes that seemed irresolvable.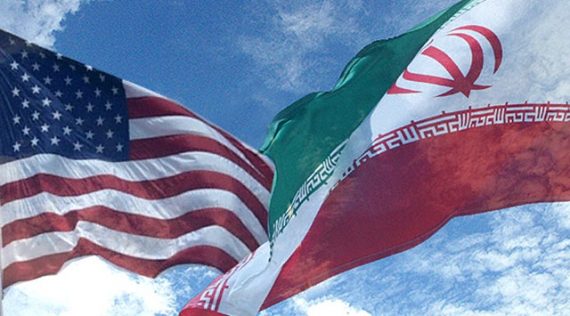 On the same day that it is widely expected that the International Atomic Energy Agency will certify Iran's compliance with the first round of requirements of the nuclear deal negotiated last year, thus freeing up the first round of billions of dollars of frozen Iranian assets and allowing Iran to begin participating in the world economy again, the Islamic Republic has released Washington Post reporter Jason Rezaian and three other people with dual Iranian and American citizenship as part of a deal that has apparently been the subject of more than a year of negotiation between Washington and Tehran:
VIENNA — Iran released Washington Post correspondent Jason Rezaian and three other detained Iranian Americans on Saturday in exchange for seven people imprisoned or charged in the United States, U.S. and Iranian officials said, a swap linked to the imminent implementation of a landmark nuclear deal between Tehran and six world powers.

Iranian officials said Rezaian, 39, was freed from Tehran's notorious Evin Prison after 18 months of captivity and was to be promptly flown out of the country with the three other released detainees..

U.S. officials subsequently confirmed the deal but were awaiting confirmation that a Swiss plane carrying the four has left Tehran.

Iran's judiciary announced the release in Tehran as part of an exchange, according to Iranian news media.

In return, the United States was scheduled to release seven people charged with violating sanctions against Iran, the Iranians said.

U.S. officials said Iran is also releasing a fifth American, a student detained in Tehran some months ago, separately from the exchange.

A senior administration official, speaking in Vienna, confirmed the exchange but said that "our citizens have not yet been flown out of Iran, and we do not want to do anything that would complicate it."

The official said that the "Iranians wanted a goodwill gesture" as part of the release, and that led to the exchange. The list the Iranians submitted to U.S. authorities was "whittled down" to exclude any crimes related to violence or terrorism," said the official, one of several who spoke on condition of anonymity under administration ground rules..

Another official said that the exchange was a "one-time arrangement because it was an opportunity to bring Americans home," and should not be considered something that would "encourage this behavior in the future" by Iran.

The officials did not tie the release directly to the nuclear talks and said they had not wanted the detained Americans to be "used as leverage" in the negotiations. But, they said, completion of the nuclear deal last July greatly accelerated talks about the prisoners.

A senior administration official identified the fifth American as Matthew Trevithick. "Matthew was a young man studying in Iran" and was "detained in recent months," the official said. "We wanted him obviously to be a direct part of this, and made clear to Iranians that [his release] would be an appropriate humanitarian gesture."

Rep. Jared Huffman (R-Calif.), who represents the district where the Rezaian family lives, said he was told by the White House that the Americans would be aboard a Swiss Air plane that would take them briefly to Switzerland and that they would not return home until they have "medical checkups," most likely at a U.S. military medical facility in Germany.

"We're all very excited that hopefully within a matter of days we'll be able to welcome them back to the United States," Huffman said.

In a statement in Tehran, Prosecutor Abbas Jaafari said that "based on an approval of the Supreme National Security Council and the general interests of the Islamic Republic, four Iranian prisoners with dual nationality were freed today within the framework of a prisoner swap deal," the semiofficial Fars News Agency reported.

The state-run Islamic Republic News Agency, quoting Jaafari, said the agreement also includes a provision under which the United States will no longer pursue the extradition of 14 Iranians alleged to have been involved in trafficking arms to Iran.

In Washington, the State Department said clemency has been offered to seven Iranians, six of whom are dual U.S.-Iranian citizens, who had been convicted or were awaiting trial in the United States. "The United States also removed any Interpol red notices and dismissed any charges against 14 Iranians for whom it was assessed that extradition requests were unlikely to be successful," the department said.

News of the reported exchange came as world leaders converged Saturday in Vienna in anticipation of the end of international sanctions against Iran in return for significantly curtailing its nuclear program.

The nuclear agreement will take effect when the International Atomic Energy Agency certifies that Iran has met its commitments under the deal it signed last July with six global powers, including the United States.

Secretary of State John F. Kerry flew from London to Vienna in the early afternoon local time. He went immediately into a meeting with Iranian Foreign Minister Mohammad Javad Zarif at the Coburg Palace Hotel, the scene of months-long final negotiations last summer that led to the deal between Iran and the world powers.

Those reportedly being freed Saturday included Saeed Abedini, 35, of Boise, Idaho; Amir Hekmati, 32, of Flint, Mich.; and Nosratollah Khosavi-Roodsari, Iranian officials said. Fars News Agency named the fourth person as Nosratollah Khosrawi.

Abedini is a Christian pastor who had been imprisoned since July 2012 for organizing home churches. Hekmati is a former Marine who spent more than four years in prison on spying charges following his arrest in August 2011 during a visit to see his grandmother. The detention of Khosavi-Roodsari had not been previously publicized.

Not included in the deal was Siamak Namazi, a Dubai-based oil company executive who had promoted closer U.S.-Iranian ties, Iranian officials said. He was arrested in October while visiting a friend in Tehran. In addition, the fate of former FBI agent Robert Levinson, who disappeared in March 2007 during a visit to Iran's Kish Island, remains unknown.

Namazi remains incarcerated because "his charges are financial, and not political," Fars said.

Asked about Namazi and Levinson, U.S. officials in Vienna said that talks were continuing on their fate.

"Iran has also committed to continue cooperating with the United States to determine the whereabouts of Robert Levinson," a U.S. official in Washington said.

Fars named seven Iranians it said were being exchanged by the United States in the deal: Nader Modanlou, Bahram Mechanic, Khosrow Afqahi, Arash Ghahreman, Touraj Faridi, Golestaneh and Ali Sabounchi.

Joel Androphy, a lawyer for three of the Iranians to be freed by U.S. authorities, said the Iranian Embassy told him that his three clients, who have been charged with sanctions violations but have not yet gone to trial, have been issued a pardon by President Obama. The administration had no immediate comment.

Kris Coratti, vice president of communications and spokeswoman for The Post, said that "while we are hopeful, we have not received any official word of Jason's release."
Officials on both sides have not come forward to discuss the details of the negotiations that led to this release, and we're not getting further details as of yet from the Administration or other government sources, but this is likely because the exchange itself is still working itself out. Reports on CNN and elsewhere, for example, have been somewhat unclear on whether or not Rezaian and the other Americans have begun their journey out of Iran as of yet and its unclear whether they will be traveling together and when they might clear Iranian airspace and make their way to their next stop, which presumably would be an American base in Europe where they would at least receive a preliminary medical examination before being sent to the United States. One brief report from the Associated Press indicates that the Americans will be flown out of Iran on a Swiss plane and taken to Switzerland, presumably to be transferred to American custody, which makes sense given the fact that the Swiss have stood in to assist in representing American interests in Tehran ever since the United States and Iran cut off diplomatic relations with each other during the Iranian Hostage Crisis more than thirty-six years ago. The logistics of the release of the Iranians being held by the United States that are part of this deal is also unclear, and it's worth noting that it may take a day or two for authorities to gather them together and process the paperwork necessary to get them on their way to Iran. In any case, it does appear that at some point within the next several hours Rezaian and the four other Americans will be on their way home after captivity that, in some cases, lasted far longer than that of the Americans who were held hostage in the U.S, Embassy some thirty years ago.
While the details of how all of this came about remain unclear, it does appear that the negotiations connected to the Iran Nuclear Deal, and specifically the relationship that had developed between Secretary of State John Kerry and Iranian Foreign Minister Mohammed Zarif during those negotiations led to a new series of talks regarding the fate of these prisoners, all of whom were being held unjustly by the Iranians on trumped up charges of espionage and other so-called "offenses" against the Iranian government. There was no question that their detentions were unjust, and that their "trials" were be conducted under circumstances that didn't recognize basic rights. Until this point, though, there had been almost no progress on discussions regarding the fate of these men, and the most that the United States an other Western nation seemed to be able to do was issue condemnation of Iran's decision to continue to hold these men. Efforts to tie the fate of these men to the 'P5+1' negotiations that led to the nuclear deal seemed to prove unsuccessful. At the very least then, and much like the events earlier this week regarding the detention of ten American sailors whose patrol boats had drifted into waters claimed as Iranian territory, the groundwork that had been laid in Europe surrounding the nuclear deal seems to have created a channel of diplomacy that allowed this long-standing dispute to be resolved and these Americans to begin their journey home. At the very least, this teaches us once again the value that diplomacy, and the ability of even nations with long-standing and outstanding disputes to talk to each other, can serve. There's no question that Jason Rezaian and the others never should have been arrested in the first place, and that they were being used as propaganda tools by Iranian hardliners in particular. Their homecoming, however, is due to the fact that two nations that still don't completely trust one another were able to sit down and talk about the matter, and that's a good thing.